Jiangsu win Chinese national women's championship as IHF helps prepare next generation of Chinese referees
31 Oct. 2019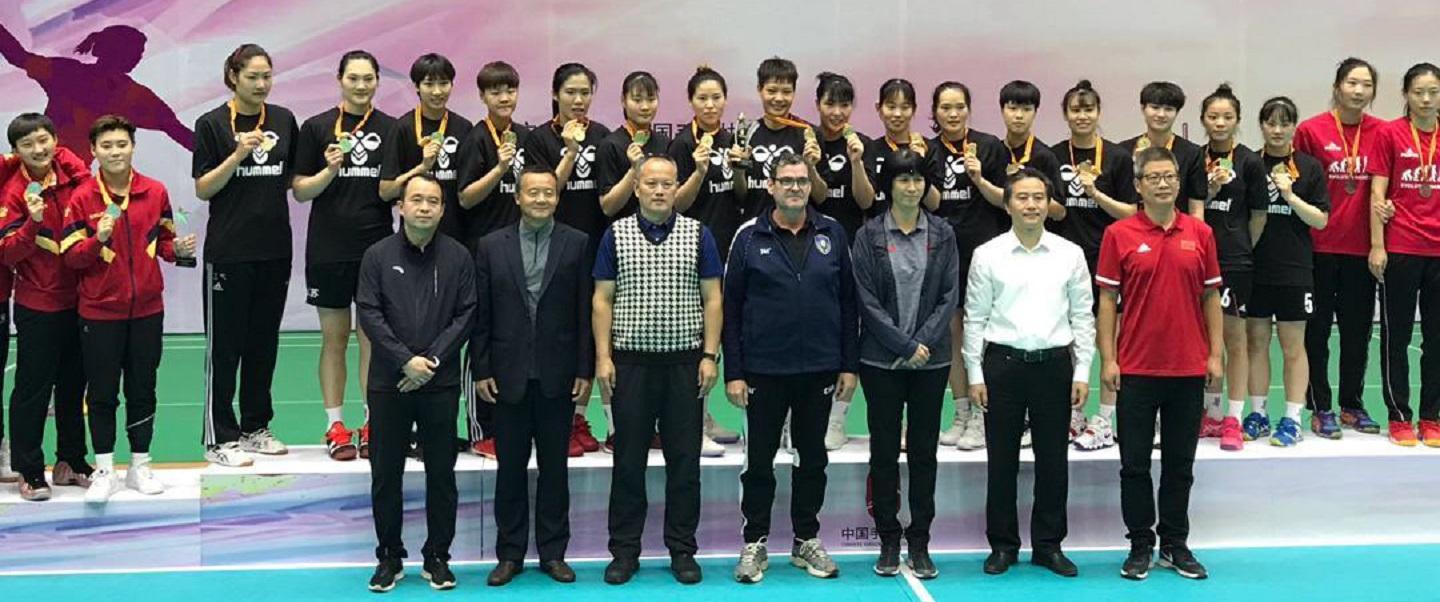 IHF Playing Rules and Referees Commission (PRC) lecturer Salvio Sedrez was in China earlier this month (8-20 October) helping to deliver a referees' course held in conjunction with the Chinese Handball Association's (CHA) as part of the 2019 CHA Women's Chinese National Championship.
After arriving in China, Sedrez spent a few days conducting preparatory courses with a number of referees and technical delegates before the championship, featuring them all, started. Every day during the competition lectures and match analysis took place, led by Sedrez, allowing all those present to understand, discuss and continue to learn based under the IHF 'new refereeing style'.
Sedrez worked closely alongside fellow PRC Lecturer Li Zhaomeng as well as translators throughout the duration of the successful course which is set to be delivered again in the near future.
The referees participating included Xiang Xu, Yo Liu, Xiaoye Ma, Youyou Song, Zhaomeng Li, Hau Wo, Zhiwei Zhang, Zhen Ni, Yifen Huang, Ling Wang and Yiwei Zho, with former IHF referee Feng Juan Liu as the responsible person for referees, while Yiyang Xu, Guozhong Wu, Geng Zhang, Jian Xu and IHF referee Yunlei Zhou were the technical delegates.
Host province success in national women's championship
The 2019 CHA Women's Chinese National Championship took place from 11-19 October and was held at the Changzhou Institute University in Changzhou city, located in the eastern Chinese province of Jiangsu. 
The championship featured 33 matches streamed live between teams representing 10 provinces, including hosts Jiangsu, Shandong, Anhui, Liaoning, Shanghai, Guangdong, Shanxi, Beijing, Sichuan and Guangxi. The first stage saw two groups of five teams each before the championship eventually reached the final which saw Shangdong take on Jiangsu province.
A capacity crowd of 1,100 spectators were in attendance and the local fans went home happy after Jiangsu won to become five-time champions of China. Despite the loss, Shandong's second spot was their best finish in the last three events.
Jiangsu received their trophy in front of a number of VIPs including those from a variety of sporting and political backgrounds with the best players, coaches and referees also awarded.
     
2019 CHA Women's Chinese National Championship final ranking:
1. Jiangsu 
2. Shandong
3. Anhui 
4. Liaoning
5. Shanghai 
6. Guangdong 
7. Shanxi 
8. Beijing 
9. Sichuan 
10. Guangxi