26 May. 2023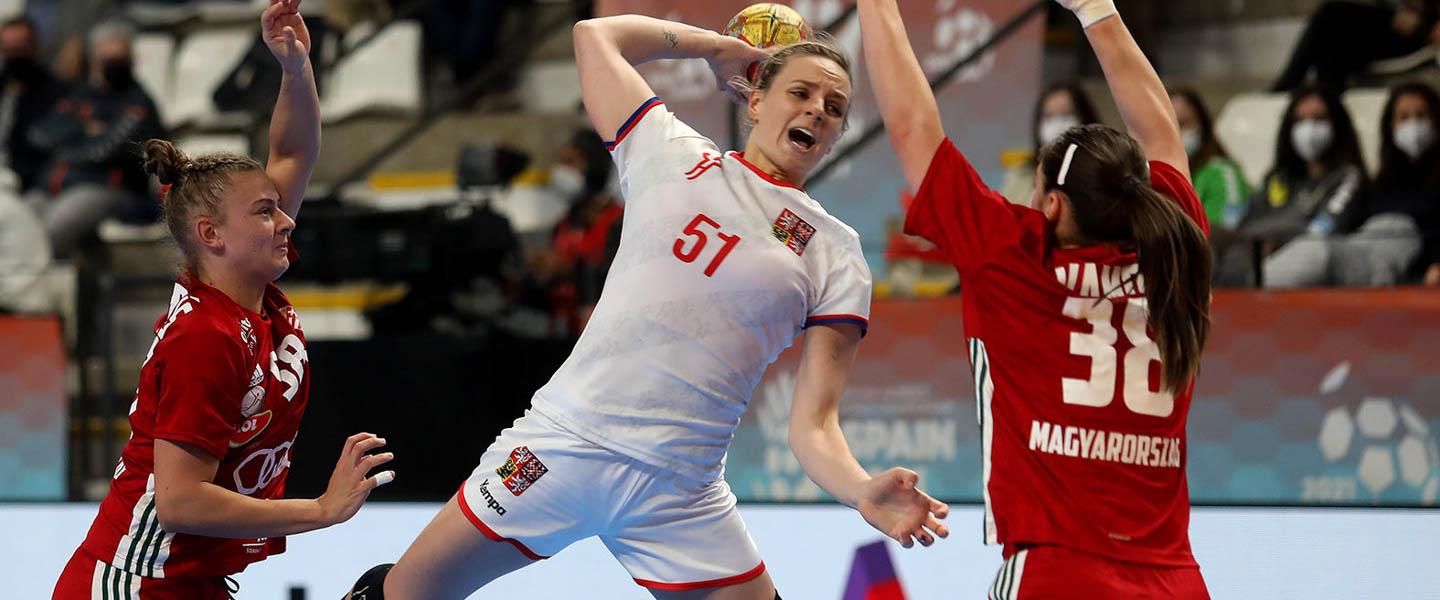 The 'Dream Big' series focuses on the stories of elite handball players, from childhood or their discovery of the sport through to now. The IHF recognises the important part athletes play as role models for children and young people who dream of becoming professional handball players — or pursuing any goal. With that in mind, this series aims to bridge the gap children and young people may perceive and show them the diverse paths to the top. 
The second instalment of the series centres on Czech Republic and Vipers Kristiansand left back Marketa Jerabkova, whose most notable international achievements include one EHF Champions League trophy and the MVP award at the women's EHF FINAL4 2022. 
MVP of the women's EHF FINAL4 2022, EHF Champions League winner and one of the leading stars of the Czech Republic team — Marketa Jerabkova has risen sharply to become a well-known name in handball in the last few years. She is no newcomer, however, having become a professional handball player as a teen and making her debut on the national team before reaching 20 years of age. 
For Jerabkova, it was not always about accomplishing a big dream, but about taking one step at a time to find herself now in the jersey of the reigning Champions League title holders Vipers Kristiansand and established as a player with the ability to consistently score a high number of goals. 
Jerabkova started to play handball at the age of six, after trying gymnastics as her first sport. Although she found gymnastics a good base, it was not the ideal sport for Jerabkova, whose parents felt she might enjoy something higher energy, where she could be with friends and play with a ball. 
"I enjoyed it because I met my best friend then, when I was six. So I enjoyed especially being with my friends and I knew that I always wanted to be on the field," says Jerabkova. "But I never thought about some dreams like Champions League when I was a child." 
Aside from the fact she enjoyed the friendships she found in handball from a young age, one key influence early on for Jerabkova was her brother, Jakub Jerabek. Jerabek is a professional ice hockey player, winner of the Stanley Cup in 2018. Being five years older than Jerabkova, Jerabek was an idol for the young handball player as she grew up and started to realise she had talent worth pursuing. 
"He was like, my idol," says Jerabkova. "I always saw how he is going on this level and in this way, so I think that, for me, that was like a big challenge [to follow his footsteps], but in a nice way, of course." 
Jerabek started to play ice hockey following the 1998 Winter Olympic Games in Nagano, where the Czech Republic won the gold medal. At that time, Jerabkova was two years old. The experience of her brother highlights how a national team's success can result in greatly increased participation in that sport on the part of children and young people, although that was not the case for Jerabkova herself — for her it was more about the close relationships: the friends and the support of her family. 
"I was at every training for ice hockey as a child. For us, it was just quite normal to be at the sports like ice hockey or handball, for all the family, because we really followed each other and we supported a lot. We didn't know what free time after school meant or free weekends or something like that," says Jerabkova. 
So Jerabkova was enjoying handball and being around sport as a child, but when did she start to get really focused on being an elite handball player? 
"I started to understand a little bit what was going on around me when I was 15 years old and I went to the national team," says Jerabkova, who found her goals growing as her career progressed step by step — and a big step was coming, as she would soon move from her home to pursue handball more seriously. 
"When I was 17, I went from the home of my parents to DHK Banik Most. Then I started with professional handball and I went to the women's national team for adults. And after that I went to Hungary, to Germany and now I'm in Norway. So it was always like, not the highest goals, but of course in my mind there was something — to play on the highest level, as it's possible for me. And I always wanted to fight against me — I didn't want to see the others, because for me there was no reason to follow someone else, but there was reason to follow myself and to be a better me." 
Although the move to Most was an important one in her career, Jerabkova does not forget her starting club in Plzen: "Because of them, I have good basics in handball. So, of course, that means a lot, but it was a different chapter in my career, for sure, at DHK Banik Most, and after that the first year in Hungary, because it was a different country and different mentality. So it was one level up from with Banik."
Most is roughly 100 kilometres from Jerabkova's hometown Plzen, and although the distance was not enormous, it was certainly an adjustment for the teenager and factors such as living alone presented their own challenges — challenges some athletes cannot manage to overcome. Jerabkova found the support from her family crucial in this time. 
"My mum, my brother and my dad — there are different ways that they can support. And from all of the three, my closest people at this time, the most important was that I can hear what I really need. After that, I met my boyfriend and he is like the biggest supporter until now," says Jerabkova.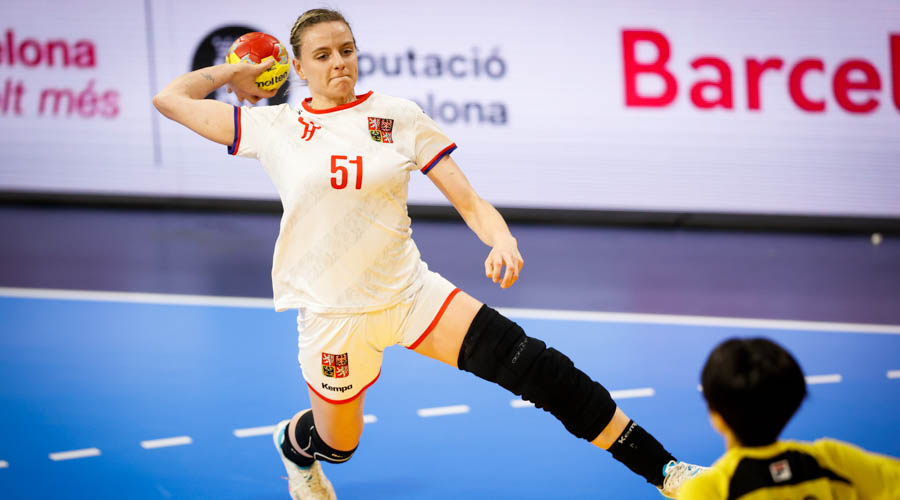 Soon after the move to Most came the senior national team. Jerabkova would go on to play her first major championship in 2016, participating in the EHF EURO in Sweden, and has never looked back. By the 2017 World Championship, Jerabkova was not only one of the most important players for the Czech Republic, but also ranked seventh overall in the top scorer chart. The team achieved their best ranking yet at that event, eighth position. 
But back to that first training camp in the open national team, where Jerabkova found joining the more experienced players a challenge: 
"I felt really like a very small child," laughs Jerabkova. "I think that first national camp was when I was 18. Of course it's not the easiest way, for all of the players to come to the national team when it's the most experienced people in your country and they have played many games on the high level, and now will come like, a little child. You need to fit to the team. I think that everyone can feel differently but for me the first one or two years were really hard, but also I learnt a lot."
Now, Jerabkova is well known as a dangerous back capable of scoring plenty of goals. She is the third top scorer of the 2022/23 Champions League season and was MVP of the EHF FINAL4 last season, where she tallied 19 goals in the two matches that decided the title. But Jerabkova says her shot is not something she worked on in particular, and credits something else for her strong performances: mentality. She finds that when her mentality is at its best, it serves not only herself but also everyone around her, and that includes the team environment. 
"For me, it's really important to have a strong mental side, and to have a strong head. Of course, for one thing, it's hard training and to be 100% for what I am doing. But the other way, it's really important for me to be strong as a person or, if I am speaking about handball, as a player," says Jerabkova. "I can feel if I don't have so much balance and I will start to feel bad. It means that's bad for me. I like to find balance between the training and between my personal life and also my head and mental side, because when this is working, not only me, but of course everyone can feel free." 
Certainly there must be children in the Czech Republic and elsewhere watching Jerabkova in her moments in the spotlight. Jerabkova believes the most important thing for kids when it comes to participating in any activity is that they enjoy it, as she has always strived for and continues to do. From that point, of enjoyment and cooperation with people around you, great things can happen.  
"They need to know why they are doing, for example handball, or why they are doing some other activity. First of all, they need to enjoy it. It's really, really important for me to do something — an activity or handball — and to enjoy it," says Jerabkova. 
"The most important thing is to have fun with the people I am playing with. Of course, it's not always that everyone is on your side or not everyone is the biggest fan of you, but you need to find communication in the team and you need to fit to the team so that you are feeling good, because from this moment can come something big."
So what's next? Jerabkova is now set to fight to reclaim the Champions League title, and perhaps another MVP crown, in Budapest on the first weekend of June. 
"I am excited more and more how it's coming closer and closer every day," says Jerabkova. "This is the biggest and for me as beautiful tournament as can be in handball. So I am really, really looking to it."