26 Jun. 2020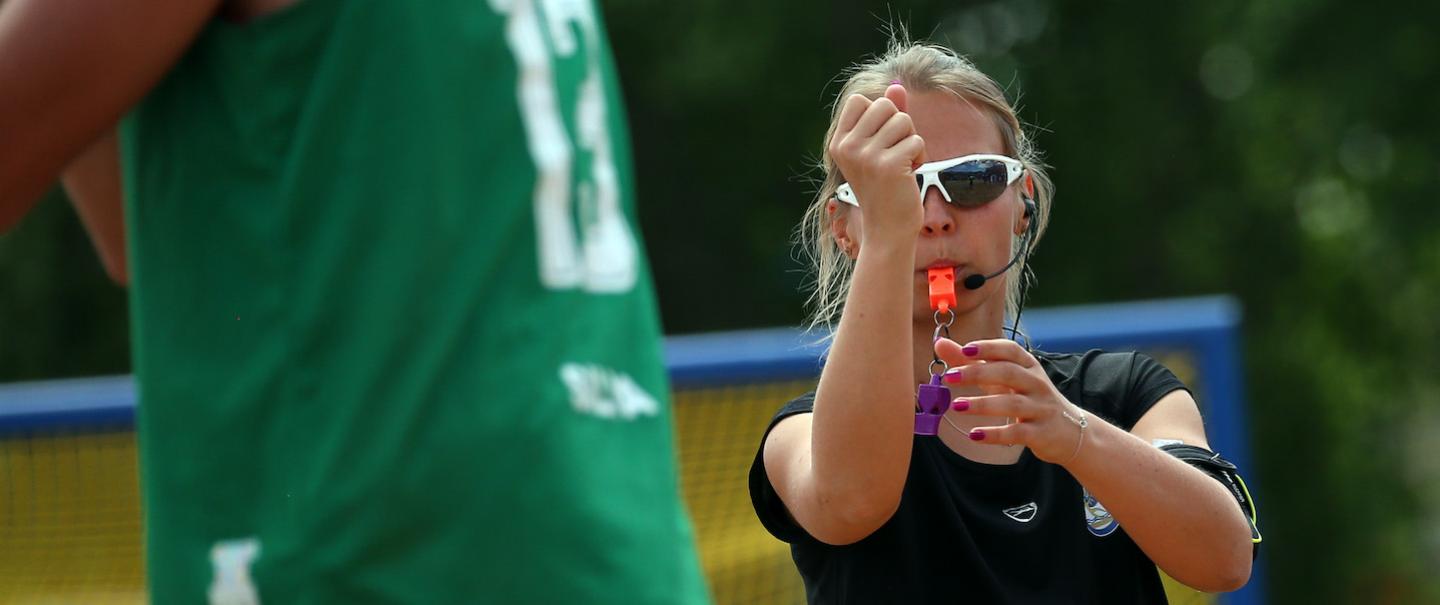 Many members of the global handball community have contributed to the fight against COVID-19. We share their stories in the special 'Handball in Healthcare' series.
International Handball Federation (IHF) beach handball referee Edyta Jaworska has to have a sharp eye when whistling on the sand, but in her day job, visual skills are more related to matters of life and death.
Jaworska is a laboratory diagnostician working on the frontline in the battle against COVID-19 at the Synevo Department of Genetics in Krakow, Poland. The role sees her examine samples from patients for the presence of genetic material of SARS-CoV-2 (COVID-19).
"Every day, my colleagues and I conduct tests which are recommended by the World Health Organisation to confirm or exclude the infection," said Jaworska to ihf.info.
"Those tests need to be made with a lot of care, precision and focus. We have samples from across the country and are working under time pressure because a lot of patients and medical workers are awaiting their results.
"Things are more complicated with COVID-19 now," added the 29-year old. "I never thought I would be ready to work like how I am now in this kind of situation. Usually I work at the Synevo Laboratory located at the T. Marciniak Lower Silesian Specialist Hospital in Wroclaw, but I got a phone call from my boss on the Friday (29 May) saying I had to pack my bags and move to Krakow for around two months because they needed people there. 
"By the Monday (1 June) I was there, and my new reality is crazy; I'm living in a hotel and working 8-14 hours every day in a laboratory directly with COVID-19, there are samples everywhere.
"I quickly had to learn how to conduct genetical tests directed to detecting COVID-19 in samples and I'm part of a special 'COVID-19 Mission', working every day in a highly-specialised laboratory with full personal protection equipment."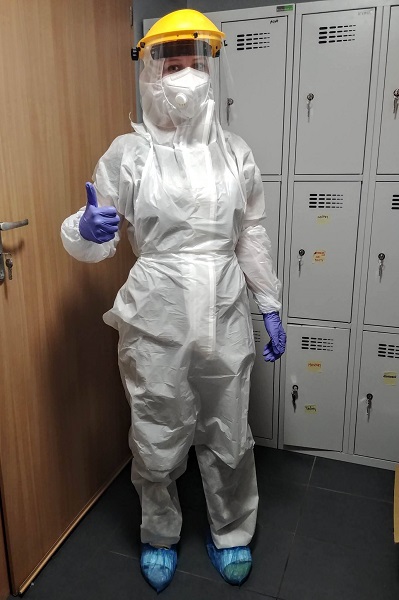 Jaworska started her medical career back in 2009 where she studied at LZDZ Legnica, a school for pharmacists just north-west of Wroclaw, qualifying in 2011 for the right to work as a pharmacy technician.
She immediately went to work as a chemist in Wroclaw and then, a year later, in 2012, she started a five-year Laboratory Medicine course at the Wroclaw Medical University, becoming a laboratory diagnostician in 2017.
And the knowledge gained in both roles has been crucial in her current work, which has changed completely as the COVID-19 outbreak continues to develop across the European country – and the world.
"I feel much better in the second role but often I use knowledge from my first job," she explained. "Healthcare and medicine have a common mission and whatever our roles or experience, we always work as a team, without that, there's no way to diagnose and treat a patient correctly. 
"In the laboratory every sample is not just a sample – it's a patient, a patient who needs results to be diagnosed well. I like to conduct all tests which are necessary to diagnose someone who needs help. 
"Sometimes we need brainstorm to find a solution and sometimes I work under big pressure with time running too fast – but every time I do my tasks well, it gives me not only satisfaction, but also the awareness that I was able to help someone."
Away from her medical career, Jaworska made it to the very top of the beach handball refereeing tree in 2017, when she gained her IHF badge, but it was not a usual path.
"It's a short story," said Jaworska, when ihf.info asks her about her playing career. "I played handball for five years in primary and high school, mainly on the left wing. Then in 2007 my colleagues and I from my hometown club 'Piast Glogow' – which doesn't exist anymore – decided to create a beach handball team which we called 'Championki z Glogowa'.
"I played wherever we needed a player because not so many people were able to make spin shots and we actually had some early success, finishing third at both the 2007 and 2008 Polish Beach Handball Championships – they were good times, but I always felt that something was missing – and it was refereeing.
"Things changed in 2009 when I decided to start with the whistle, both on the beach and indoor," added the 1,58m-tall right-hander. "My father was a referee, so I had a good example and inspiration – I whistled with him a number of times, both on the beach and indoors – along with many other people – and received my national badges in both just under a year later.
"I refereed indoor matches up to the 1st Division level in the Polish league and I remember I was always ready to go to any beach handball competitions, there was even one season where I whistled at 12 tournaments."
After meeting current referee partner Anna Gawel in 2013, Jaworska went from strength-to-strength with the whistle, earning her European Handball Federation (EHF) continental badge in 2014 at the EBT Finals in Thessaloniki, Greece, where she and Gawel whistled the men's bronze-medal match.
Three years later the couple earned their IHF global badge on home sand, at the 2017 IWGA World Games in Wroclaw, Poland, a tournament which they ended by whistling the women's final between Brazil and Argentina, and one which still holds very fond memories of "a very emotional time".
More was to come though as the couple whistled one of the three first-ever beach handball matches at an Olympic Games – the match between Argentina and Turkey on the show court at the 2018 Youth Olympic Games in Buenos Aires, Argentina. The home side would later go on to claim gold.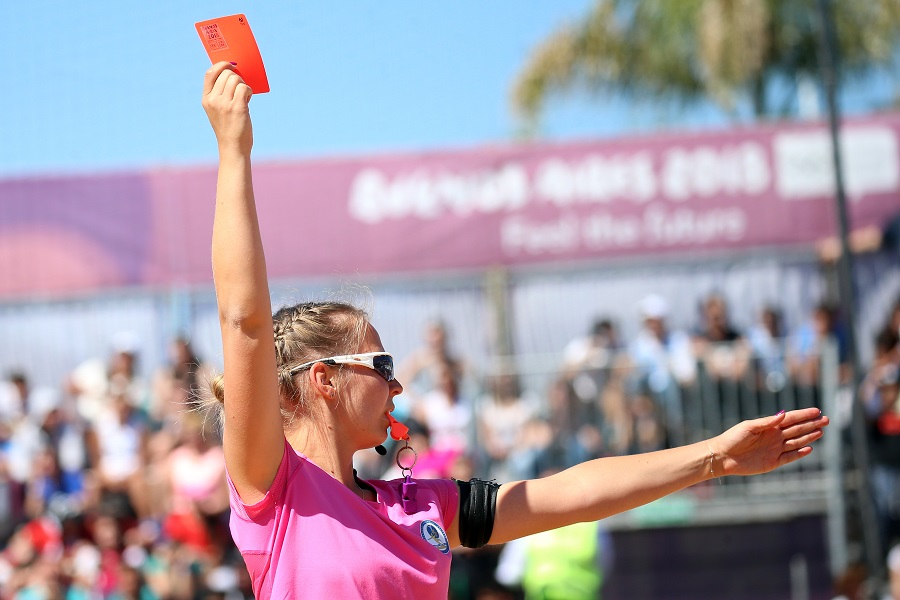 Another first was to come last year, when they whistled at the debut edition of the 2019 ANOC World Beach Games in Doha, Qatar, ending with the women's bronze medal match between Brazil and Vietnam.
"I love to be on the court," said Jaworska, who calls the 1,82m Gawel her 'taller half'. "Since my first whistle I've known that it's the right place for me during beach handball games, the atmosphere of every event is amazing and I'm often smiling.
"But with my 'other' job I'm just taking care of people's health," she added modestly. "A lot of people think tests are done magically by themselves, but the reality is that people like my colleagues and I are spending many hours, days and nights in the laboratory to get all of these results.
"We as medical workers are doing our best every day to keep things under control, and I would just say to handball fans everywhere to not panic, don't be crazy and be smart. Respect your health, and the health of other people, and with your help and smartness we will all return to beach and indoor courts soon, so stay healthy, and we'll see you soon."
The IHF would like to thank Edyta and all the healthcare heroes on the frontlines in the fight against COVID-19.