08 Dec. 2019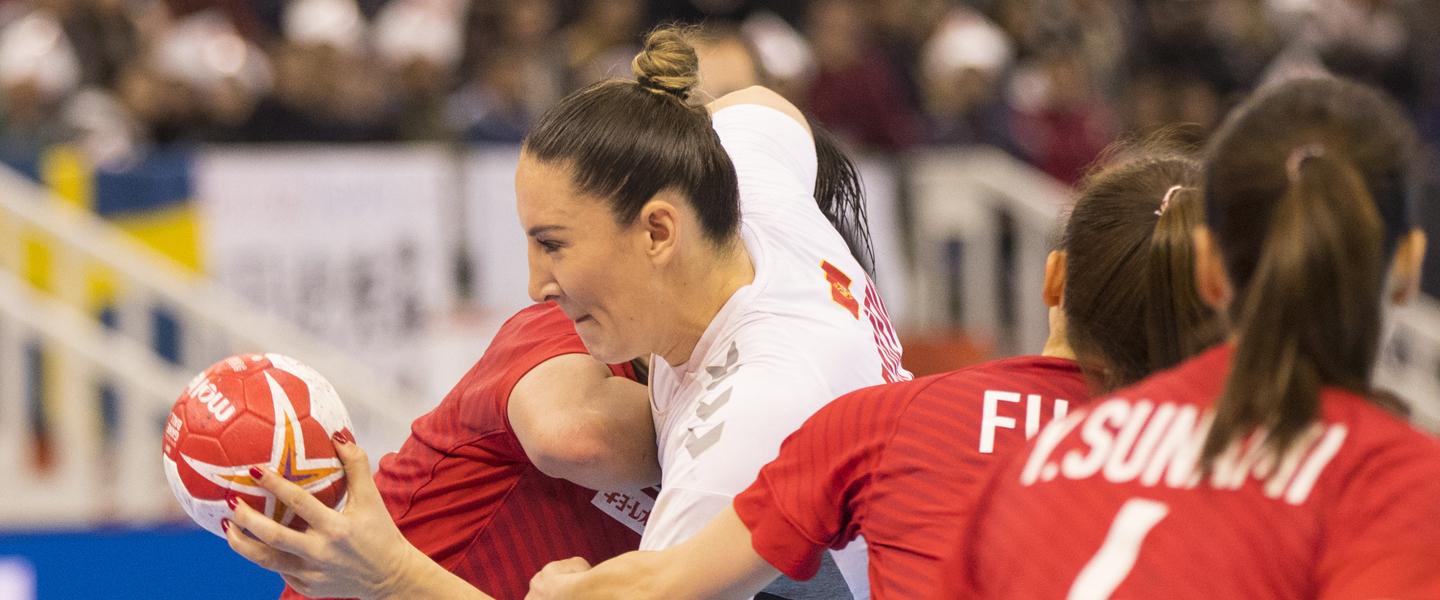 In the end the four-goal scoreline did not do Japan any justice at all. Montenegro were lucky to emerge from this game with a victory, a win which keeps their semi-final dreams alive and all-but-ends those of the host nation.
Five goals in the last few minutes from the European side ensured a clear win in the end but right up until just over four minutes remaining they were not able to breathe easily as Japan put in their best performance at their home championship so far.
MAIN ROUND – GROUP II
Montenegro vs Japan 30:26 (14:11)
Park Dome Kumamoto
Sakura Kametani started the game with a save but her Japan side had fouled in the process and Tatjana Brmovic happily accepted the penalty to put Montenegro ahead (1:0). This was after just 43 seconds in a near-capacity Park Dome, full of home supporters on a Sunday night in Kumamoto.
Gradually, Montenegro increased their lead, getting up to five (7:2) just after the 10-minute mark as Japan battled to keep them from getting away.
But, gradually, the host nation mounted a small comeback, although they were undone by a number of weak shots, and they struggled with their tempo on the counter attack as Montenegro had time to regroup every time they turned over the ball or failed in attack.
At times, Kametani was with ball in hand looking for an outlet before Montenegro could organise in defence, but the players were not available and her side had to build up slowly, particularly hard for the shortest, on average, team at Japan 2019.
Despite this, by half-time the deficit had been cut, to three (14:11), with the impressive Mayuko Ishitate squeezing a long-range effort in for Japan one second before the break – this as her side were a player down after Sayo Shiota had been shown a two-minute suspension.
So the story was over for Japan against the London 2012 Olympic Games silver medallists or was it?
Maybe inspired by that Ishitate strike, Japan came out fighting in the second half and Kametani again was involved right at the beginning of the half, saving an early Montenegrin strike inadvertently with her face from a Majda Mehmedovic strike.
But this summed up what would be the pure spirit of Japan in the second period and show just how far they have come, not only since the last world championship, where they finished 16th, but since 1975, when they finished 10th – a ranking that could still be beaten depending on other results.
Japan inched closer to an all-square match, going just one behind in the 36th minute, and the bench started to show pure emotion as the chase was nearly complete. They had got there with a pressing defence working overtime as Montenegro's Jovanka Radicevic and Milena Raicevic desperately tried to find a pass and, unable to, they – or their teammates – shot from long-range but could not find a way.
When Despotovic missed, Japan finally came level as Haruno Sasaki impressively rose over two defenders to shoot in off the right-hand post and send the crowd wild.
However, Montenegro's effective attack went about their business and kept their lead until the beginning of the 50th minute, but Japan equalised again after a five-minute period (22:22), as Sasaki converted a seven metre, immediately prompting a team time out from Montenegro's coach Per Johansson.
Both teams were now nervous and after goals went with the next possession (23:23) the nerves took hold with turnovers, steals and saves. Japan had two chances to go ahead, first Mana Ohyama overthrew a fast-break pass to Asuka Fujita and after Kametani out-foxed Radicevic with her dink shot, Fujita saw her shot saved by Marta Batinovic in the Montenegro goal.
Montenegro then went ahead by two, firstly with possession (24:23) and then through a Mehmedovic steal and full-court empty net goal as Japan, playing with seven in attack, left their goal unattended.
At 25:23 down, Japan took a time out, but it would prove to do little as a disastrous few minutes ended their chance of victory as Montenegro went 27:24 up after Yuki Tanabe hit the crossbar and prompted the second time out in under two minutes.
But Ohyama turned over the ball and Montenegro went four up (28:24) and the game was over effectively despite the best efforts of an all-in Japan defence.
hummel Player of the Match: Jovanka Radicevic, Montenegro