11 Dec. 2019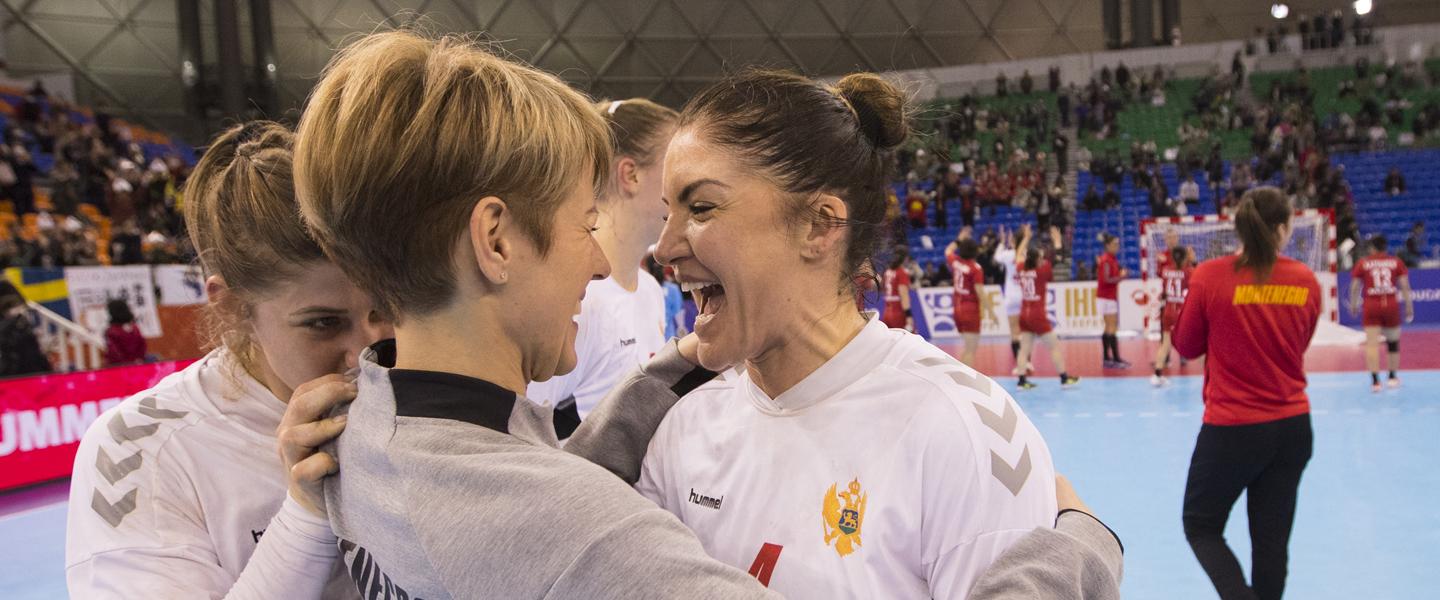 Bojana Jelicic is Montenegro's official team psychologist, working alongside the coaching team of Per Johansson and Adrian Vasile at the 2019 IHF Women's World Championship in Japan. 
Sweden, France and Netherlands also list mental trainers or coaches in their official delegations at the championship as nations look to expand their support from the bench for their players.
Jelicic, who has a Masters of Psychology from the University of Novi Sad in Serbia, was recently nominated to become an IHF Commission of Coaching and Methods (CCM) Lecturer and has been an EHF Scientific Network Expert for the past three years. 
After starting with football team Red Star Belgrade in Serbia in the 2005/6 season, Jelicic has worked with a number of different sports including shooting, volleyball, tennis, basketball, judo, karate and many more. She first got involved with handball at the 2012 Men's European Championship in Serbia with the men's national team.
Later that year she moved to the women's team for their European championship campaign and then helped her nation win silver at the 2013 IHF Women's World Championship, also held in Serbia. She also worked with the Croatian men's national team at the 2014 Men's European Championship in Croatia.
IHF.info caught up with Bojana following Montenegro's 30:26 victory against Japan and ahead of their crunch main round group match against Russia on Tuesday (10 December) at the Park Dome Kumamoto.
IHF.info: The match against Japan was tough, with the host nation drawing level inside the last 10 minutes having been behind for the first 50 minutes. How important was it for Montenegro to keep their focus for the whole 60 minutes?
Bojana Jelicic: It is very important for us to just keep the focus and continue playing until the end of the game. We work on this aspect from game to game, as it is one of the most challenging moments a team goes through during a match - to keep the focus on the present constructively and continue finding solutions until the referees blow their whistle.
IHF.info: You are not sitting on the bench during games, but in the spectator seats. How do you work from there?
Bojana Jelicic: Our work dynamics are on daily basis, and they also include prepare players with certain tips and possible solutions if certain situations come up, by speaking about them and finding solutions together.
Getting out of a certain situation might also consider a need to remind the player next to you of a solution – this also helps them stick together and nurture the cohesiveness and communication. 
Finding a way to get out of situations we might come in is a continuous challenge and asks for continuous work.
IHF.info: Do some players need more help than others?
Bojana Jelicic: Although handball is a team sports, let's not forget that a group is a collection of individuals that coordinate with their individual efforts. To cover the needs of a group, focusing on individuals is a necessity. And yes, my door is always open. Anyone can come whenever they need, and I can approach them when the need for an intervention comes. At any moment, with constant sense of timing and its importance.
What you need to do as a psychologist in a team is to always be connected with the whole team, this allows you to recognise the needs, in which situation and how you can help each and every one of them – it's a 24/7 job.
IHF.info: Do you only work face-to-face or in this modern age of communication, do you use WhatsApp and other messaging services or talk on the phone?
Bojana Jelicic: This is my fourth week with the team, as I am new and have started working on the 18 November. Therefore, all we have been doing and how we have been working these weeks was just live, in person.
In these 15 years of my career, there are cases when the collaboration is done through Skype or other video call communication applications. The most important thing for me is to be dedicated to my client, to give them full form of offered professional service.
You have to have an efficient communication with them and if there is a chance to stay in touch after the competition, that is done. If there is a will and a wish from their side, it is very important to have that continuity in work.
IHF.info: So a large part of your work is to build up trust?
Bojana Jelicic: Yes, it is. The fastest way you can build up trust is by being open, with clear motive and positive, constructive intentions, being yourself, a great assistance is the personality structure you have, and the values that represent who you are. That's actually a big help, especially in situations where you are engaged to work with a short notice. This happens, too. In my work with Montenegro we have not had much time, it's not like we've had months to build the trust, rather just hours and days.
IHF.info: In your experience do some players understand psychology and embrace it more than others? Are some players not interested in it at all and have their own ways to deal with pressure, stress and everything else? 
Bojana Jelicic: There's a mix. You have different people in a group. You have players that are informed about what psychology is and what it can do in sports, how it can help the maximize their potential and reach the level of performance they strive for, and there are those which are not that much informed, where you step in by educating and informing them. I believe in the power of giving someone time to adopt and to choose when they are ready to step in. And so far, in these 15 years, I have never experienced not connecting with somebody, it was just with different timing.
Sometimes it happens in several minutes with somebody and for somebody else it could be several days, but you manage, and it happens eventually. Being patient, staying open and ready for their approach is the way towards any client.
IHF.info: A sports tournament can mean a very long time away as a group with preparation tournaments and the competition itself. This means a number of weeks in the 'bubble' of the group. How do you manage that?
Bojana Jelicic: I like to keep us all focused, including myself. I have been telling the players several times in these past weeks that I keep forgetting where we are, that we are in Japan, just focusing on our team.
I actually like to keep very much focussed on the team even during free days. You find ways to relax, but it's mostly with your team as well.
Staying connected to recognise the needs of the team, where if you get out of that 'bubble', you kind of lose the connection. And this is not a situation to risk anything, but to stay in control as much as possible for the benefit of the team.
Stay in the bubble, keep being focused and in that way, you also control the distractions.
IHF.info: In your experience are there any major differences between handball and other sports or even between men's and women's handball, psychologically-speaking?
Bojana Jelicic: Of course there are differences, but I will tell you how I see it. What I have found more attractive for my personality structure and preferences of dynamics, is to work within team sports. It's just an additional drive for me to work with 20+ people. I have a lot of energy that I send towards the group, and when you have 20+ people return that, it feels good.
If you look at individual sport, it's just about one person. The mental set for that collaboration is different. The last 10 years of my career has been in team sports, where I have individual approach, individual clients from team sports.
IHF.info: Anyone who has seen – or heard – Montenegro prepare to go on court will see that energy you talk about…
Bojana Jelicic: This is very specific for their mentality. They are very energetic and have that fighting drive, that we have recognised as a connection of ours as well.
IHF.info: What is your normal routine for a match day and a rest day?
Free days are mostly for individual work, but we also cover group needs through group sessions. Being present at the tactical meetings of the coaches, to observe, hear their instructions can help my part of the work. 
During the group sessions with the players, it is just our time. I like to have that bubble exist, to give them space to share with each other and me. Trust once gained is to be nurtured. And it is not just about the professional ethics, it is about values in healthy communications and relations.
In fact, we are always talking, except during physiotherapy sessions. That is actually a break, I may come into that room and just have fun with them, joke and talk, depending on what the topic is. It is actually a psychological-free work zone, though.
IHF.info: What is it you love about this group of players? Their energy and their mentality?
Bojana Jelicic: To me that's exactly what it is, I love the exchange of energy, the experiences that we're going through together. We actually learn a whole lot and along the way we develop by working together. We grow together towards certain goals. That's how I see all my collaborations.
IHF.info: How does it work with you, Per and Adrian?
Bojana Jelicic: I have a great collaboration with Per and Adrian. We're a great team with a special mental connection, our communication is based on trust and awareness of the values we bring with us to this team. 
And as I have mentioned already, it is a 24/7 type of a work and job, where the full dedication and healthy communication between us is what makes my collaboration with these two coaches special.