01 Oct. 2021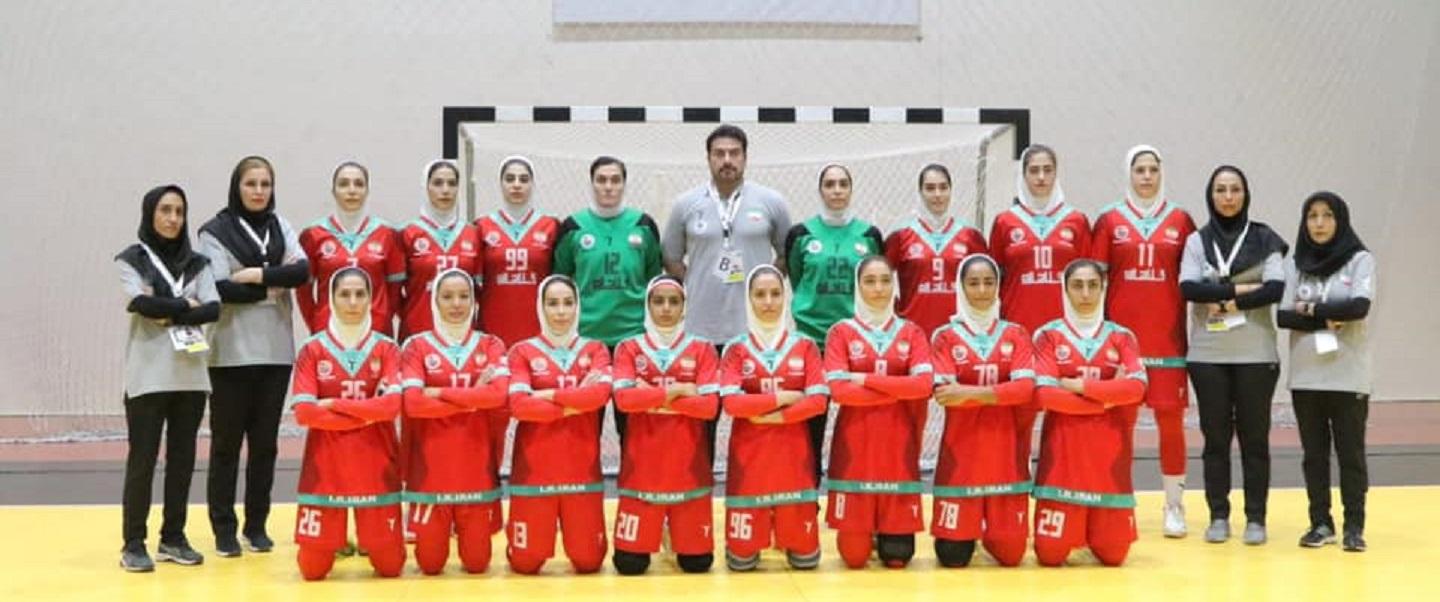 Tuesday 21 September 2021 will go down in Islamic Republic of Iran's handball history as it was the day that their women's national team confirmed their first-ever IHF Women's World Championship qualification by beating Syria in their fifth preliminary group game of the 2021 AHF Women's Asian Championship at Princess Sumaya Hall in Jordan against Syria.
Iran had never previously qualified for a youth, junior or senior IHF Women's World Championship and had never medalled in any Asian continental youth, junior or senior events.
History made on lucky ground
They had maybe sensed something was going to happen when they returned to the sports hall, site of their first-ever international medal, after they won the West Asian Women's Championship back in 2018.
After overcoming hosts Jordan in their previous match, the harder work was done, but Iran knew a win over Syria would mathematically secure a semi-final spot and with it, one of the five direct tickets for the 2021 IHF Women's World Championship in Spain.
Within one minute of the start against Syria a strike from line player Elnaz Ghasemi, who plays her club handball in Turkey with Super League side Antalya Anadolu Spor Kulübü, had put any nerves at ease (1:0) and 60 minutes later, Roya Norouzi scored her third of the match to seal a 38:19 win. Job done.
"We knew that if we won, we would get the World Championship place," said Iran's centre back Maryam Yousefi, who plays her club handball for Tasisat Daryaei (IOEC), to ihf.info. "It was an indescribable feeling when we did win – it was the first time in Iranian women's handball and would be recorded in the history of Iranian handball. 
"After 20 years of playing, reaching the World Championship means that we got the result of all our efforts."
No coaches
Unfortunately, COVID-19 protocols meant Iran's head coach Ezatollah Razmgar, along with assistant coaches Nashmi Shafeiyan and Khadijeh Ghane were missing from the bench to witness history in person. And while Shafeiyan and Ghane were able to travel back home after the championship, at the time of writing, Razmgar is still in hospital in Jordan. 
This left team manager Nahideh Maghboul and physiotherapist Fatemeh Jafari Darbandi running the bench for the four remaining games of Iran's seven in total.
"The coaches worked hard for the team and the day they were supposed to see the results of their efforts they were not with the team," said Iran's right sided player Shima Zare, who lives in Shiraz.
"We had to fight alone, but we were able to answer their efforts," added the left-hander, who is also Iran's captain. "Coach Razmgar really taught us not to be afraid and fight, while Coach Ghane and Shafeiyan worked with us compassionately.
"In those last days of competition, they (Maghboul and Darbandi) were coaching the team, but they had always been by our side, our protectors, and Ms Maqbool supported the team like a caring mother."
Improvement and progression against the continental best
That team spirit was evident throughout the championship which saw a tough opening preliminary group match against the wealth of talent – and recent Olympic Games experience – of Japan with Iran more than holding their own, coming back from a six-goal half-time deficit to lose by just three – 20:23 (8:14).
"We showed a very good game against the powerful Japanese team and that the Iranian girls are very capable, strong and have made a lot of progress," said the Karaj-based left back Mozhgan Ghahremani, a thought her teammate, goalkeeper Haniye Lak echoed. 
"We showed a lot of progress in the game against Japan, and if we had not been a little afraid of Japan's name from the beginning, we could have even won the game," she said.
"Our coaches are among the good coaches in Iran who were able to improve our progress with good planning and good training," added Ghahremani. "We could play very well in the Asian Championship."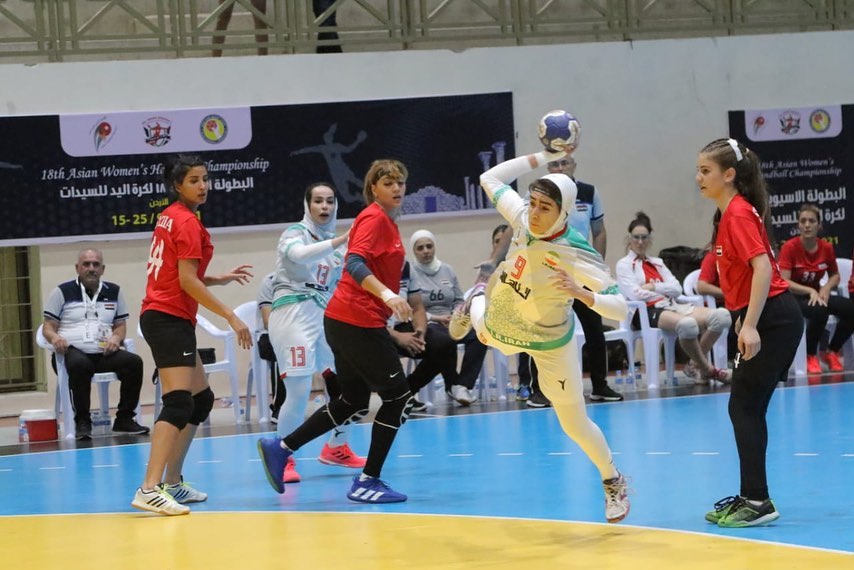 Wins then came against Kuwait (38:11), Palestine (52:9) and a well-fought – and crucial for Spain 2021 qualification – victory against hosts Jordan (28:22), a game which had seen the coaching staff members test positive for COVID-19 just two hours before.
"Although we felt that we were able to win this game because we did not have the technical staff, we had a stressful game," said Zare. "But when we won this game, I was convinced that we are one of the top four teams (in Asia) and how can I tell you how happy we were? I cannot describe that moment."
The win put Iran through to the last four where they would face the all-conquering Republic of Korea – not only fresh from their Olympic Games experience but with a record of having won medals in all previous 17 editions of the championship, with 14 golds, including the last four.
And Iran met their match, losing 21:46 (12:23) to the eventual champions. All that was left was their seventh and last game of the championship – a bronze-medal match against the experienced Kazakhstan. After finding themselves five behind at the break (15:20), Iran did all they could in the second period but could not close the gap, eventually losing 33:38 to finish fourth.
"Unfortunately, our coaches suffered in this tournament, and this hurt our team a lot because we could beat Kazakhstan and win a bronze medal," said Lak about missing the podium.
Looking towards Spain 2021
Despite the final game upset, thoughts quickly turned to their preliminary group at Spain 2021, where they will have an almost immediate opportunity to get revenge on Kazakhstan with the two Asian sides joined by the legendary Norway, plus the Cristina Neagu-led Romania.
"I proud of my teammates," said Iran's right back and top-scorer in Jordan (32 goals) Shaghayegh Bapiri. "We were so excited and happy; we were playing with our hearts and we had one goal: going to Spain. My great motivation is to score goals because I love scoring goals. I love shaking the net with the ball.
"I am so excited about the group," she continued. "I am so happy and have a lot of hope for the championship in Spain, I know it will be a great experience for my teammates and me. Everything is good and we will try to show a good performance in Spain."
Her teammate, Lorestan-based Arezou Kiyaniara is more direct. 
"My job is to play handball and it's the same thing I love – it has made my life stay at the ideal point. We participated in these competitions for a big mutual goal and the feeling that we had after achieving the championship qualification is not quite expressible but going to the World Championship was one of our dreams.
"We know that Norway, Romania and even Kazakhstan are the best teams and the feeling that we will see the best players in the world for the first time is great and we will definitely gain more experience. I hope we have a good show."
Inspiring on a world stage
For Kiyaniara and her teammates, Spain 2021 is more than just qualifying. 
"We will do our best to have a good show of girls wearing the Islamic hijab," she said, with 36-year-old captain Zare adding, "I am very happy that we have made history. We have tried for many years to show handball to all people (who wear the) hijab. (Jordan) was the first time we were able not to be afraid of a team and fight and be our real selves.
"We showed our realism and appeared as a fighters," she said. "We showed that an Islamic team can also appear in front of strong fighting teams. Our coaches were not present, so my responsibility (as captain) was much harder. I had to keep the team mentality and was coaching and transmitting the words of the coaches. I kept one heart and (we were) united.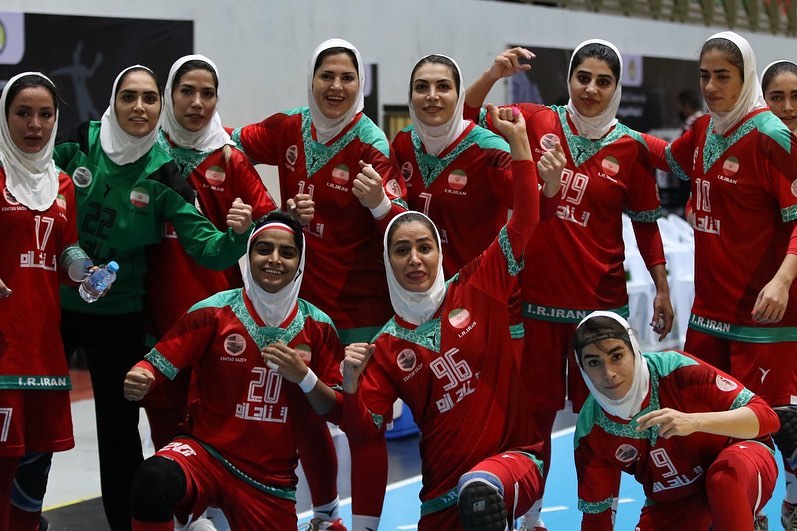 "When the anthem of our country was sung, we sang it with pride, when we looked at the flag, we felt strong and that we could – even though we did not have the facilities and there was little time to prepare – fight with the best Asian teams.
"I can boldly say that our team is the first time that it has been able to rise among the four Asian teams. This is a very big event in the history of Iranian ball disciplines, and it is very valuable to face world-class players and teams. We will participate in a World Championship for the first time but we will play well and with dignity. We do not expect a podium place, but we want to be fighters and not be afraid of (big) teams."
Discovering and loving handball
Where and when did the Iranian players discover handball and what do they love about it?
Shima Zare: "I studied at the Physical Education Conservatory and from there I got acquainted with the handball. I am from a sporting family, but I did not play handball (although) I became very interested in the sport. I was very, very interested in volleyball and taekwondo. Handball is the mother of all ball disciplines. There are these characteristics in all disciplines, but in my opinion, the sense of self-sacrifice is very competitive in handball."
Haniye Lak: "I first started playing handball at school, no one in my family was a handball player before."
Mozhgan Ghahremani: "My first sports teacher taught me handball at school and then I participated in school competitions and was selected for the youth team. I was the first person in my family to play handball. The excitement in handball is very high and this attracted me a lot. I like group play very much and I would encourage young boys and girls to get involved in handball because it is a very exciting and beautiful sport."
Maryam Yousefi: "I started playing handball at school when I was nine years old. Before me, no one in my family played handball. Handball means excitement and teamwork, working together to achieve a goal and results, finding friends. This means learning to live together and helping each other."
Shaghayegh Bapiri: "When I was in secondary school, I was familiar with handball and then it became my favourite sport. In my opinion handball is a perfect sport. You learn a lot of things such as how to control feeling, how to work together and how to be a social person in society."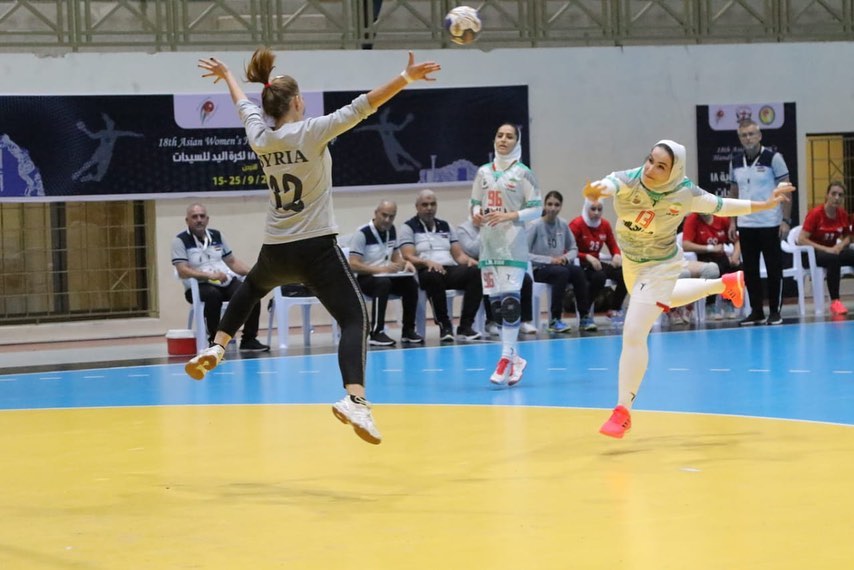 Iran's favourites
Who are the favourite players or teams around the world of the Iran women's team?
Shaghayegh Bapiri: Nora Mork, France, Norway, Denmark, Sweden
Maryam Yousefi: Stine Oftedal
Shima Zare: Grace Zaadi, Mikkel Hansen
Haniye Lak: Norway, Anna Vyakhireva
Mozhgan Ghahremani: "I love all the Russian players and I am really eager to meet them up close."
Photos: Asian Handball Federation