03 May. 2021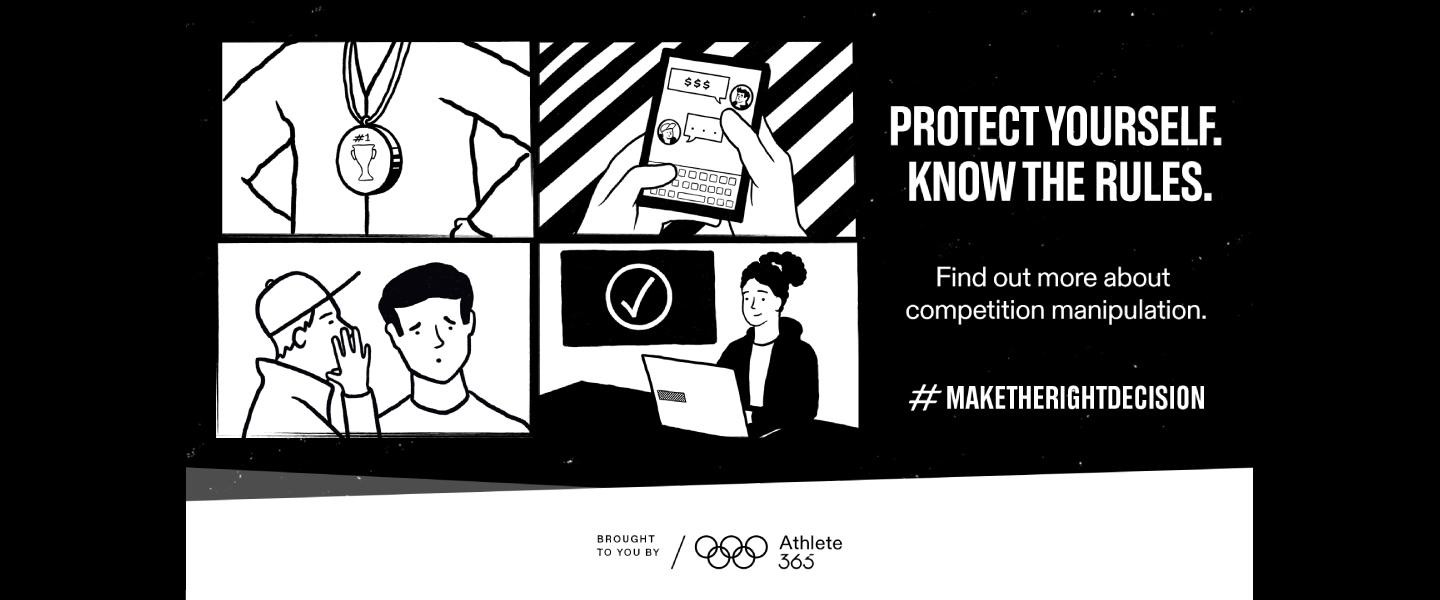 Athlete365, the official community for Olympians and elite athletes founded by the International Olympic Committee (IOC), has urged everyone involved in the Tokyo 2020 Olympic Games – athletes, athletes' entourages and all accredited persons – to 'Make the Right Decision' in a new campaign launched today (Monday 3 May) and running until the end of Tokyo 2020.
Competition manipulation can happen in any sport, in any country.

As an athlete, you have a responsibility to protect your sport, your career, and your reputation.

Remember the 4 rules, and always make the right decision.

Find out more 👉 https://t.co/boDIggVm2a pic.twitter.com/kEwzfXY6kR

— Athlete365 (@Athlete365) May 3, 2021
The 'Make the Right Decision' campaign aims to "raise awareness on the issue of competition manipulation as an increasing threat for sports integrity and inform about the related four rules," according to the Athlete365 website release today.
The four rules are: 
1.    Don't bet on your own sport or any event at the Olympic Games
2.    Don't fix the competition and always do your best
3.    Don't share information about health issues or sports tactics
4.    Speak up, you must report any suspicious activities to the IOC Integrity Hotline
"Competition manipulation happens when athletes intentionally underperform or lose on purpose," explains the Athlete365 website. "It's also when officials intentionally make bad decisions affecting the competition. Whether it's money, a better spot in the next round of the tournament or any other kind of benefit, there is always an advantage in exchange. Competition manipulation kills the spirit of sport. What's the point if the game is fixed in advance?
 "It's black and white," adds the website. "Protect your career, your hard work and your sport. Find out more about competition manipulation to make sure you make the right decision. 
"What you share especially on social media may be mused to place a bet. Think twice before you share, always be aware of what you share and never reveal insider information. Always do your best and never lose on purpose.
"Always report suspicious behaviour and never feel pressure not to," adds Athlete365. "If you have reasons to suspect a case of competition manipulation or if you witness an approach to fix and event, it is your duty to report it."
To support the 'Make the Right Decision' campaign, a striking visual and verbal identity has been created as well as compelling and animated athlete stories to raise awareness. An ambassador network has also been created to provide an accessible point of contact for athletes in addition to a wide range of engaging educational materials.
Athlete365 supports athletes on and off the field of play through relevant advice, services and tools, encouraging them to lead conversations and work across sport to deliver an athlete-led approach. 
Their activity is focused on key areas which address an athlete's needs no matter where they are on their journey with a mission to make Athletes' lives better and to support the world's biggest community of elite and Olympic level Athletes.
During the 2018 Youth Olympic Games in Buenos Aires, the entire delegation of each beach handball team took part in a number of classroom-based and practical Athlete365 activities accompanied, mentored and supported by Serbian international Andrea Lekic and Brazilian international Gil Pires in their roles as 'Athlete Role Models'.
For further information on the campaign and Athlete365, click here or follow Athlete365 on social media:
Photo: Athlete365