19 Oct. 2020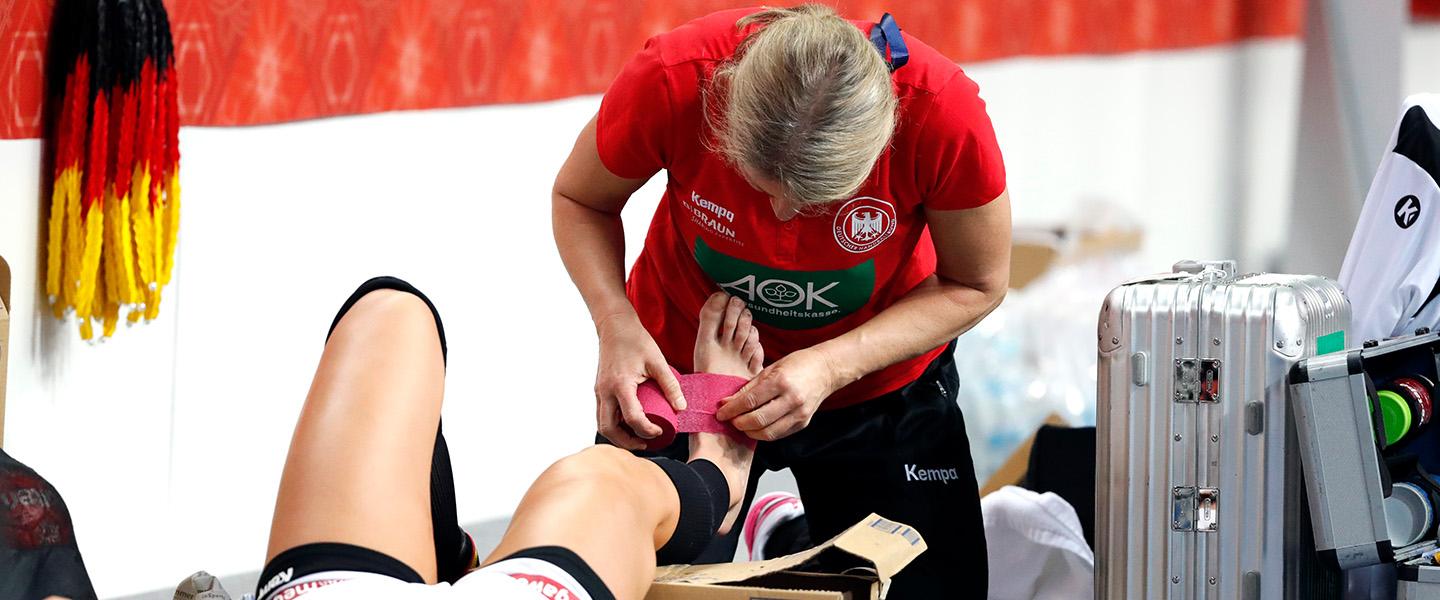 Starting this week, the IHF will hold a series of medical webinars concentrating on various elements within this field. The lectures, to be presented by experts from around the world from October 20 until mid-December, are designed to educate regarding the health, safety and performance of players and support athletes to remain active in handball while minimising health and injury risk.
The webinar series will be suitable for physicians, physiotherapists, sports doctors and medical professionals, but also anyone working in handball as well as enthusiasts. The IHF have invited all member federations to participate, and specifically reached out to the 30 national teams so far confirmed for Egypt 2021 to join the seminars. 
The format of the lectures will be one seminar per week, with the first seminar on Tuesday, 20 October taking place from 13:30 to 15:00 CEST, and the remainder always held from 14:00 CET to 15:00 CET. A total of 10 medical webinars are planned, all of which can be joined via Zoom and will be streamed live on the IHF Facebook page.
The seminars will be presented primarily in English, with simultaneous translation into French, Spanish and Arabic. Participants will have the opportunity to submit questions via the Q&A function on Zoom for a question and answer portion in each lecture, guided by moderator Courtney Gahan. 
The first seminar on 20 October will be preceded by opening words from IHF President Dr Hassan Moustafa and IHF Anti-Doping Unit Chairman Dr Hosny Ahmed. 
The programme for the medical seminars is as follows: 
20 October, 13:30-15:00 CEST
The role of the team physician and medical assessment of players
Dr Michiko Dohi – Deputy Department Director, Sports Medical Center, Japan Institute of Sports Sciences
Join on Zoom: https://us02web.zoom.us/j/83254431185 
27 October, 14:00-15:00 CET
Verification of gender during women's competitions and hormonal variations in the menstrual cycle and performance in sports 
Dr Zakia Bartagi – Director, Tunisian National Anti-Doping Agency (Directrice de l'Agence nationale de contrôle antidopage)
Join on Zoom: https://us02web.zoom.us/j/83161461529
3 November, 14:00-15:00 CET
Mental health of the players
Professor Margo Mountjoy – Chair of Association of Summer Olympic International Federations Medical and Science Consultative Group
Join on Zoom: https://us02web.zoom.us/j/81714611951
10 November, 14:00-15:00 CET
Performance nutrition: what's in it for the athlete? 
Professor Louise Burke – Chair of Sports Nutrition, Mary MacKillop Institute for Health Research, Australian Catholic University
Join on Zoom: https://us02web.zoom.us/j/87859001503 
17 November, 14:00-15:00 CET
The effect of environmental temperature on elite athlete 
Professor Sebastien Racinais – Head of Research, Aspetar
Join on Zoom: https://us02web.zoom.us/j/85946066274 
1 December, 14:00-15:00 CET
Foot and ankle injuries in handball 
Associate Professor Mahmoud Abouzied – Associate professor of orthopaedic surgery, consultant foot and ankle surgery, Benha University, Egypt
Join on Zoom: https://us02web.zoom.us/j/83323517367 
8 December, 14:00-15:00 CET 
Rehabilitation and prevention of knee injuries 
Professor Grethe Myklebust – Professor of Rehabilitation and Prevention, Oslo Sports Trauma Research Center at the Norwegian School of Sports Sciences
Join on Zoom: https://us02web.zoom.us/j/84380337865 
Further lecture – date TBD
Handball injuries – causes and outline of treatments 
Professor Yacine Zerguini – Orthopedic Surgery, Sport Trauma, FIFA Medical Center of Excellence (Algiers), CAF-FIFA Medical Committees
Further lecture – date TBD
Latest Anti-Doping Information – International Testing Agency
*Please note that the programme may be subject to change under certain circumstances
The programme as well as the links to Zoom can be accessed on the IHF Education Centre as well.