10 Dec. 2019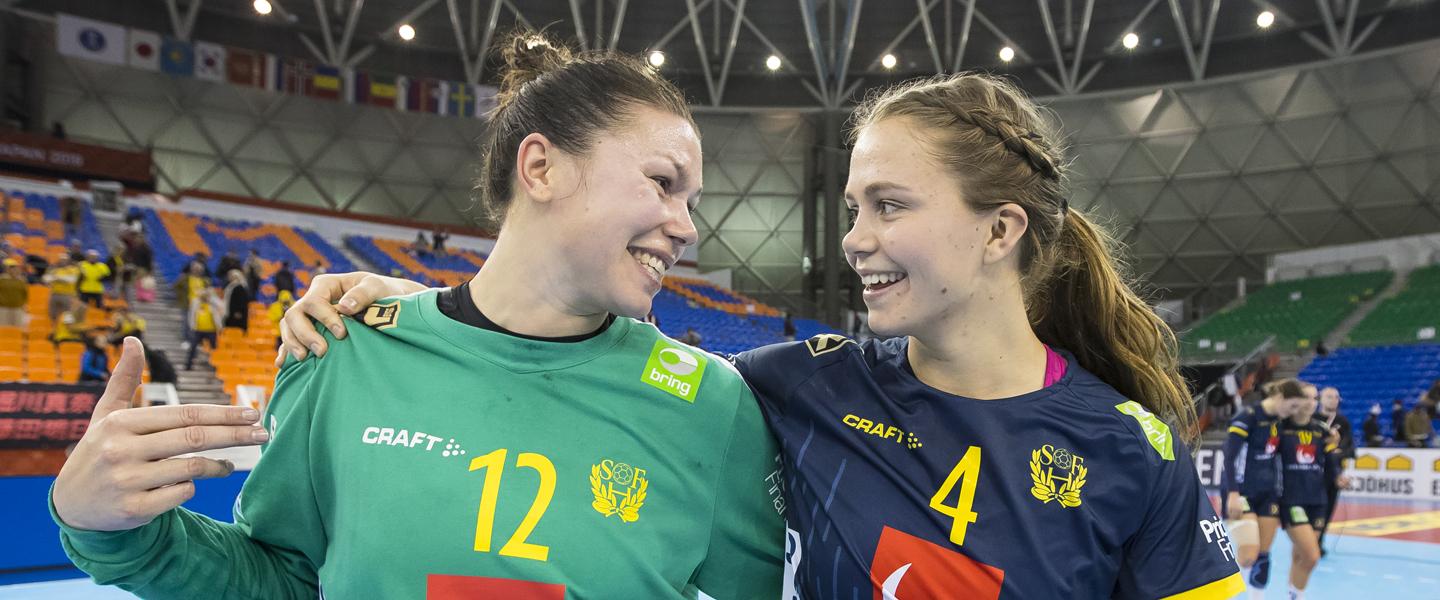 Sweden take on Romania at the Park Dome Kumamoto tonight (Tuesday 10 December) knowing that a win is needed to give them the best chance of qualifying through to the semi-finals of the 2019 IHF Women's World Championship.
A priceless point was picked up against Spain on Sunday in an unbelievable nine-goal chase, a point which ensured they stayed in touch with Montenegro, Spain and Russia above them with all teams having two games left to play at the beginning of the day.
IHF.info spoke with one of the big architects of that Spanish draw, goalkeeper Filippa Idehn, who ended with 12 saves.
IHF.info: Why did you give yourselves so much work to do? You were nine goals down, at 21:12, with under 19 minutes left on the clock.
Filippa Idehn: I don't know; it's crazy, I think it's so strong that we come back like this though. We were doing so bad in the first half and also in the beginning of the second half, and it was a little bit better at the end of the first. We were at that level in the beginning, but we come back so strong and it's amazing to see how much the girls fought and how our team spirit could turn the game around.

IHF.info: Did you think you could have maybe even won?
Filippa Idehn: Of course we're happy with one point, we were never in the lead of the game, but I think in the end like it was, we could have won, but I am really happy for one point. I think Spain played really good and I am only happy that we got ourselves out of that bad playing we did in the beginning.
IHF.info: What was bad?
Filippa Idehn: I don't play attack so it's easy for me to blame the attack but I don't think we were really going for the goal, we were hesitating a little bit and their back players were disturbing us a little bit, going in on our playmaker, but we were solving it a lot better in the second half and that was the solution in the end.
Spain were working our defence so good they got us to move around really well and it was hard.
IHF.info: But Spain are a very strong team, they had won all five of their games previous to this and you actually looked in pain during the game after a save. How hard is it to play in a world championship at this level?
Filippa Idehn: I've just done the same thing in the last, how many games did we play, five, six? I just landed on the same spot six games in a row now. It just hurts when I land there, so I am looking forward to the rest days.
IHF.info: As you prepare to fight for the semi-final spot, what positives can you take from your games?
Filippa Idehn: In the last 10-15 minutes when we started to come back against Spain, the dedication we had and looking at the goal and really going for it; the fighting spirit that we had, I think we're going to take that with us and continue like that, and then we're going to be dangerous.
IHF.info: You have well over 100 appearances for Sweden now, do you still get that buzz when you make a save?
Filippa Idehn: Yeah of course, otherwise I would have stopped - that's the whole point of being a goalkeeper. It hurts, but you have to work really hard to get those saves.