22 Jan. 2023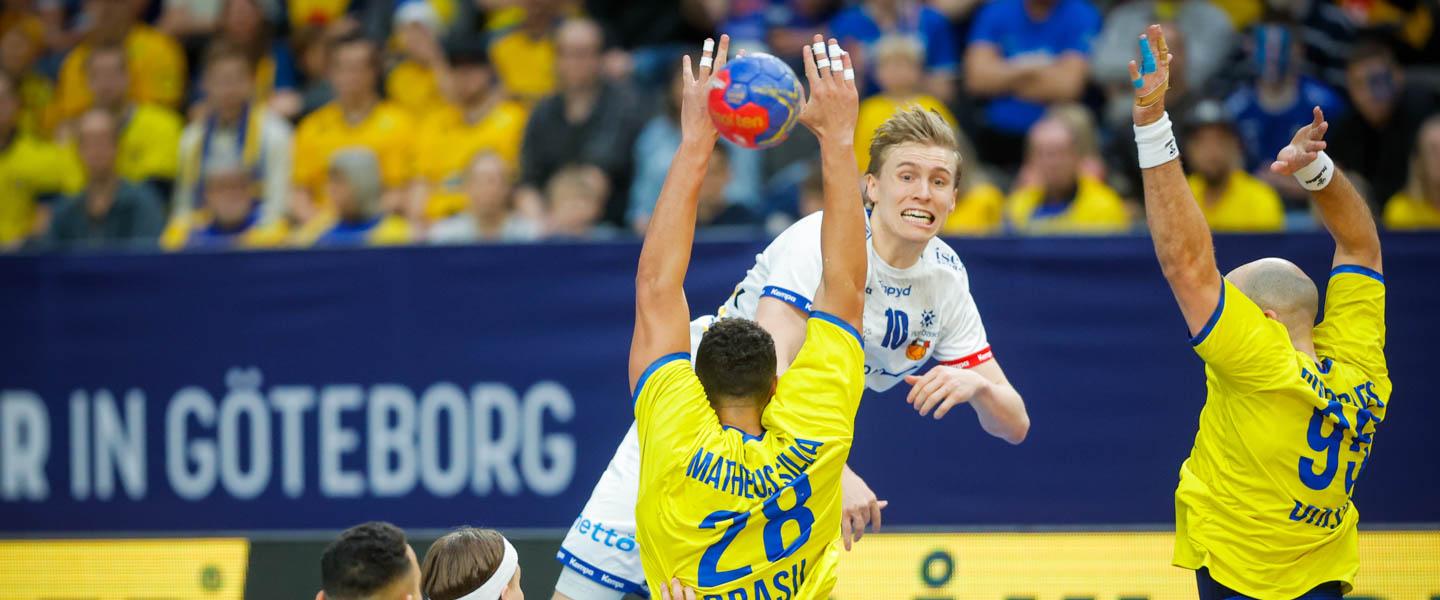 Brazil were in the lead throughout for most of the match, but Iceland never gave up. They stepped up a gear in the last 10 minutes of the match and, with a spectacular comeback, ended their Poland/Sweden 2023 journey with a win.
Main Round Group II
Brazil vs Iceland 37:41 (22:18) 
Iceland had to play without Ómar Ingi Magnússon, who got injured in the match against Sweden. Still, instead of introducing another play, head coach Guðmundur Guðmundsson gave a chance to a third goalkeeper Ágúst Elí Björgvinsson.
Without a chance to go through, Iceland started the match at a slower pace, with a hasty attack and turnovers. As a result, Brazil went on to have a 4:1 lead as Raul Nantes netted a nice top-right goal. Iceland narrowed the gap by 12 minutes, setting a 6:8 score; however, Brazil soon saw yet another break.
Leonardo Terçariol stopped two straight Icelandic attacks, helping his team gain a four-goal lead when Gustavo Rodrigues netted for 10:6. Good movement of the ball saw Brazil in front and their specific 6-0 defence kept making trouble for the opponents.
Guðmundsson tried to change the rhythm and tactics by calling a time-out, but his team did not respond, while Brazil were buoyed by their match performance. Even though both teams were on a level regarding shot efficiency (76% vs 75%), double the number of turnovers and on-time goalkeepers' saves helped Brazil retain their lead up until the end of the first half.
Iceland entered the second part of the match on a more serious note, and it was seen mostly in defence, as it helped Viktor Gísli Hallgrímsson with new saves and pushed Brazil into making mistakes. The results were visible. Six minutes into the second half, Iceland produced a 4-0 run and cut the lead to one.
Rogério Moraes finally ended a six-minute hiatus and, with the help of goalkeeper Rangel Da Rosa, Brazil soon were back on a four-goal lead. Iceland never gave up and were determined to get back on track for the second time in this match, and two Sigvaldi Bjørn Guðjónsson made it happen. Right wing with a spin shot reduced the Brazilian advantage to only 30:29.
Guðjónsson propelled himself to become Iceland's top scorer and a hero with another fast break, grabbing an equaliser 10 minutes before the final whistle. Technical faults, missed shots and Hallgrímsson between the posts resulted in a complete shutdown of Brazil's team in the last moment of the match.
Backed by their chanting fans in the stands, Iceland took their first lead in the 54th minute only to make a 4:0 goal run and decide the match. Bjarki Már Elísson added two more goals in the last 20 seconds of the match to pass the 40-goal mark and set the final score (37:41).
Jean-Pierre Dupoux and Bjarki Már Elísson shone for their respective side with eight and nine goals.
Brazil ended the 2021 Men's World Championship in 18th place and they will end this one in a similar position. Iceland were two spots behind in 20th place and they will improve their final ranking at Poland/Sweden 2023.
hummel Player of the Match: Gísli Þorgeir Kristjánsson (Iceland)