02 Aug. 2022
Extending the list of teams participating in the IHF Women's Youth (U18) World Championship to 32 for the first time at North Macedonia 2022 provided eight sides with the opportunity to make their debuts in the competition, including two from Europe – the Faroe Islands and Iceland.
The latter had a superb start of the competition, despite the lack of top-level experience, as they did not appear at the W17 EHF EURO 2021, instead finishing in second place at the W17 EHF Championship 2021, the second-tier competition, just behind North Macedonia, against whom they lost the final 26:27 last August.
However, in these age categories, nothing is set in stone and surprises might happen and this is exactly what Iceland have delivered, using their trademark style in defence, which frustrates opponents, with tall, towering players who can disrupt the rhythm of the opponents' back line.
Out of the 32 participating teams at North Macedonia 2022, only Montenegro conceded less goals than Iceland in the first two games, 16.5 per match, one less than their previous opponents in the preliminary round.
While the 18:18 draw against Montenegro was a perfect result for Iceland, their 22:17 win in the maiden match at the IHF Women's Youth World Championship against Sweden was truly a masterpiece in its own.
But Árni Stefán Gudjónsson, Iceland's assistant coach, downplayed the result and focused on the future of the side at North Macedonia 2022.
"It was a win which was important, but it was not truly a big win. We always go into games with a winning mindset, no matter the opponent. We did not have a secret for this win, only good preparation and a lot of effort put in by the players. Sweden are a very good team and we were very happy to come away with a win," says Gudjónsson.
The three points sealed against Montenegro and Sweden mean that Iceland are very likely to secure a main round berth from a tough group, with more experienced sides alongside them, provided they do not lose the last game against Algeria on Tuesday.
The European side will be heavily favoured, after Algeria conceded a 22-goal loss against Montenegro and a 24-goal loss against Sweden, while also topping the charts for the number of conceded goals after two matches, 92.
"This is a very good challenge for our women's youth national team. We have had good teams in the past, but none who played at this level. Being here, in this tournament is an important stepping stone for the future and for the players, because their level will definitely improve," adds Iceland's assistant coach.
Iceland's latest census, which was published in 2011, revealed that the country had a population of little over 310,000, therefore the pool of players which can be selected is quite small. 
Yet, handball's popularity, which was surely enhanced by the results of the men's senior team, who won silver at the Beijing 2008 Olympic Games, is huge. Adding a bronze medal at the EHF EURO 2010 made them national heroes and only helped getting more players in. 
 
"Of course, we want to have our women's national team playing amongst the very best sides in the world. Our men's team has been very successful for the past 15 to 20 years and I think that it will not be long before our women's team is up there as well. Hopefully, this group will play a part in that."
It is not so difficult to have a good pool of players to select, because handball is very popular. But we always have to be alert and make sure that kids who choose handball can train and compete, with good coaching, whilst having lots of fun," says Gudjónsson.
It is difficult to pinpoint a side at North Macedonia 2022 that had a better team spirit than Iceland. Despite facing their first major challenge at this level, the players look like a tight-knit group, always helping each other on the court and functioning like a well-oiled machine.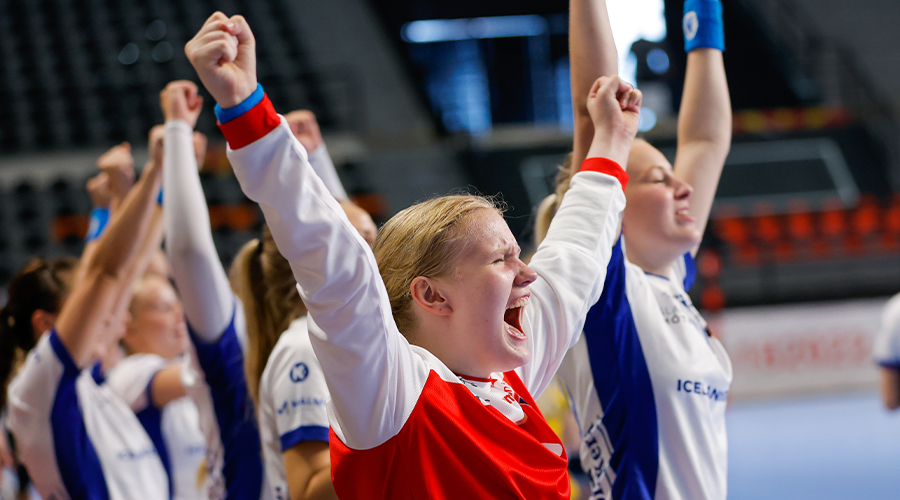 This is partially why they won against Sweden and drew against Montenegro. If they progress to the main round, matches against North Macedonia and the Islamic Republic of Iran await, where Iceland could be labelled as favourites.
Progressing to the top eight sides in the world at this age category would be an astonishing result for a side that went into the championship without a lot of expectations and, therefore, every positive result will be properly celebrated by Iceland.
Yet, the technical staff will not run spirits too high until everything is set in stone.
"The team has a lot of potential and every game, like I previously said, must be won from our part. This is the mindset that we want. We have a winning mindset for each and every game we play. Our only focus is on the next game, so let's see what happens," adds Gudjónsson.
As the Iceland women's senior national team have featured only once at an IHF Women's World Championship, in 2011, finishing 12th, the focus shifts on the future of this squad.
Do they have a future there? 
"They certainly have a lot of potential and with the right mindset, effort and hard work, they can go all the way and play for our senior national team. Our plan is to continue to improve our women's national team and in a couple of years' time, these players will hopefully be next in line to do so," concludes Gudjónsson.