17 Aug. 2019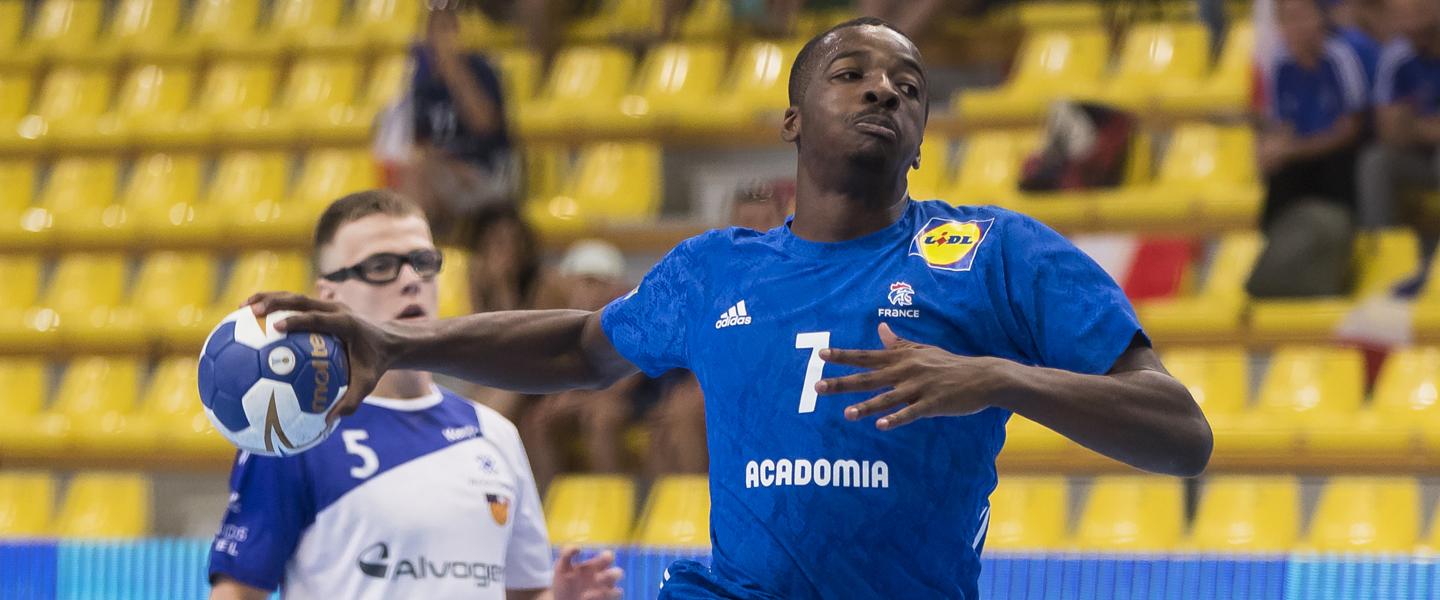 France and Hungary finished in seventh and 10th place respectively at the M18 EHF EURO last year in Croatia, but both have beaten their continental ranking already on the global stage as they go head-to-head in the lunchtime 5/6 placement match at the 2019 IHF Men's Youth World Championship in Skopje, North Macedonia tomorrow (Sunday 18 August).

PLACEMENT MATCH 5/6
France vs Hungary, 13:00 local time
Boris Trajkovski Arena, Skopje

France beat a depleted Iceland side 30:24 earlier today in the first round of matches in the placement round 5-8 to make it to the top five play-off match and had sewn up the result in the first half after a best player of the match award from through to fifth place play-off from goalkeeper Valentin Gouy, who ended with 15 saves from 31 shots.

Against Iceland, France captain Sadou Ntanzi scored seven times to move up to 42 goals in the tournament overall, seven behind the leading scorers on 49, but both of whom are now out of the tournament – Martin Serafimov (North Macedonia) and Mohamed Mohamed (Bahrain).

Egypt's Hassan Walid Ahmed (43), Portugal's Salvador Salvador (41), Egypt's Ahmed Hesham Elsayed (40) and French teammate Drevy Paschal (40) are all in possible contention to end North Macedonia 2019 with the most goals, but for Ntanzi, team comes first.

"Firstly, it is most important to play together and being the most valuable scorer is not important at the beginning of the competition," said Ntanzi to IHF.info after the Iceland victory in French, translated into English by his coach, Eric Quintin. "I know I can make the difference sometimes, but sometimes not so I try to find a good balance, between the team and the individual."

While Ntanzi is making waves at one end, Gouy made a big difference at the other end against Iceland, essentially setting up his side for victory with Ntanzi himself praising the shotstopper.

"For us, if we do something bad, he can do something," said Ntanzi about Gouy. "And if he's good we know he is behind us and we can go on a fast-break."

Gouy's coach with the French team is former goalkeeper Daouda Karaboue and he is happy to see the progress Gouy has made. "In the last years he wanted to come and join us, but he was not so good, but this year he make a good job," he said. "It's not only mentality which has changed, it's the basic work for the goalkeeper; the fundamentals – the work-out fundamentals and now he is really better with this work.

"His performance today was a collaboration - I am not only a trainer, but I was a goalkeeper too and I want to give him all what I know, and I am happy for him."

With their 29:24 victory over Spain earlier today in the first round of matches in the Placement Round 5-8, Hungary can further improve their already historic best-ever rank in the competition of 10th, gained in their two previous appearances.