09 Aug. 2019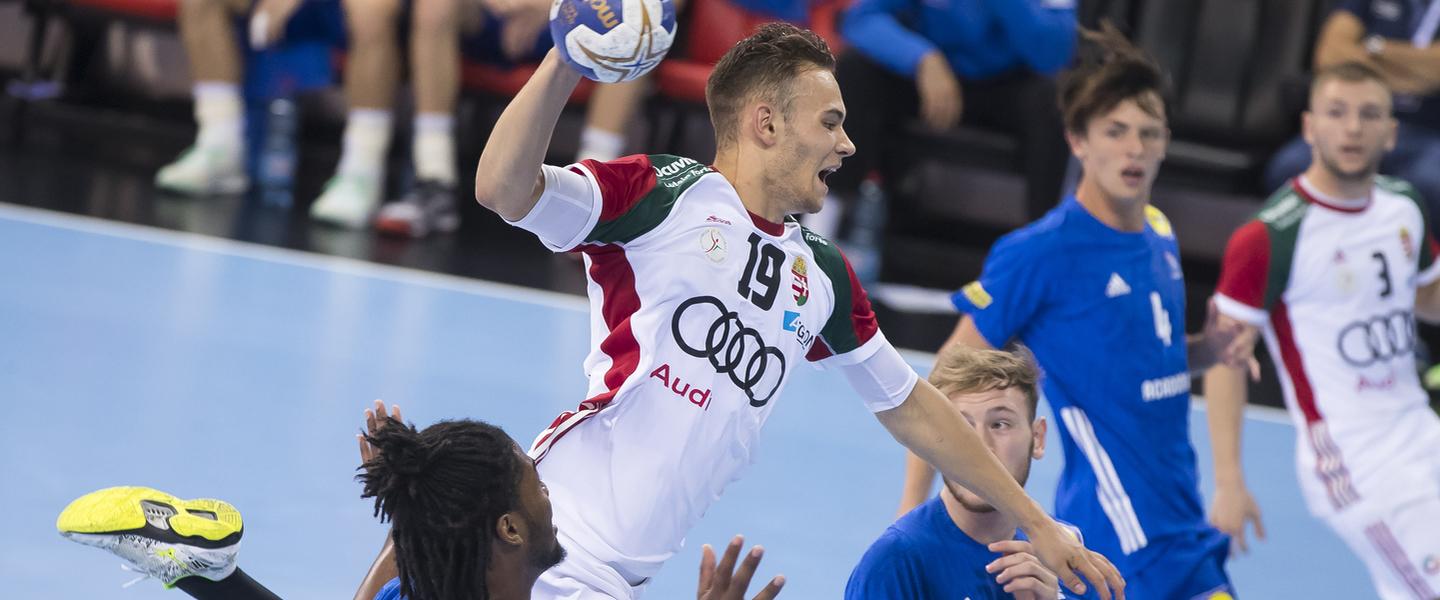 Round four for Group B at the 2019 IHF Men's Youth World Championship will see Hungary meeting Sweden with the chance to stay on maximum points if they collect their fourth win. Meanwhile, European champions Sweden are aiming for their third victory in the feature match of the day. 
In the other round four matches for Group B, both France and Egypt target their third wins, while Chinese Taipei and Canada hope for their first. 
GROUP B
Feature match: Hungary vs Sweden 
Jane Sandanski Arena, 18:30 local time
Playing in a group that includes the U18 EHF EURO 2018 champions Sweden and the defending U19 world title holders France, Hungary were not the favourites to top the table ahead of North Macedonia 2019. However, it is Hungary who enter round four on top of the group with the maximum six points earned from three matches played so far. 
On Saturday 10 August, Hungary will aim to extend that winning record when they meet Sweden in the second match of round four for Group B. 
Hungary's first two victories may have been expected, as they defeated Chinese Taipei by 18 goals in their championship opener then Canada 41:13 in round two. Both nations are on debut at the Youth World Championship. It was in round three that Hungary showed their power, as they won a tough game versus France after pulling off two comebacks from clear deficits in each half. 
It was impressive defence and a huge last 20 minutes from goalkeeper Benedek Nagy that won Hungary the match, and Sweden can undoubtedly expect the same. 
"There were two elements crucial for our win today: the good defence and the good goalkeeper. We expect two similar matches against Egypt and Sweden, but I think we are capable to win them also," said Hungary coach Krisztian Karpati. 
Sweden come into round four with four points, after being defeated by Egypt in round one then beating Chinese Taipei and Canada. The two clear victories should have raised the European champions' confidence, but coach Dennis Sandberg hopes his team will increase their level of performance further:
"We played 60% or 70%. Maybe my players didn't play in the way that I wish, but it is a win. We should be better, and I hope that the form of my players will increase as the championship will go on."
France and Egypt target wins versus debutants
Both France and Egypt enter round four after two victories. France won their round one clash versus Canada then defeated Egypt, before the loss the Hungary in round three, while Egypt beat Sweden and Chinese Taipei. 
On Saturday, both sides will aim to secure their third wins and take their points tallies to six. France will meet Chinese Taipei at 16:30 local time, and Egypt will wrap up the day against Canada at 20:30 local time.