18 Nov. 2021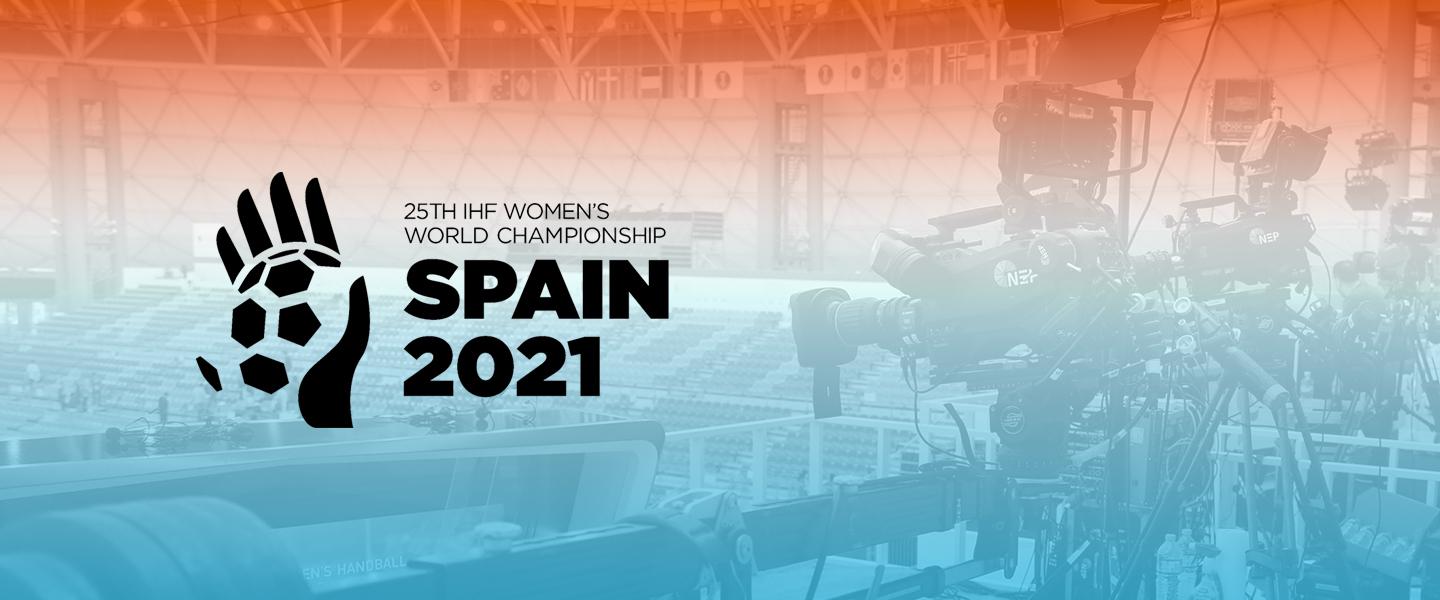 The large-scale interest in handball around the globe continues with the 25th IHF Women's World Championship from Spain broadcast or streamed to every corner of the world thanks to our partners SPORTFIVE – the official media distribution agency of the IHF.
Starting on Wednesday 1 December, the championship will feature 32 teams for the first time, playing 108 games across four venues with the final taking place on Sunday 19 December. Here is how you can watch all the action.
Spain 2021 – TV and radio broadcast, live stream information
Information correct as of 17:00 (CET) 7 December. All information subject to change.
Free live stream
For all territories without rights-holder agreements, all games will be streamed live via the official IHF - Competitions YouTube channel.
Please note that these territories are subject to updates throughout Spain 2021 and geo-blocking will occur if/when a broadcast agreement is reached.
Radio rights-holder
Eurovision (EBU) has acquired radio rights for their member radio stations across Europe. For a list of radio stations please visit here.
Television rights-holders
Geo-blocking will apply on IHF – Competitions YouTube channel, check local station listings, some broadcasters may not show every game live.
Africa
TBC
Asia
China (CHN): Huya
Iran (IRI): VOA 365
South and Central America
Argentina (ARG): DeporTV
Brazil (BRA): Broadcaster to be confirmed (IHF YouTube coverage will be geo-restricted)
Chile (CHI): DirecTV
Colombia (COL): DirecTV
Ecuador (ECU): DirecTV
Peru (PER): DirecTV
Uruguay (URU): DirecTV
Venezuela (VEN): DirecTV
Europe
Austria (AUT): ORF
Belarus (BLR): Belarus 5
Bosnia & Herzegovina (BIH): Arenasport
Croatia (CRO): RTL
Czech Republic (CZE): Czech TV
Denmark (DEN): DR, TV2
Finland (FIN): Viasat
France (FRA): beIN Sport France, TF1
Georgia (GEO): Silknet
Germany (GER): Sportdeutschland.TV
Hungary (HUN): MTVA
Iceland (ISL): RUV
Kazakhstan (KAZ): Qazsport TV
Kosovo (KOS): Arenasport
Montenegro (MNE): Arenasport
Netherlands (NED): Ziggo
North Macedonia (MKD): Arenasport
Norway (NOR): TV3 Norge, Viasat
Poland (POL): Polsat
Romania (ROU): Telekom Romania, DigiSport
Russia (RUS): Match TV
Serbia (SRB): Arenasport
Slovakia (SVK): Slovak TV (RTVS)
Slovenia (SLO): RTV Slovenija (RTVSLO)
Spain (ESP): RTVE, TV3 - Televisió de Catalunya
Sweden (SWE): TV3, NENT
Switzerland (SUI): SRG
Ukraine (UKR): Poverhnost TV (PVP+)
North America and the Caribbean
Cuba (CUB): Broadcaster to be confirmed (IHF YouTube coverage will be geo-restricted)
United States of America (USA): ESPN+
Antigua and Barbuda (ANT): DirectTV
Bahamas (BAH): DirectTV
Barbados (BAR): DirectTV
Belize (BIZ): DirectTV
Dominica (DMA): DirectTV
Dominican Republic (DOM): DirectTV
Grenada (GRN): DirectTV
Guyana (GUY): DirectTV
Haiti (HAI): DirectTV
Jamaica (JAM): DirectTV
Saint Kitts and Nevis (SKN): DirectTV
Saint Lucia (LCA): DirectTV
Saint Vincent and The Grenadines (VIN): DirectTV
Sint Maarten: DirectTV
Suriname (SUR): DirectTV
Trinidad and Tobago (TTO): DirectTV
Oceania
TBC