10 Aug. 2023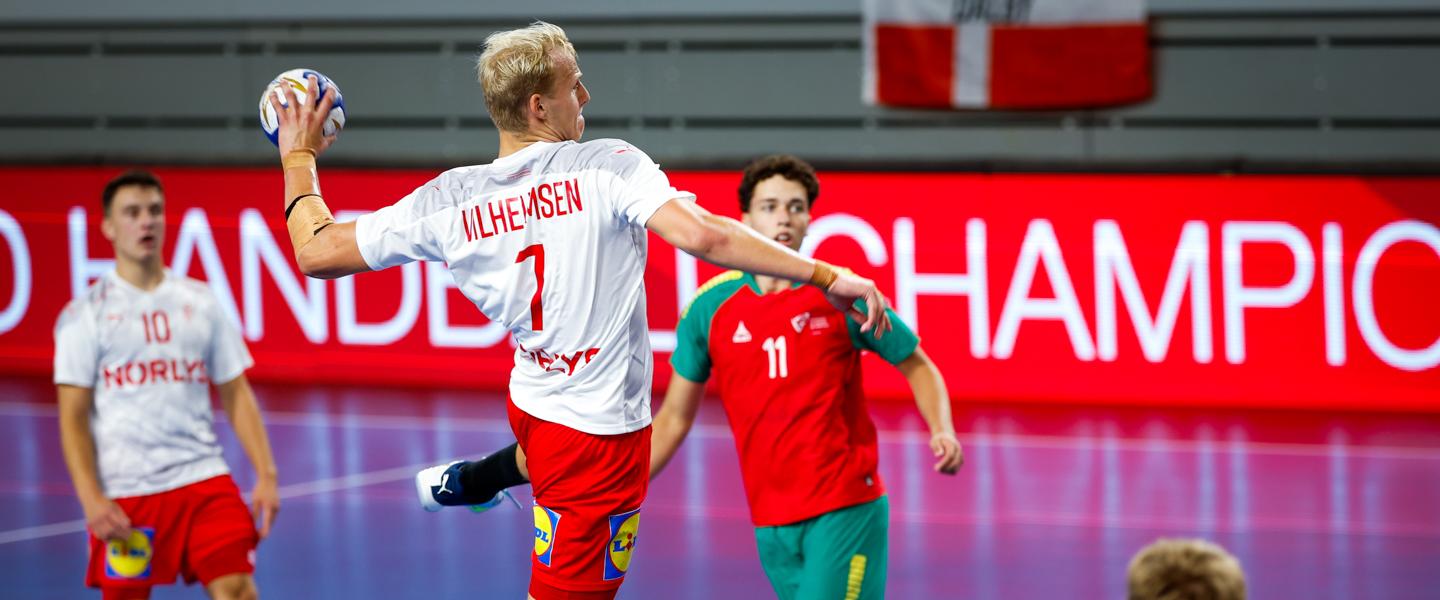 After nine days of playing across four venues in Croatia, one of the most anticipated moments of the 10th IHF Men's Youth World Championship is here. Four teams will bring mouth-watering clashes to the Varaždin Hall and try to seal the final berth. Unbeaten Denmark will open against strong Egypt, who mounted a comeback against the Faroese Islands. The day will be closed with hosts Croatia looking towards their third final appearance.
Semi-finals
18:00 CEST Denmark vs Egypt
The Danish side are coming into the game after an easy win against Portugal, who weren't able to give more threat to the Danes and make them sweat. Denmark have a seven-unbeaten streak, and they want to keep it that way. Centre back Frederik Emil Pedersen scored 41 times at Croatia 2023, making him his country's top scorer and the main link the Egyptians need to stop.
"Very difficult game against Egypt is in front of us. It is a team that plays with great physicality and high speed, which we must try to match. Again, it will be a match where we have to have the ability to be ready to adapt against many defensive initiatives and strong counterattacks, which could be decisive," said Danish head coach Simon Sorensen for danskhaandbold.dk.
Egypt will not be an easy obstacle because of their great comeback against the Faroe Islands. Egypt were down by three 59 seconds until the final buzzer, and they managed to overcome the impossible, tie the game and take a win in extra-times. With a persistent attack, which scored 34.67 goals per game on average, Ziad Hashad, Belal Masoud and Mohamed Elbattawi.
Denmark won IHF Men's Youth World Championship on three previous occasions – in 2007, 2011 and 2013. The 2023 semi-final appearance will be their seventh in the competition's history and third in a row. True powerhouse across all generations will give another classic Scandinavic handball to stop Egypt, who want to continue where the previous generation left and qualify for the second finals.
20:30 CEST Croatia vs Spain
Spain are among the three countries at the 10th IHF Men's Youth World Championship that have had a perfect streak since the start of the competition on 2 August. The current European Champions did not bring their semi-final appearance in question even once. From the 14th minute, when they got a hold of the lead, they were confident throughout, leaving the young German side disappointed.
The Spaniards are dangerous from all positions, and they proved to be a great team with unbelievable connections between them. Playing with ease while giving the fans their recognisable Spanish style brought them to the semi-finals. Scoring 34.4 goals per game on average while conceding only 24,83 proves their consistent game.
"I can't say more than that we are very happy to return to fight another year for the medals. Now we have a few minutes to enjoy the victory because we need to get ready for the semi-final against Croatia," said Spanish head coach Javier Fernández.
They will face hosts Croatia whose only stain on the perfect streak was a tie against Hungary at the end of the main round. Still, Croatians are one of the best teams in the competition, having the third-best attack and third-best defence. Exactly the defence was their key in the quarter-final match against Norway. Their recognisable 3-2-1 defence completely stopped Norwegian back shooters, forcing them to one-on-one clashes.
When you add to the mix the best goalkeeper of the competition Marko Prpić and good Tin Herceg, their wall in Varaždin will be a hard one to jump over. Croatia are hoping to have strong support from the stands, calling everyone to be their eighth player.
Photo: Croatia 2023/Kolektiff images