Hosts Croatia stay perfect in dramatic fashion to seal quarter-finals berth, Spain break Egypt's winning streak
08 Aug. 2023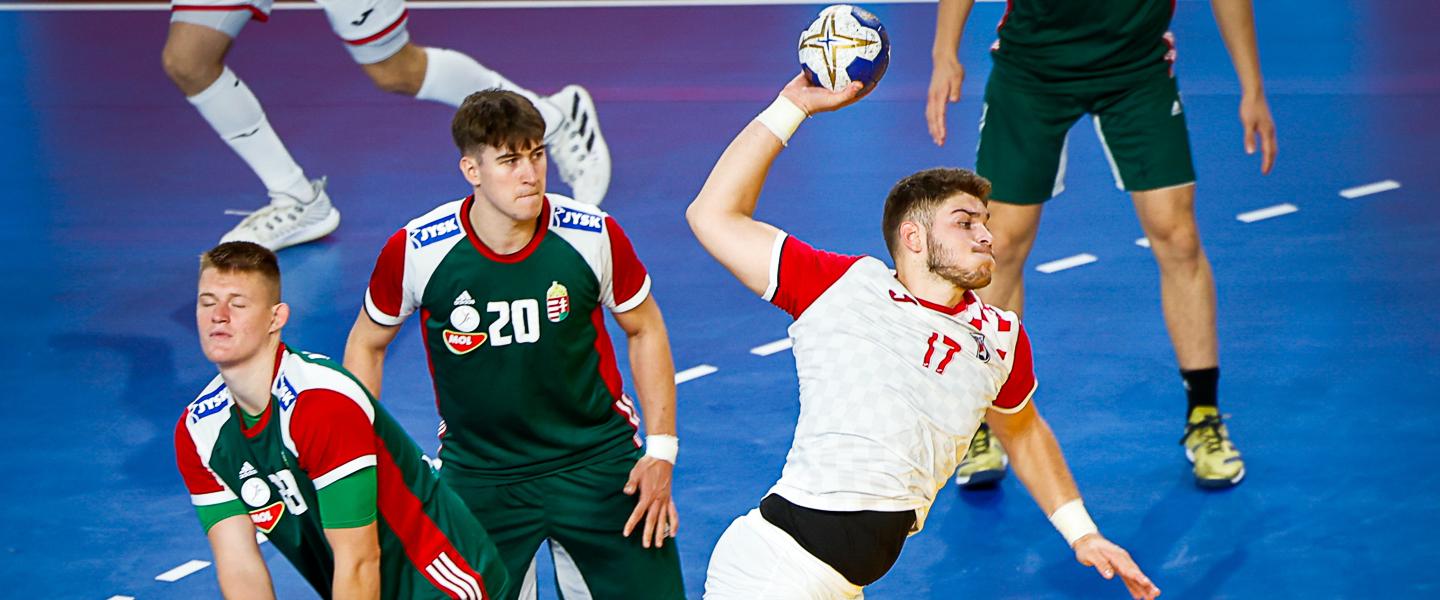 A last-gasp Hungary comeback was stopped in its tracks by hosts Croatia, as the hosts stayed unbeaten (28:28), and secured their berth for the quarter-finals of the 2023 IHF Men's Youth World Championship, with Hungary knocked out of contention.
 
Germany were the last team to seal a place in the knockout phase of the 2023 IHF Men's Youth World Championship, with a 32:25 win over the Islamic Republic of Iran closing the deal for the European powerhouse.
 
Having already sealed safe passage to the next phase, Spain stopped a 10-game winning streak for Egypt with a 42:35 win, which saw the European champions clinch the first place in Group II in Koprivnica.
 
An all-Scandinavian battle produced an entertaining match between Denmark and Norway, with the former side securing the first place in Group III and setting up a clash with Portugal in the quarter-finals after Denmark made it five wins out of five games (35:29).
Main Round
Croatia vs Hungary 28:28 (15:11)
 
Hungary knew that the only way to progress to the quarter-finals was to win against hosts Croatia. Therefore the pressure was on for the European powerhouse in a must-win situation after their loss against Portugal on Monday.
 
But that pressure was too much at the start of the game, with Croatia jumping to a clear 8:3 lead, after Hungary's attack was nowhere to be seen and the defence was too passive, enabling a pacy centre back like Vito Glivetić to break through and create superiority.
 
Yet Hungary had plenty to offer after a well-taken team time-out, which duly calmed them and started all over again. A 6:1 run, spurred by a seven-on-six attack after Hungary substituted their goalkeeper for an outfield player, helped tie the score (9:9), and delivered some serious headaches for Croatia.
 
Gone were Croatia's easy, fast break goals, where right wing Maksimilijan Molc felt impossible to stop; gone was that advantage which Croatia created out of thin air at the start of the match, with a proper clash between the two sides ensuing, as Croatia had the incentive to win and finish on the first place in the standings.
 
A faulty substitution derailed Hungary's challenge, though, and Croatia were back in front with a three-goal lead (13:10) in the 22nd minute, as the hosts looked more mature and settled in the game, especially as Hungary rested key centre back Kristóf Csörgo after an unusually slow start.
 
Hungary continued to press with their seven-on-six tactic, but Croatia's sturdy defence, which had the third lowest number of goals conceded per game (22), before this match, adapted and stopped all the momentum for their opponents, with the hosts taking a strong 15:11 lead at the break.
 
The never-say-die attitude did play out in Hungary's favour over the last days at Croatia 2023, and it was still on display in this match, when the hosts faced a barrage of shots in Hungary's desperate attempts to save their competition and have a fighting chance for a quarter-finals berth.
 
With Csörgo inserted back into the team, Hungary did cut the gap to only two goals, 22:20, with 15 minutes to go. Still, Croatia stopped that comeback in its tracks with a 3:0 run, as left wing Marko Bajan and line player Franko Krstić starred on the court, both in attack and in defence.
 
Krstić, who was quiet for most of the competition, truly shined in this game on both sides of the ball, being the fulcrum of Croatia's challenge and delivering some mind-boggling shots to help his side stay away from any potential comeback.
 
But that proverbial grit from Hungary made them attempt a comeback one more time and they nearly made it, cutting the gap back to one goal (26:25), taking advantage of Croatia's tired legs in the end. A pair of penalties converted by Bajan – who finished the game with nine goals – weathered the storm and looked to ensure Croatia's win.
 
Yet Hungary pressed with the seven-on-six attack until the end, tied the game and even had the chance to win, but with four seconds left, line player Gellért István Fekete missed a one-on-one shot, hitting the post and sealing his team's fate, as the game ended in a 28:28 deadlock.
 
Croatia remained unbeaten for the fifth game in a row, setting up a clash against the second-placed team in Group III, Norway, in the quarter-finals, where they hope to extend their winning streak.
 
After their second loss in as many games in the main round, Hungary are now out of contention, with Portugal making it to the knockout phase, where they are due to face Denmark.
 
hummel player of the Match: Marko Bajan (Croatia)
Egypt vs Spain 35:42 (17:20)
 
Riding a 10-game winning streak, unprecedented for them at the IHF Men's Youth World Championship, reigning champions Egypt were facing a daunting task, a Spain side which not only were the reigning European champions, they looked to play the part of title challengers at Croatia 2023.
 
But was that excellent streak, dating back four years, in danger? Judging from the start of the game, it definitely was, as Spain delivered a strong start, with line player Victor Romero Holguín being once again excellent and crucial to Spain's game plan as everything flew through him.
 
As Egypt took countermeasures in defence, Spain also adapted and created a four-goal lead, 8:4, making life even harder for the African powerhouse, which was now forced to mount a comeback, exactly like in the games against Japan and Iceland in the preliminary round.
 
It quickly became apparent that this game was going to be a battle between two strong attacks, as Spain and Egypt continued to trade blows, as Spain carefully managed their gap, entering the break with a three-goal lead, 20:17, but the reigning champions were very much in the game and waiting for any chance to pounce.
 
Yet it was still Spain in the driver's seat, and the European side used a 5:1 run in the middle of the second half to pull away and create a seven-goal lead (29:22), spurred by wing Ian Barrufet Torrebejano, who fed on the balls won in defence by Spain to convert a flurry of fast breaks.
 
It was also back Ferran Castillo – 10 goals and 2 assists – who carried the load in the second half, with Spain eventually clinching a huge win in a dominating attacking display, which underlined once again their title credentials.
 
Egypt's loss, the first one since 2019 at the IHF Men's Youth World Championship, meant that the reigning champions fell on the second place in the group and will now face the winner of Group IV, the Faroe Islands, in the quarter-finals.
 
Spain, on the other hand, extended their winning streak to five games at Croatia 2023 and won the group with the maximum number of points, but will face Germany in the quarter-finals, a rematch of their battle in the semi-finals at the M18 EHF EURO 2022, when Spain emerged victorious.
 
hummel player of the Match: Ferran Castillo Oliveras (Spain)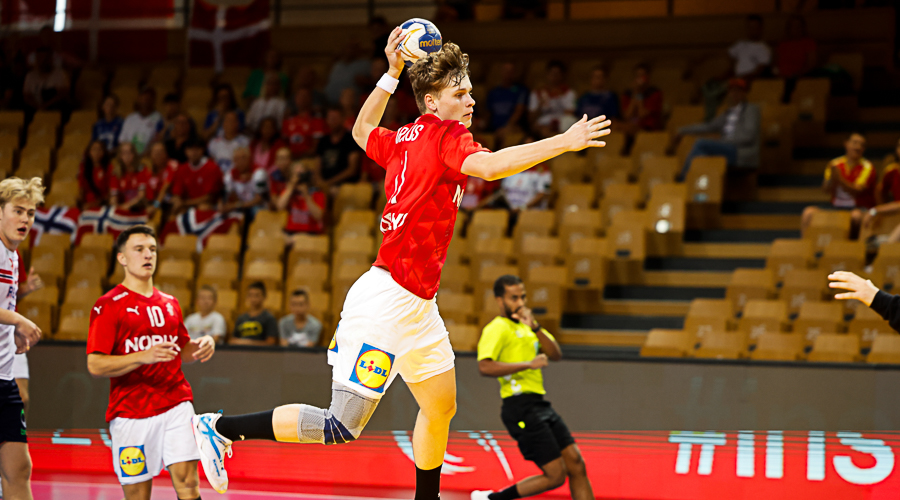 Denmark vs Norway 35:29 (15:14)
After taking their fifth straight victory at the tournament and thus extending their perfect record, Denmark secured the top position in Group III. Norway lost their first game at Croatia 2023, but it had been clear before the game that both Nordic sides would also proceed to the quarter-final. 
The Danes enjoyed a perfect start, as their goalkeeper Malte Eichhorst not only made a few saves but also found the net himself. Norway needed to look more focused, and Denmark led 5:0 before Andreas Oftedal scored their rivals' opening goal in the eighth minute.
But as soon as Norway found their rhythm, they were hard to stop. Their defence started to work well, and Emil Havsgard led the way in attack. By minute 18, they closed the gap to 8:10 and then enjoyed a 5:0 run between minutes 19 and 24, taking a 13:10 lead.
However, it was Denmark's turn to hit back, and a 4:0 run in the last four minutes of the first half put them back in the driver's seat, as Morten Dahlgaard's goal just before the break secured their advantage at half-time (15:14). 
The pendulum continued to swing after the restart, so the rivals were tied at 24:24 midway through the second half, and Denmark led by just one goal (29:28), with 10 minutes left. However, the Danes have enough depth in their squad, and they had more energy left late in the match. 
14 their players put their names on the scoresheet, with "hummel Player of the Match" Lasse Vilhelmsen becoming a top scorer with seven goals. An impressive 6:0 run in the closing minutes lifted Denmark to a 35:28 lead before Marius Olseth's eighth goal in the game slightly reduced the gap. 
hummel Player of the Match: Lasse Vilhelmsen (Denmark)
Germany vs Islamic Republic of Iran 32:25 (13:9)
Germany sealed their quarter-final berth and are joining Faroe Islands, who did the same earlier in the day in Hall Marino Cvetković in Opatija. Germany took a convincing win against the Islamic Republic of Iran even though they weren't performing their best on the court. Iran continued to pounce throughout, but German experience prevailed.
Iran had a tough start, scoring only once in eight minutes. Germany took advantage of it and propelled to a 9:4 lead. Realising things could get even worse, Iran switched to a 4-2 defence that proved to be trouble for the Germans as they managed to narrow the gap and force Emir Kurtagic to call for a time-out.
Even though Marc Julian Buchele had a pretty impressive first half with nine saves out of 18 attempts, his teammates didn't use it to make a more significant lead by half-time. Iran stayed on a four-goal trail as their goalkeeper Amirabbas Zareei also joined the run with seven saves.
Iran kept fighting, not allowing Germany to have a more relaxed second half. As a result, 15 minutes before the final buzzer, Iran narrowed the gap to 17:20. Then, in the next few minutes, everything changed as Iran reared their heads again with technical mistakes and pushed German's attack to a 5-0 goal run as Tim Gömmel set 28:20.
With the attack not going over 48% in total throughout the game, dropping in the last ten minutes to 39%, Iran couldn't even dream of a better result. With a second straight defeat, Iran closed the main round as the bottom team and will continue their Croatia 2023 journey in placement matches 13-16th place.
hummel Player of the Match: Max Günther (Germany)
Photos: Croatia 2023/Kolektiff images