11 Aug. 2019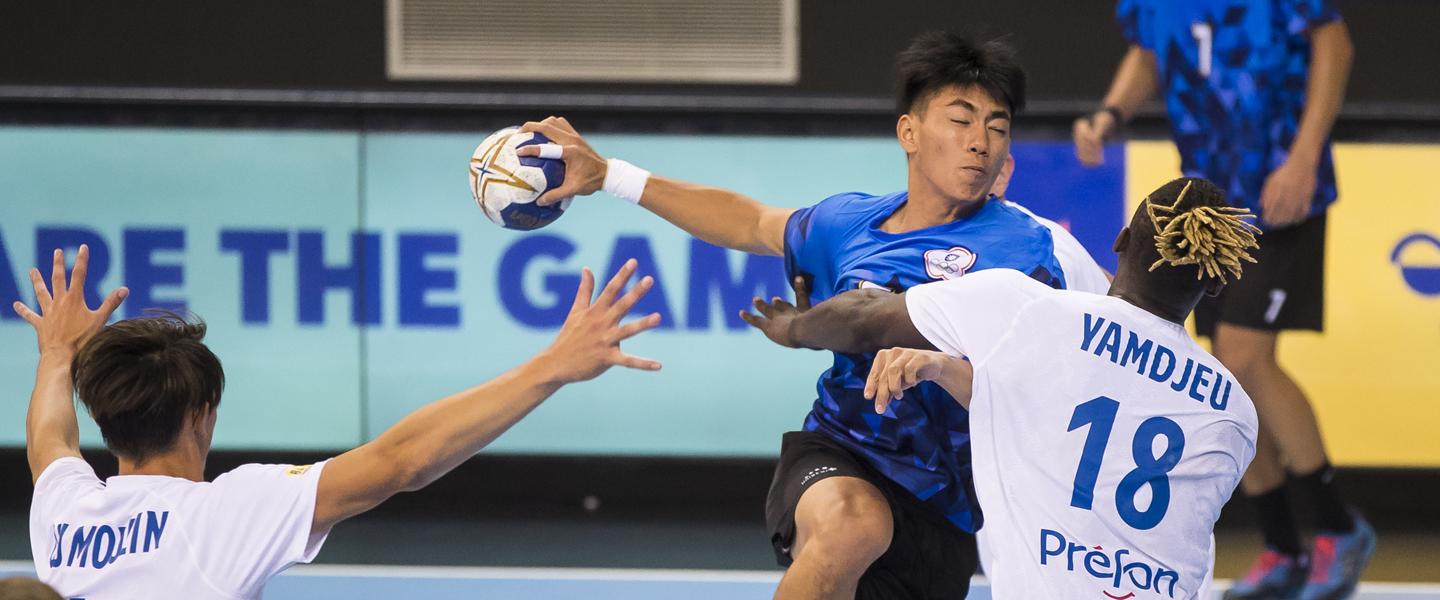 Even though all four teams qualifying through to the eighth-finals from preliminary group B were known some time ago, the highlight - in terms of a small piece of handball history - of the final round of matches in the group is the clash between Chinese Taipei and Canada.
This is followed by Hungary vs Egypt and Sweden vs France with all four teams on six points each and the all-crucial ranking places to play for.
GROUP B
Feature game: Chinese Taipei vs Canada 
Jane Sandanski Arena, 10:30 local time
Both nations are making their debuts in this championship, but both are without points so far in one of the toughest groups at North Macedonia 2019.
Despite this, whatever happens will be historic for at least one of the teams as they will pick up their first win or draw – another giant step on the road of developing handball in either country.
Even though both these U19 teams were in Kosovo, in the 2018-19 IHF Men's Trophy Intercontinental Phase, they did not play each other with Taipei eventually winning gold in the developmental tournament and Canada finishing in fourth.
Results in Skopje so far have been more favourable to the Asian side who have given France and Egypt a scare, despite losing in the end (32:23 and 36:25 respectively). Canada lost those two games clearly as well – 44:16, 47:20. 

"Our next game is against Chinese Taipei and they are on our level," said Canada assistant coach Sylvain Gaudet after that loss to Egypt. "It will be interesting to see how well we can do and if we will win, it will be an historic first victory."

Chinese Taipei player Hsu Yu-Chen was in a philosophical mood after his side lost to France last time out. "We were better than in our previous matches," he said. "I hope that we will win our last match of the group, against Canada."

But both teams will be going into this clash full of hope of that memorable moment and with those historic results, Chinese Taipei seem to have the edge.
Title-holders vs EURO champions

Even though, officially, France are the title-holders of this competition and Sweden the current EURO champions, there is likely to just be one player on court who can still lay claim to one of these titles, with Sweden having changed 15 of their players since that gold medal last year in Croatia.
Sweden will be buzzing, having taken a last-second win against Hungary last time around and the Hungarians will be looking to bounce back from that as they take on Egypt in the middle game.

Both games will be tense, emotion-filled and action-packed as group B is set to deliver real drama on its final day.
GROUP B
Monday 12 August 2019
Jane Sandanski Arena, Skopje

10:30    TPE vs CAN
12:30    HUN vs EGY
14:30    SWE vs FRA