02 Aug. 2023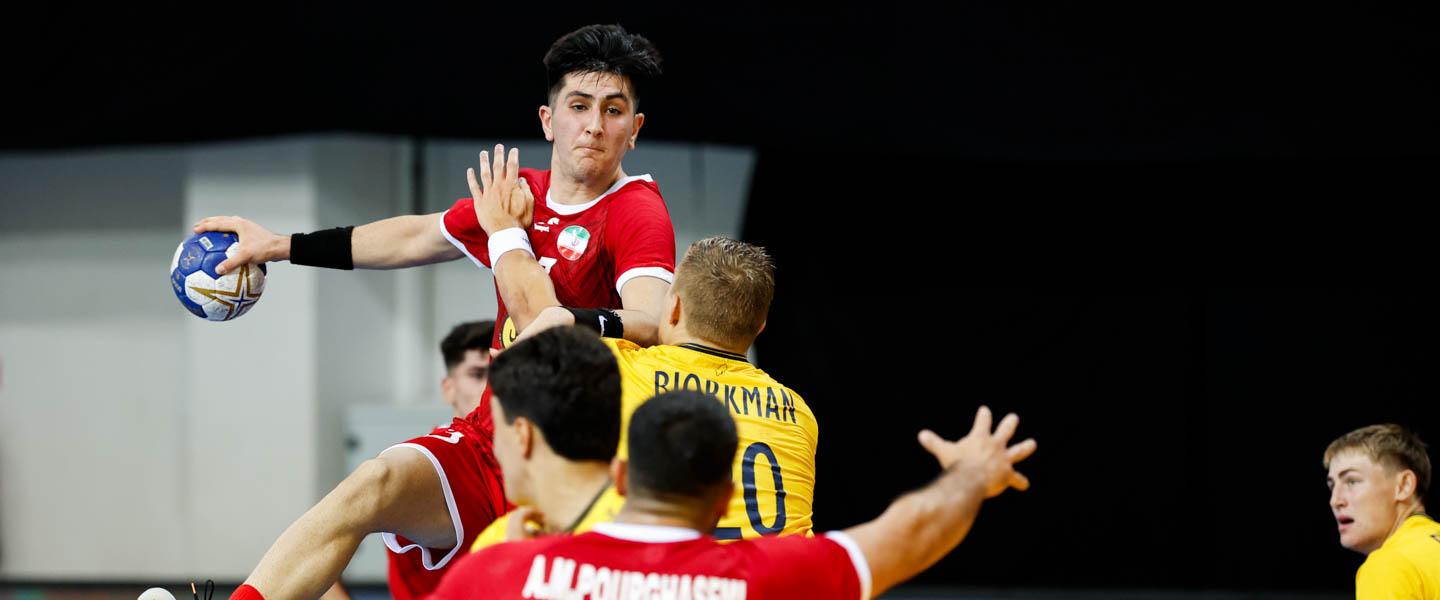 Slovenia beat the record for the highest-ever win at the IHF Men's Youth World Championship, taking a 60:11 win against New Zealand in the third match of the opening day at Croatia 2023 in Varaždin.
In other groups, Sweden faced a sturdy challenge from the Islamic Republic of Iran, with the Asian side delivering the first big shock of the competition after the two sides could not break the deadlock (26:26).
Spain struggled in the first half against Brazil before enjoying a 38:29 win, with Norway opening their account against North Macedonia, 27:25 in the other game in Rijeka.
Slovenia vs New Zealand 60:11 (30:3)
There was no question about the winner of the game, as Slovenia's experience was overwhelming against New Zealand. Still, the European side had a short five-minute scare, with New Zealand managing to tie the game twice, with their first two goals, much to the delight of the dozen fans who made the trip to Varaždin for this historic achievement.
But there was no answer to the relentless pressure exerted by Slovenia, whose fast breaks were devastating, totally taking advantage of New Zealand's turnovers, 11 in the first 14 minutes. This enabled right wing Arijan Kovačević to open and improve his account quickly, with seven goals in 15 minutes.
Not even a time-out called by New Zealand weathered the storm, as Slovenia powered through to a 20:0 unanswered run, which prevented their opponents from scoring for 19 minutes and 11 seconds, as the gap grew exponentially (22:2) in the 23rd minute of the game.
With the question of the winner cleared after just a few minutes, Slovenia continued to pounce, with all their players getting a fair chance to feature in the game, with all of the 14 outfield players scoring at least one goal, as the European side had a 27-goal lead at the break (30:3).
In just seven minutes of the second half, New Zealand managed to tie their output from the first 30 minutes. Still, Slovenia continued to press and take advantage of the turnovers made by New Zealand, with outstanding efficiency on the fast breaks.
It was that sheer number of turnovers (39) that really hampered any progress from New Zealand, who conceded their largest-ever loss in the history of the IHF Men's Youth World Championship (60:11), beating the previous record of 42 goals set in 2015, when Germany won against Venezuela 58:16.
This was also only the sixth match in the history of the IHF Men's Youth World Championship, which has a gap of 40 goals or more, with New Zealand and Venezuela now having three matches each on the receiving end in this category.
hummel Player of the Match: Arijan Kovačević (Slovenia)
Spain vs Brazil 38:29 (18:17)
At half-time the South Americans were cheering – a late save keeping them within one (17:18) of their European opponents, but little did they know what was coming.
90 seconds into the second period, it was +3 for Spain (20:17) and with a quarter of the match remaining (44th minute), it was all over as a contest with the vibrant Spanish side going ahead by six (28:22), following a time-out for their opponents whose heads had clearly dropped.
Ultimately, Spain clearly demonstrated why they are European champions for this generation, taking apart a Brazilian team who were blown away by a strong transition, fast-break effectiveness and superb all-around performance from coach Javier Fernández López's men.
Granollers' line player Victor Romero Holguín was the key player and difference between these two sides, enjoying a perfect game with nine attempts resulting in nine goals, six of which were scored in the opening 30 minutes.
The M18 EHF EURO 2022 champions have a plethora of talent at their disposal and with all but two of their 14 outfield players scoring and the entire squad of 16 getting minutes under their belt, they are a clear challenger for a podium place in Croatia.
With their performance today, Spain look like at least continuing their record of never having finished outside the top 10 in their history at the IHF Men's Youth World Championship, with their most recent finish – 7th in 2019 – their lowest, and one they will look to smash through at Croatia 2023.
On the other hand, Brazil – after losing their grip on the South and Central American Men's Youth Handball Championship last year to arch-rivals and neighbours Argentina – had come to Croatia 2023 full of purpose, but this heavy defeat could derail their attempt to get back on track and put to bed their nightmare placing of 21st last time out at this event, in 2019.
It was a lesson learnt for the youngsters in green and gold and their campaign in Koprivnica restarts tomorrow against Republic of Korea, while Bahrain await Spain.
hummel Player of the Match: Victor Romero Holguín (Spain)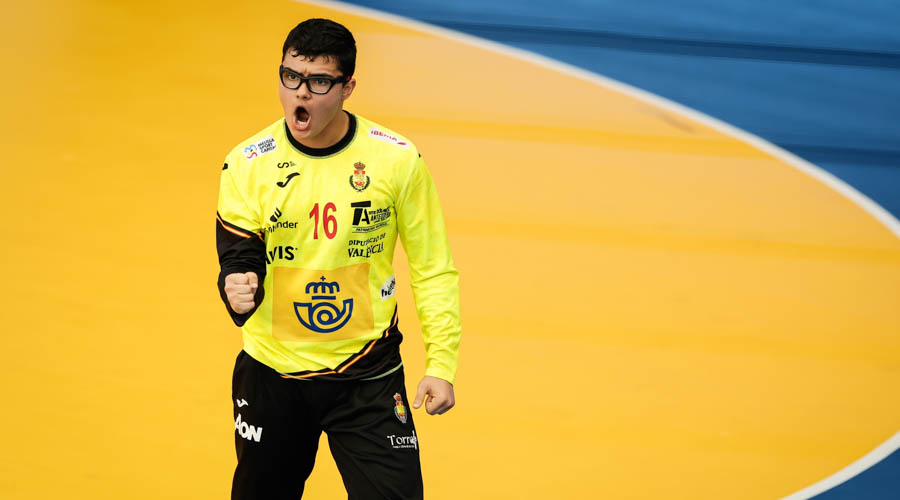 Norway vs North Macedonia 27:25 (11:9)
In a hard-fought and entertaining all-European duel, Norway proved too strong for North Macedonia and earned two points, making a step towards the main round. 
The Nordic side took early control of the match and opened a 3:1 lead, and although North Macedonia soon drew level to 3:3, the Norwegians continued to dominate, as their left wing Marius Olseth was on fire.
He scored six of his nine goals in the match in the opening 30 minutes, as Norway pulled clear at 9:5 by the 25th minute. It was their biggest lead in the first half, but North Macedonia, powered by Mircha Kalajdjieski in attack, managed to cut the deficit to just two goals by the break. 
The Balkan team further reduced the gap to 10:11 early in the second half, but Norway responded with a 5:0 run in the next five minutes, and North Macedonia's coach called for a timeout. It seemed to work, as his team hit back with a 4:0 run, slashing the gap to just two goals (14:16).
A few fast break goals saw Norway pulling clear to 21:16 midway through the second half, but North Macedonia did not give up. David Dimevski and Damjan Mitev stepped up in the closing minutes, and thanks to their impact in attack, the Balkan team reduced the gap to just one goal (25:26), with 26 seconds to go.
Norway's win was now in danger, yet the Scandinavians held their nerve. Henrik Nielsen sealed their victory with a last-second goal, making his teammates jump for joy after the final whistle. 
hummel Player of the Match: Marius Olseth (Norway)
Sweden vs Islamic Republic of Iran 26:26 (12:9)
The Islamic Republic of Iran surprised Sweden at the start of Group B in Opatija at Croatia 2023. The Asian side were on the run for a tie throughout the match and made a thrilling finish against the Men's 18 EHF EURO 2022 runners-up. Sweden, left with only a draw, will have to step up a gear in order to make an impression at the IHF Men's Youth World Championship.
The Swedish team successfully started their Group B journey after a tough battle against the Islamic Republic of Iran. The European side were in front throughout, but they were not dominating the court in Hall Marino Cvetkovic in Opatija. Iran, on the other hand, were living their dream until the final whistle with the hope they have a good base for the next two games.
The start of the game went into Arvid Skoog's hands. The Swedish goalkeeper had four saves out of seven attempts in the first ten minutes of the game, allowing his side to make a break. However, Sweden were not as efficient in the attack as they only managed to give a three-goal lead.
Iran, who made a comeback after 13 years of absence, showed great fighting spirit and in response to Skoog, their goalkeeper Amirabbas Zareei showed what he is capable of in the following minutes allowing Iran to close to one.
With the sudden boost in the attack, Sweden managed to make a run and set 11:6, forcing head coach Rahimizadeh Majid to call for a time-out to give his players a break and present a new plan. The plan seemed to be working as by half-time with the help of Amirhossein Karami, author of five goals, they were trailing only by three.
Karami continued to carry his team in the opening minutes of the second part, narrowing it down to 14:15. Sweden got their message and strengthened their defences while trying to make a new break with fast play with Axel Mansson and Elias Lundstad leading the way.
Björn Sätherström's team lead stretched to 24:20 ten minutes before the final buzzer, but the 2022 Asian Men's Youth Handball Championship runners-up kept pushing. The proof was a shot efficiency in those final moments, as Sweden was only at 58%, despite being the leader, while Iran had 62%.
Without a goal scored for three minutes, Sweden were in a problem. Two consecutive saves by Amirabbas Zareei and Ali Heidarian's powerful goal made a level in Opatija with only 16 seconds to go. Sweden had one last chance to secure the win they already had in their hands but "hummel Player of the Match", Zareei, was the hero of the day as the whole team jumped to hug him.
hummel Player of the Match: Amirabbas Zareei (Islamic Republic of Iran)
Photos: Croatia 2023/Kolektiff images