04 Aug. 2022
Australia will host the Olympic Games for the third time in their history, with Brisbane 2032 following in the footsteps of Melbourne 1956 and Sydney 2000.
The Australian city was elected at the 138th IOC Session on 21 July 2021 in Tokyo, Japan, with the members accepting the proposal of the IOC Executive Board made one month prior.
"Brisbane 2032 is the first future host to have been elected under, and to have fully benefited from, the new flexible approach to electing Olympic hosts. The reforms enable the IOC to work in partnership with cities, regions, and countries, to encourage Olympic projects which use a high percentage of existing and temporary venues, which align with long-term development plans, and which have a strong vision for sports and local communities," said IOC President Thomas Bach.
Last week, Brisbane marked 10 years to go before the start of the Games of the XXXV Olympiad, with a series of 'Have a Go' events featuring Olympic and Paralympic sports at some of the Games-time venues and other iconic locations, held across Brisbane, Gold Coast and Sunshine Coast.
Encouraging people of all ages to get involved, the sessions featured several Australian Olympic and Paralympic athletes, who will join the celebrations as part of the Australian Olympic Committee's 'Green & Gold Runway' initiative.
Handball was also present at the event, as Australia will have a chance once again to take part in the competition after having already featured at Sydney 2000, when the men's side finished 12th in the tournament, while the women's team ended in 10th position.
"It is very exciting for us to have the Olympic Games back in Australia on a number of fronts. Obviously for us, handballers, it's an incredible opportunity, but in a larger sense it provides a great source of inspiration and encouragement for young people to get involved in sport and physical activity. Already we are starting to see thousands of young kids get excited about sport and look for opportunities to participate," says Caleb Gahan, a member of the Australia men's national team, who took part in the event.
The launch of what the ANOC has branded the 'green and gold runway' was marked by an event in Brisbane which offered participants the chance to try Olympic sports as part of its 'Have a Go' initiative.
Launched at the end of June and running until 23 July, with exactly 10 years before the start of Brisbane 2032, the Have a Go Month aimed to inspire individuals of all ages to take up sport.
 
The Green and Gold Runway to #Brisbane2032 is officially underway! 💚💛

There's nothing better than seeing kids #HaveAGo. Thank you to everyone who came by South Bank this weekend to help us celebrate this milestone. Let's enjoy these next ten years, they're going to fly by! pic.twitter.com/szkkF7xUlT

— AUS Olympic Team (@AUSOlympicTeam) July 25, 2022

Brisbane 2032 venues were among those set up for the community to mark the '10 years to go' milestone.
"Of course, it is a massive opportunity for us to showcase the best that Australian handball has to offer, and the chance to test yourself against some of the best players in the world in front of a home crowd is a moment the players will remember for the rest of their lives.
"These Olympics will also give us a tremendous opening to showcase handball as a sport to Australia. I myself started playing handball after watching it at the Sydney Olympics, and it is my highest hope that after Brisbane 2032, we will have thousands of kids who were inspired to come and try our incredible sport," added Gahan.
The Brisbane 2032 vision and Games plan fit into that context with long-term regional and national strategies for social and economic development in Queensland and Australia, while also complementing the goals for the Olympic Movement outlined in the Olympic Agendas 2020 and 2020+5. Brisbane 2032 will be a great platform to showcase all these improvements, while focusing on providing memorable sports experiences for athletes and fans.
Therefore, developing sports, including handball, has become a priority in Australia, especially as the countdown to Brisbane 2032 has already started.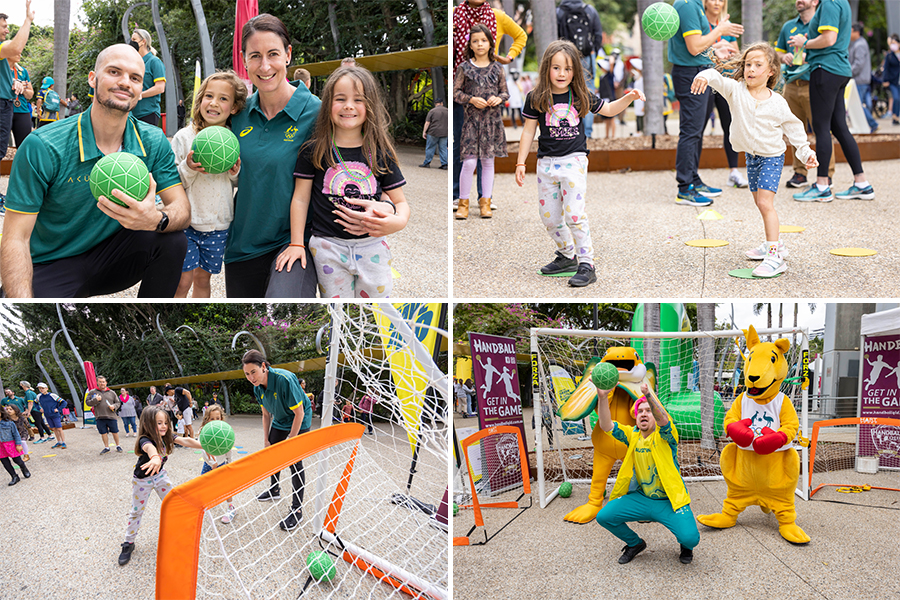 For handball in Australia, this edition of the Olympic Games could be crucial, as the sport will surely earn more popularity and will be developed even further.
"We are beginning to see a cultural shift, with a focus on recruiting and developing young Australian athletes, and a huge amount of work is being put into creating a National League here in Australia so that those young players can participate in high-level competitions more regularly.
"With the support of the IHF and the Australian Olympic Committee, we have already made significant strides in the establishment of a National League, as well as increasing our visibility in schools and community groups around the country. I, personally, can't wait to see how many people are playing handball in Australia in 2033, after the Brisbane 2032 Olympic Games," concludes Gahan.
Photos: 2022 Getty Images / Australian Olympic Committee