13 Mar. 2023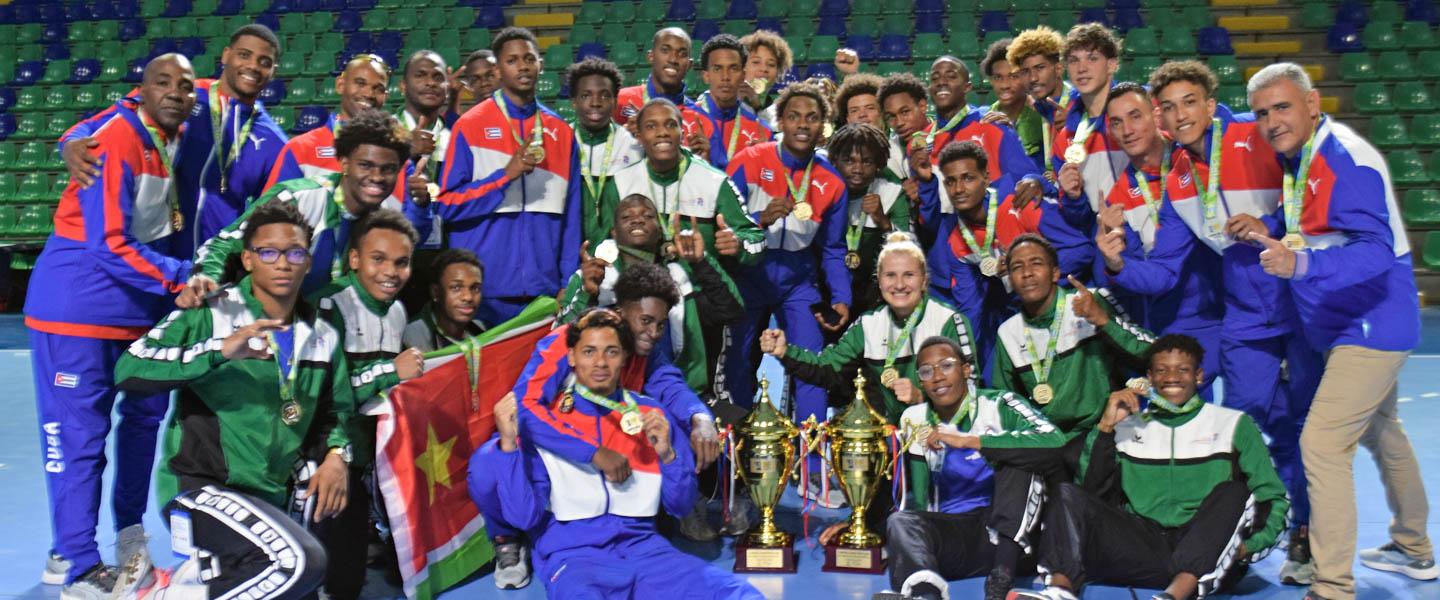 Two national teams from the Caribbean region won the titles at the Men's IHF Trophy InterContinental Phase, which took place at the BN Arena in San Jose, Costa Rica, from 7 to 11 March. 
While Guadeloupe finished first at the youth (U18) competition, Cuba triumphed at the junior (U20) event.
At the youth tournament, Guadeloupe beat Georgia on Friday (33:29) before claiming another victory against Nicaragua on Saturday (46:38). Guadeloupe ended the tournament with seven points, one more than Georgia, who climbed to the second position after defeating Nigeria on Saturday in an extremely close fight (28:27), as Sandro Darsania scored the winner in the last second. 
It was the first defeat at the event for the African side and they ranked third with five points. Nicaragua, who celebrated their only win on Friday against Tahiti (61:21), finished fourth, while Tahiti failed to claim any points and took the fifth position.
Vakhtang Khelisupali from Georgia and Yann'rick Danquin from Guadeloupe became joint top scorers of the event with 31 goals, one more than another Georgian Sandro Darsania. 
The fight for the top position at the junior tournament was even tighter. On Friday, Cuba beat Great Britain 36:23 and Guinea defeated home team Costa Rica 36:22. On Saturday, Great Britain defeated Australia 49:21, while Cuba proved too strong for Costa Rica (46:36).
As a result, three teams – Cuba, Guinea and Great Britain – finished level on six points. The goal difference in their head-to-head encounters played a key role and the Cubans, who had +10, won the title. Guinea, who had -3, became runners-up and Great Britain earned bronze with -7. Home side Costa Rica finished fourth with two points and Australia had zero points.
Two Guinean players were dominant in the scorers' race, as Bambo Drame netted 44 times and Cece Jonas Camara 37, so this lethal duo combined for 81 of their team's 137 goals at the competition. 
The winners of both events would have qualified for the World Championships in their respective age categories. However, due to their status as regional members, Guadeloupe could not qualify the IHF Men's Youth World Championship 2023 in Croatia, and the runners-up, Georgia, will advance. The winners of the U21 category, Cuba, are already qualified. Who will replace them for the IHF Men's Junior World Championship 2023 in Germany and Greece is yet to be confirmed. 
Final ranking
Youth (U18)
1. Guadeloupe – 7 points
2. Georgia – 6
3. Nigeria – 5
4. Nicaragua – 2. 5.Tahiti - 0
Junior (U20)
1. Cuba – 6 points
2. Guinea – 6
3. Great Britain – 6
4. Costa Rica – 2. 5. Australia - 0
Photo: Handball Federation Costa Rica