23 Jan. 2021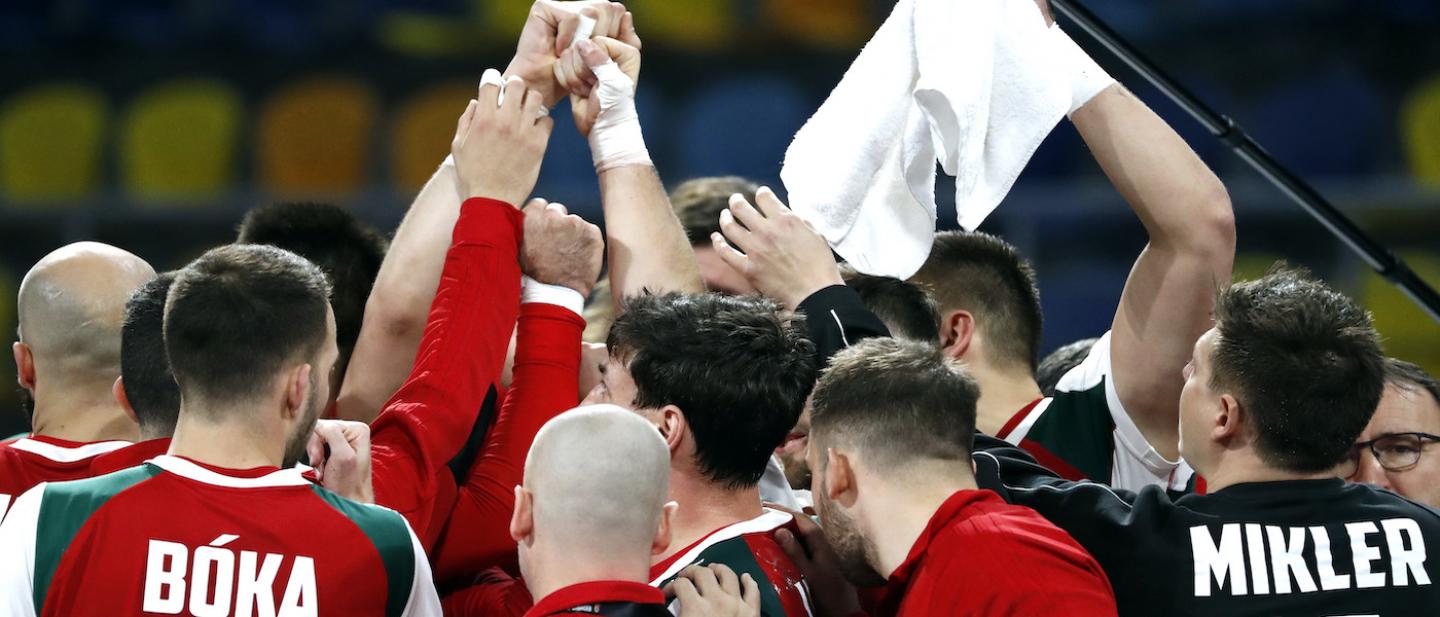 The two remaining unbeaten teams in Group I, Hungary and Spain, can earn a place in the quarter-finals, provided they extend their unbeaten runs against Poland and Uruguay.
An impressive Poland face their biggest test yet at Egypt 2021 in a must-win game against European rivals, Hungary.
In the other group game, Germany face Brazil, a team they never lost to in the World Championship.
Uruguay vs Spain 16:30 CAT
If the games against Germany, Hungary and Poland were tough, debutants Uruguay are facing their hardest test to date at Egypt 2021, against reigning European champions, Spain.
Unbeaten at Egypt 2021, Spain can build up their morale with another win, before facing Hungary in the last game at New Capital Sports Hall.
A win against Uruguay and a Poland loss against Hungary will see Spain through to the knockout phase.
Despite some up and downs, Spain look like a team ready to take advantage of whatever their opponents give them.
It happened on Thursday against Germany, when a 9:1 run set up their most impressive win yet, 32:28.
No other pair of goalkeepers has registered more saves – 61 – in the first four games than Spain's Gonzalo Perez de Vargas and Rodrigo Coralles. The two have a 35 percent saving efficiency, only behind Hungary (38 percent) and France (37 percent).
With a plethora of weapons at their disposal in attack, Spain are big favourites against Uruguay, who are coming off of their best result so far at Egypt 2021, a 14-goal loss against Poland, 30:16.
The South Americans will be eager to test their skills against another European powerhouse before their last match against fellow South American side Brazil.
But Uruguay could not be happier after reaching the main round and will be eager to improve for the next top competitions.
"Everybody can see that our players give everything they have, because in Uruguay, when you play a sport, you must give it all. Now, the level of the Uruguayan handball is improving and we want to make our fans proud and give some motivation to our young players to play handball," said Uruguay coach Jorge Luis Botejara after the loss against Poland.
Poland vs Hungary 19:00 CAT
It is the moment of truth for an impressive Polish team, whose rebuilding project is paying dividends even earlier than expected.
With a new, young side, Poland have won three of four games at Egypt 2021 and their one loss was by the slightest of margins, 26:27, against Spain.
Now, they face a must-win game against Hungary to remain in the hunt for a quarter-finals berth, which could seal their best finish in the competition since Qatar 2015, when they finished third.
Hungary are leading the group, with six points, while Poland are third, with four points, therefore this will be a pivotal game for both sides.
Surprisingly, the two sides have only met three times in the IHF Men's World Championship, with Hungary taking all three wins, including a 27:19 drubbing in the Round of 16 at Spain 2013.
Hungary are seen as favourites on Saturday, as they've recorded their best start in the competition since 1985, with four wins out of four games.
It is a testament to their hard work on defence, where they conceded only 96 goals in the first four games, with only Denmark (82 goals), Portugal and Croatia (both 91 goals) and Sweden (95 goals) conceding less.
Yet Poland could be Hungary's toughest test yet. 
"Preparing for the game against Poland will be paramount, because, probably, this is the most important game in the tournament for us," said Hungary coach Istvan Gulyas.
The game is bound to be physical, with tall, strong players for both sides, with defences making the difference.
"We need to show a totally different attitude than in the game against Uruguay, because we lacked certain aspects that should be there against Hungary," said Poland coach Patryk Rombel.
Germany vs Brazil 21:30 CAT`
After losing their first games in the main round, Germany and Brazil are fourth and fifth in the standings with slim chances to progress to the next phase of the competition.
The loser of this game will be eliminated if Spain beat Uruguay, therefore expect both sides to give it their all.
Germany have dominated previous meetings between the two sides, recording seven wins in eight games, with the only Brazilian win coming at the 2016 Olympic Games in Rio, in a nail-biting 33:30 game.
But the average margin of win for Germany against Brazil is 10.1 goals, including two drubbings in their last mutual games at the IHF Men's World Championship, 33:23 at Spain 2013 and 34:21 at Germany/Denmark 2019, both in the preliminary round.
As Germany are missing key players from the side that finished fourth two years ago, they could be headed for their worst-ever IHF Men's World Championship finish, lower than the 11th place recorded at Sweden 2011.
But coach Alfred Gislason, at his first major tournament for Germany after signing in February 2020, is upbeat.
"We are missing players, very important players, but I am very happy with the team we have here, with very talented players, some of them have the chance to play, to learn more, the situation is what it is. But even in this situation, we could have won against Spain and Hungary, the team is doing great, showing great spirit, so we are just focusing on the task at hand here," said Gislason.
On the other side, Brazil will be without back Jose Toledo, who suffered an injury in the game against Hungary and is out for the rest of the tournament.
With injuries and COVID-19 absences, Brazil are still searching for their first tournament win, after drawing the first two games against Spain and Tunisia, and losing against Poland and Hungary.