14 Jan. 2021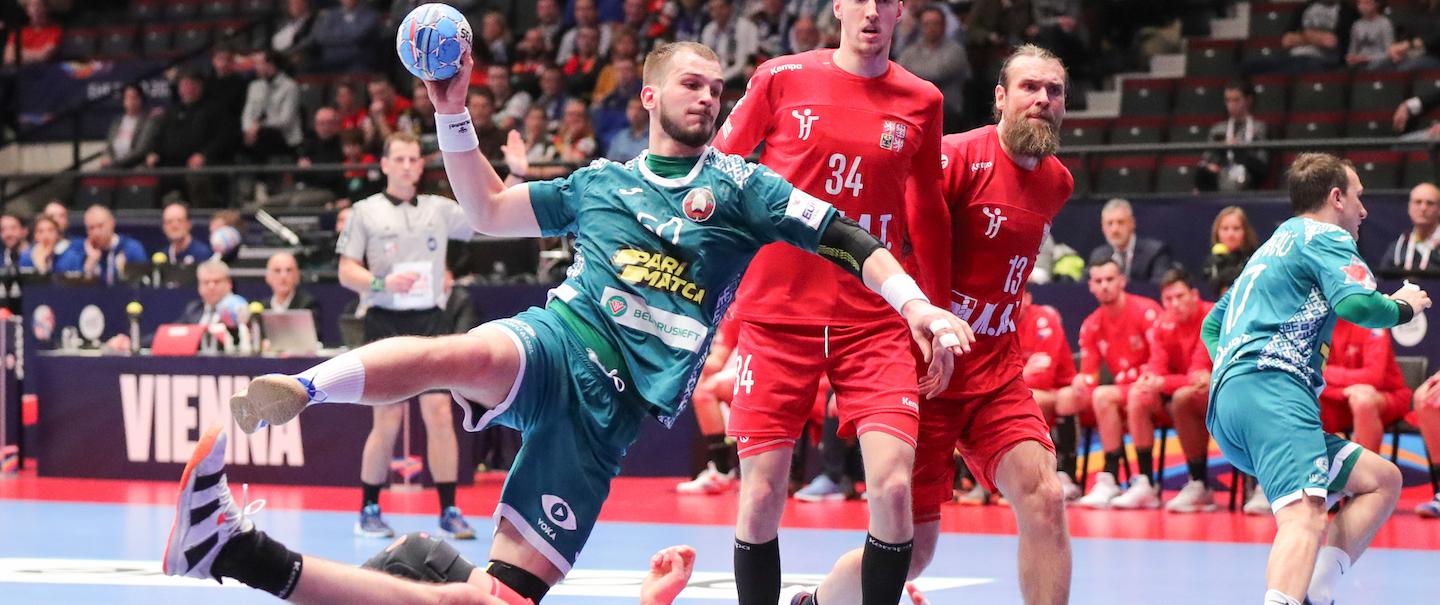 After the opening World Championship match yesterday, which saw hosts Egypt take a 35:29 win against Chile, Group H will be in action, kicking off a day of matches, as neighbours Belarus and the Russian Handball Federation Team collide at Borg Al Arab Sports Hall. 
 
Belarus vs Russian Handball Federation Team 16:30 CAT
When the whistle blows in Alexandria it will welcome the return of Belarus, who missed out on the 2019 IHF Men's World Championship. Now their young players are experienced enough, and the team are eager to showcase themselves to the world. Although half of the team have not played in a top tournament before, they showed their qualities ahead of the World Championship, playing the EHF EURO 2022 Qualifiers against 2019 World Championship runners-up Norway, taking a win on home ground.
While the team from coach Iouri Chevtsov ranked 10th at the Men's EHF EURO 2020, their opponent, the Russian Handball Federation Team, had a disappointing European Championship campaign which ended in 22nd place.  However, the Russian Handball Federation Team hold the head-to-head advantage against their neighbours, having never lost in four competitive games against Belarus. 
The Wild Card team will enter the tournament with their new head coach Velimir Petkovic, who took over in March and guided his team successfully through the first matches in November against Ukraine as well as in a preparation tournament against Argentina and Spain, winning both matches and giving the Russian Handball Federation Team the confidence they need to improve their 14th place from two years ago. 
Slovenia vs Republic of Korea 19:00 CAT
The second match in Group H today will see Slovenia taking on Republic of Korea. Slovenia are the favourites in the group and are happy to take that position as their captain Jure Dolenec pointed out: "All in all, it will not be easy, but we must not shy away from being the favourites in Group H. Our goal is clear: we are focused on winning all the games." 
After their biggest achievement at the 2017 IHF Men's World Championship in France, taking the bronze medal with a 31:30 victory against Croatia after and incredible comeback, they missed the last edition and now return to the World Championship with their new head coach Ljubomir Vranjes, who led the Slovenia to a fourth place at the Men's EHF EURO 2020. Vranjes knows how to win a World Championship as he claimed the gold medal with Sweden at the 1999 World Championship – in Egypt.
Although it has already been eight years, they have beaten today's opponent Korea twice, once at the 2004 Olympic Games (26:23) and once in the group phase at Spain 2013 (34:27). Korea are the 2020 AHF Men's Asian Championship runners-up, their best rank at the continental event since 2012 and their first final after eight years. The Asian side have a very young and inexperienced squad which will try to tackle the experienced Slovenians.