12 Nov. 2021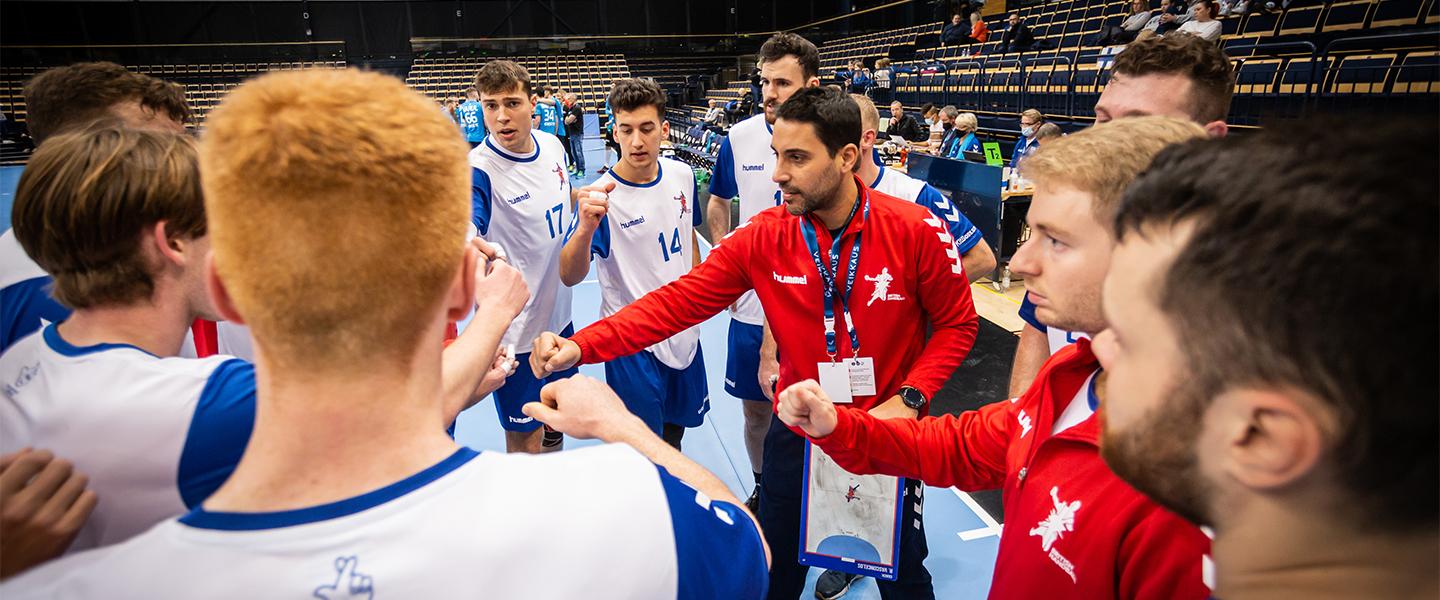 It was June 2019 and the Great Britain men's senior national team had finished fourth at the IHF Men's Emerging Nations Championship, underlining their quest to get their handball programme back into contention after a spotlight was shed on it during the London 2012 Olympic Games.
 
However, the COVID-19 pandemic ground everything to a halt and with prevention measures sweeping around the country, the players found themselves unable to train, keep the chemistry afloat or compete in official matches.
 
The situation was difficult even for the European powerhouses, but it hit the British side especially hard, an amateur team, who was forced to suspend their activities. But, as the world slowly starts to emerge from this pandemic, Great Britain are also making their first steps towards getting back into action.
 
"It is, if you want to put it like this, the great reboot of the sport in Great Britain," said Paul Bray, the Chair of the British Handball Association to ihf.info.
 
Indeed, the British senior men's team played their first competitive matches in two years and five months this November, after taking part in the three-day 2023 IHF Men's World Championship European Qualification Phase 1, in Vantaa, Finland, in a round-robin tournament against Georgia, Estonia and hosts Finland.
 
Great Britain lost all three games they played, but just being on court, taking on higher-ranked opponents at this level, meant the world to the players and the coach of the team, Ricardo Vasconcelos.
 


A good outing against Georgia, a narrow 26:32 loss, was followed by defeats against Estonia (22:34) and hosts Finland (22:38), with the latter two teams progressing to the Qualification Phase 2. However, Vasconcelos is upbeat after the matches.
 
"From a competitive standpoint, I hate losing," he said to IHF.info. "I want to win every time I get on court but with the current situation it was always going to be difficult to be competitive.
 
"We also had some issues with injuries, with key players out and had many new players in the team; our players hardly knew each other. So that was very difficult to manage.
 
"Tactically, I believe we were as good as we could have been under the circumstances. We are on a steep learning curve and we must adhere to it and get better and better."

Honouring the badge and the nation
 
Since competing in their first-ever top-level international tournament at the London 2012 Olympic Games, as hosts, the British men's – and women's – senior teams have had their ups and downs, but it all came down to a simple fact: the funding that every Member Federation craves to be able to put everything in place.
 
With the help of the IHF via the New Markets' Project, Great Britain have been making strides to improve handball in a country which mainly focuses on other team sports.
 
Moreover, additional funding has been secured from UK Sport (British Government agency responsible for investing in Olympic and Paralympic sport) with £375,000 made available from 2021 to 2024.
 
"We have lobbied hard and secured some changes in the UK Sport strategy, which enabled us to get new funding for our senior squads," said Bray. "From the grassroots programme to all six of our national teams we have under our watch – men's and women's senior, juniors and youth – we can improve. Of course, it is difficult, but we are here to do our best."
 
The majority of GB men's (and women's) senior players are amateurs and in the past, have had to pay their travel and accommodation costs for the tournaments they played in or international matches they attended, but the new UK Sport funding now helps towards those costs, although the youth and junior squads will continue to pay most of their costs.
 
"The spirit has been fantastic and it was a great sacrifice for them to do this, I agree. But this underlines the passion and grit that always embodied our team and I could not be prouder," said Bray.
 
For the 2023 IHF Men's World Championship European Qualification Phase 1, Vasconcelos gave senior team debuts to six players, some of whom represented GB for the very first time in these competitive matches.
 
One of them was Ran Yonish, a 24-year-old line player who is currently plying his trade at club level for Israeli side Bnei Herzliya Handball Club and first spoke to Great Britain about playing for them back in 2015.
 
"My father was born in Great Britain and I have a British passport because of that," explained Yonish about his journey to representing Britain for the first time.
 
"Two years ago he passed away. He wanted me to see him play for his nation, for GB, so when I had the opportunity to play for GB, I said it was an honour and a pleasure to play for the nation of my father and my nation of course.
 
Yonish, who has also played in the Men's EHF European Cup in the past two seasons for Holon Yuvalim HC, is one of the most experienced British players at this level, despite making his debut in senior international handball only last week.
 
"Of course, the game is fast at this level," added Yonish, who scored five goals in three games against Georgia, Finland and Estonia. "What I saw in my first three games was mainly what I experienced at club level in European competitions, but I really think we can get better."
 
Yonish is just one of the players with different heritages in the British side. Vasconcelos himself was born and bred in Portugal, with right wing Francisco Pereira following the same ancestry. Jeremy Hirel's roots can be traced to France, while the Portuguese connection is completed by another player, Tiago Pinheiro Babb.
 
This melting pot of backgrounds brought together Team GB as one big, united, happy family.
 
"It truly was beautiful to see us back on the court, again with our mates, just playing handball," explained back Ryan Goodwin, who scored nine goals in the three games he played in.
 
"Of course, the results were not perfect, but that just motivates us to play even better and try even harder.
 
"We really felt like a family, we did not train a lot, but everybody chimed in and it was, in a sort of way, a baptising experience for a new team."
 
Goodwin, who can be considered one of the most experienced players on the British roster, made his senior GB debut in 2015 and has gone through thick and thin with this team.
 
"We have our sights set for the future, which looks better and better, if I am honest," concluded Goodwin.
 
"The path is very long"
 
But what about the future?
 
It might be too early to say, with players having only just returned to training following the re-opening of facilities after lockdown in Britain.
 
Yet, the roadmap is there, with everything put in place to help Great Britain become relevant in the long term, with a new 'Performance Strategy' developed during the lockdown.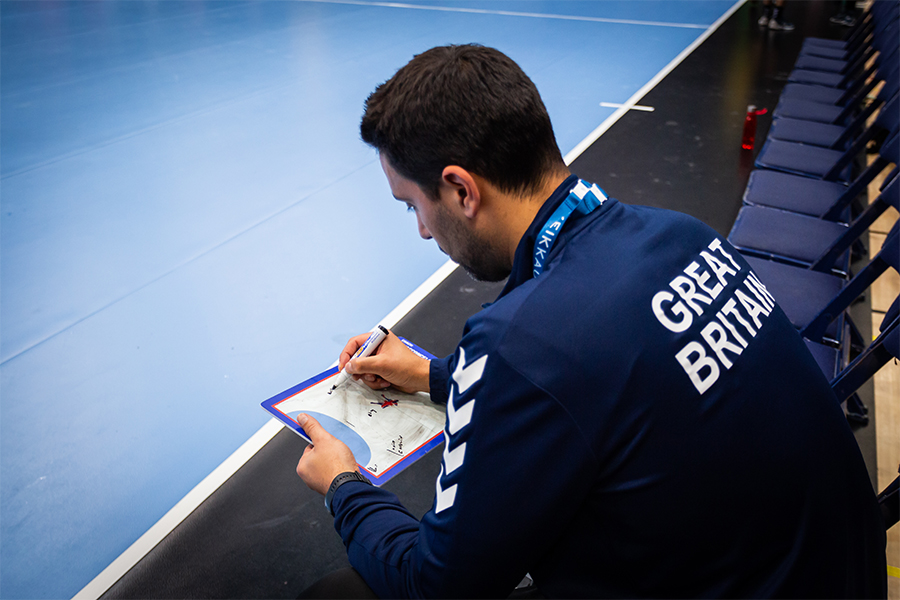 "After such tough years we are starting to look forward to international competition for all six of our teams, with the men's senior team first objective, the IHF Emerging Nations Championship, which should take place in 2023, barring any other problems and maybe even a women's edition," added Bray. 
"Long term? Well, we need to become more competitive and enhance our presence, so we can attract more players.
 
"The path is very long, but the first steps have been made. I have seen the development in British handball, we have players in professional teams around Europe and that is very good."
 
Results will tell whether the reboot is working, but the sheer enthusiasm shown by the players on the court is irresistible. 
Photos: British Handball