25 Aug. 2018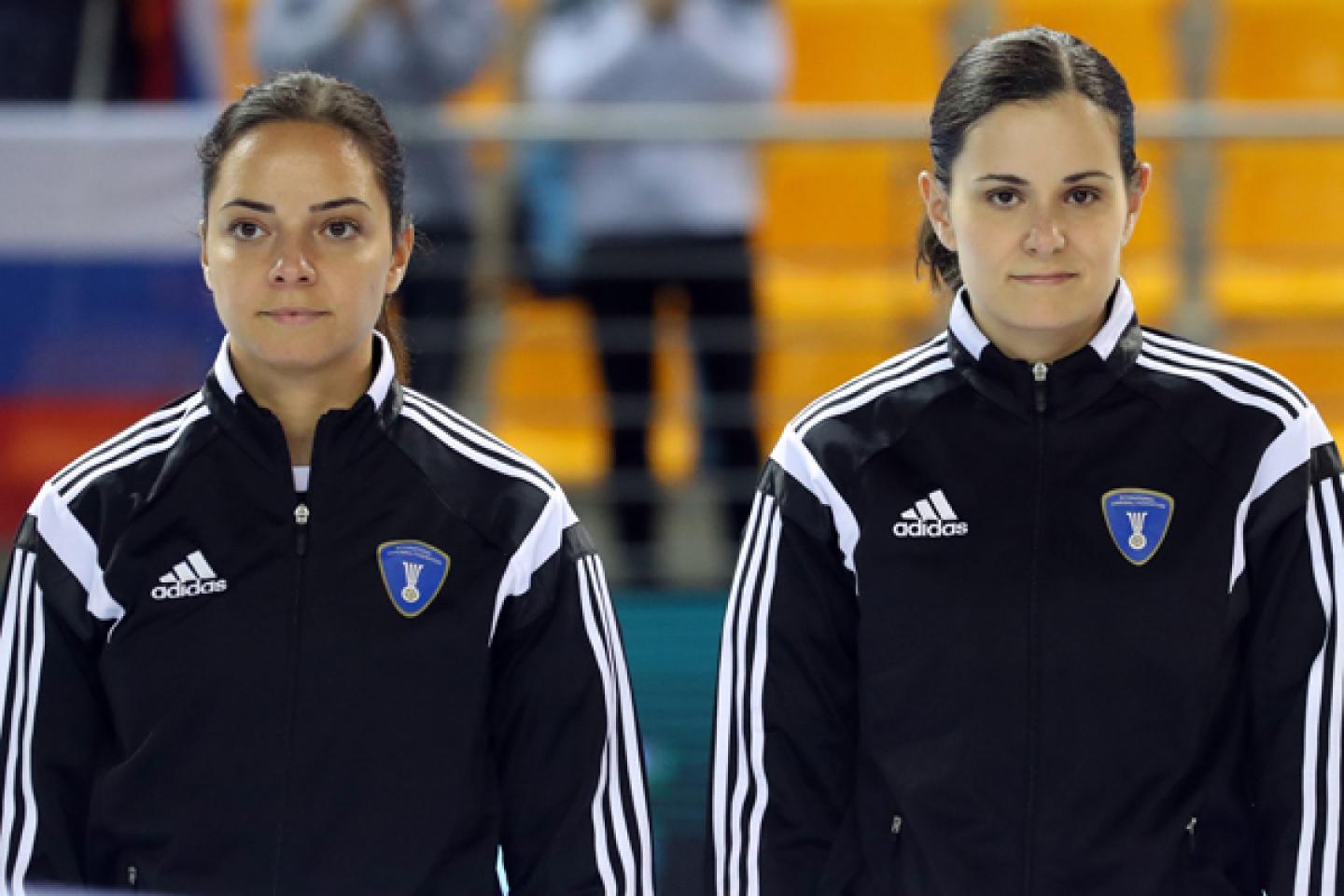 When Swedish referee pair Maria and Safia Bennani lined up to take charge of the Tunisia vs France preliminary group match at the 2018 IHF Women's Youth World Championship in Kielce, Poland earlier this month, it marked their whistling debut at world championship level.
The sisters received their IHF refereeing badges back in 2017 as part of the IHF Global Referee Training Programme (GRTP), which was held at the 2nd IHF Men's Emerging Nations Championship in Bulgaria.
The IHF tournament, which aims to aid developing handball nations, as well as providing a pathway for officials and referees to gain their IHF qualifications, saw seven referee pairs get their badges in Bulgaria all of whom have now stepped up to the world championship level.
"It is always special to get introduced in an international match with the national anthems and knowing that entire countries stand behind the teams," said Safia about lining up ahead of the Tunisia vs France match and being introduced to the fans inside the Politechnika Hall.
"But, of course, it felt extra nice with it being the first world championship match in our career.  We gained our European Handball Federation (EHF) badge in March 2014 and the feeling to get the IHF one and then whistle, was amazing."
Ahead of Poland 2018, two of the seven qualified referee couples from Bulgaria had already experienced a world championship with Chinese pair Zhou Yunlei and Cheng Yufeng whistling in Hungary at the 2018 IHF Women's Junior World Championship, and Youcef Belkhiri and Sidali Hamidi from Algeria whistling on home soil, in Algiers, at the 2017 IHF Men's Junior World Championship.
For the five remaining newly-qualified referee couples from Bulgaria, Poland provided the first opportunity of a world championship experience with the Bennani sisters taking charge of matches along with Denis Bolic and Christoph Hurich (Austria), Georgi Doychinov and Yulian Goretsov (Bulgaria), Vânia Sá and Marta Sá (Portugal) and the Egyptian sisters Yasmina Elsaied Maher and Heidy Elsaied Maher (EGY).  In addition to the five new pairs, 11 experienced pairs made for 16 couples in total in Kielce.
"It was great that we had so many familiar faces when we arrived in Poland," said Maria, who started whistling with her sister when they were 17-years-old. "We knew the Egyptian pair from Bulgaria and some of the other European referees were also with us in Bulgaria, but we have known them for a few years through the EHF.
"It was especially enjoyable to meet friends from outside of Europe with many different languages and cultures together – it was a lot of fun."
"Everyone contributed in their own way to the group dynamic," added Safia. "But it was great to have some who were more experienced to ask when we were in doubt about something.
"The more experienced referees helped and took on more responsibility in different tasks allowing us and the ones who were at our first world championship to have time to learn – we really enjoyed the fitness work too.
"It was fun to work out all together and also to get some new ideas about our own workout routines and we are both looking forward to the collaboration we will have together."
Back in 2017, Safia and Maria revealed to IHF.info that receiving the IHF badge was a "life achievement", but how did they feel when they received the nomination for Poland 2018 from Playing Rules and Referees Commission (PRC) Chairman Ramon Gallego?
"We received an email confirming our nomination and were really excited and happy," said Safia. "We had whistled in Poland before and it has always been a great experience with great hospitality, but when we received our badge in Bulgaria we were looking forward to get the opportunity to attend more IHF events. 
"To have the IHF badge is a great honour and a privilege, so to be nominated for Poland 2018 was a great achievement for us."
In total, the Bennani's whistled eight matches in Kielce with many memorable moments and were not only supported by their fellow referees and officials, but by the closest to them back home.
"Our family and friends watched almost all our matches and, of course, we got some comments afterwards which is always good for improvement," said Maria. "The most memorable game was Montenegro vs Korea. Korea played such fast handball and in a style that we are not so used to, so it was a lot of fun to have this challenge."
Now Poland 2018 is a memory and the European handball season has started again, so what is next for the Swedish pair?
"The next challenge for us is the 2018 Women's EHF EURO Preparatory Seminar in Vienna at the end of August," said Safia. "14 couples have been pre-selected for the final event in France with 12 nominated to go to the championships - it would be an honour to be among the 12 selected couples, so we keep our hopes up. 
"Whatever happens though we are now sharing our experience and new-found knowledge from Poland with our colleagues at home in order to improve and be better referees," added Maria. 
"We want to inspire referees in all ages and categories to continue whistling, especially girls, as there's unfortunately not that many of us in Sweden, but we hope we can help to change that."