04 Dec. 2019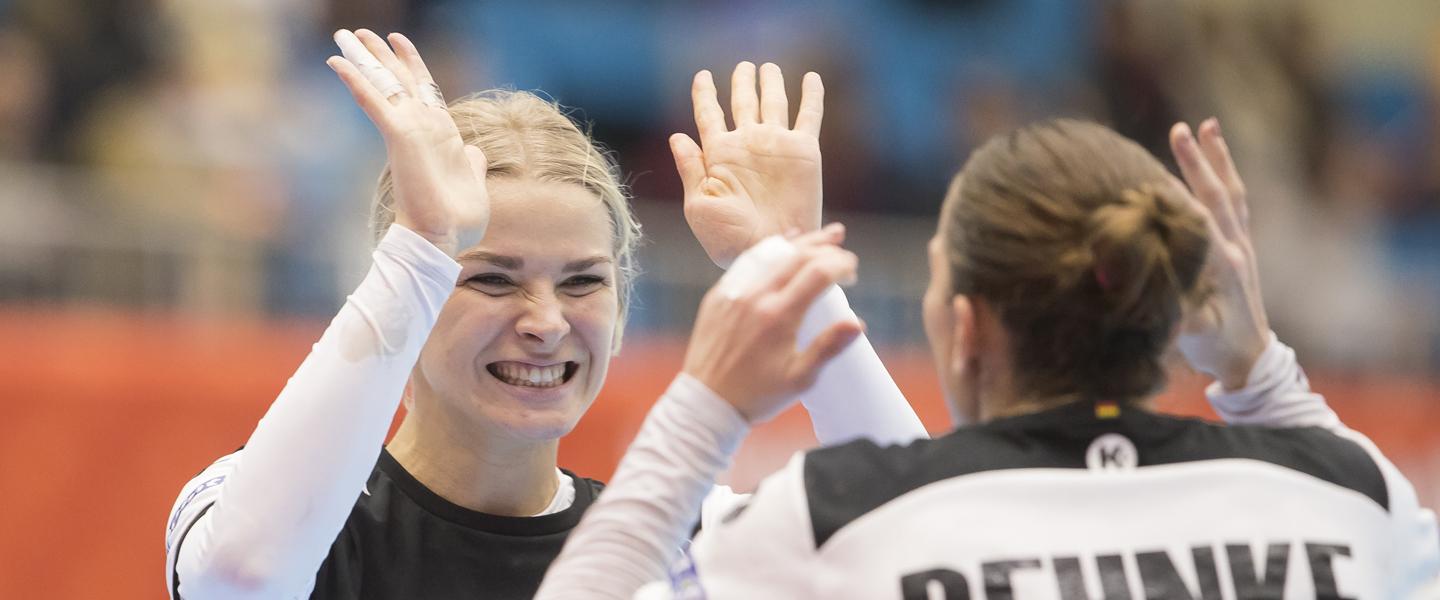 Last night in Kumamoto, Germany ended a run of 19 years without a competitive win against Denmark, when Henk Groener's side overcame the Danes 26:25 in Group B of the 2019 IHF Women's World Championship in Japan.
Next up for Germany is France later today (19:00hrs) and if they were to win, it would be their first against the French in a competitive match for 14 years, since the 2005 IHF Women's World Championship in Russia when they took a 32:26 victory in the main round.

The win against Denmark was their third in a row, putting them top of the group and looking towards the main round already. 
Despite the tight one-goal victory, Germany led for nearly the whole 60 minutes with their rivals only drawing level once and when the game ended, it sparked wild celebrations for the team.

"The celebrations were not just because we won but because we also knew the last time Germany won against Denmark was 19 years ago," said German left back Evgenija Minevskaja to IHF.info. "There was so much emotion in the game and we have a really good team, a really good team spirit and attitude."
Germany had led 6:1 and 10:4 inside the first 20 minutes, but the Brest Bretagne Handball player – and her national teammates – were not taking anything lightly.

"In our head we knew they could come back," she said about the Denmark threat. "But also it was a kind of trick we played on ourselves, we said 'OK when we shoot one goal and they shoot, we only have to shoot one more goal than them,' so it was a little bit of, not pressure, but we just tried to play as well as we can."
Those celebrations on court at the final buzzer were made possible in part by the continued excellence of goalkeeper Dinah Eckerle (12 saves), part of a team unit which is clearly in a focused way on court and in a relaxed and happy way off court. During games Groener gives concise and clear orders but allows his team to find solutions when problems present themselves.
"We try to fix, not all things, but most things by ourselves on court, because we are standing together and have to fix the problems that come," she said about the team autonomy. "Outside of the court we have so much fun together and when there are two players fighting for a position, it's not competitive; we help each other and that's the most important thing.
 
"Unbelievable," added Minevskaja about the performance of her goalkeeper. "Her performances give you as a player an extra portion of power because you know, OK, some mistakes will happen, but we think 'Dinah is there' – Dinah's our wall."
The French clash sees the title-holders desperate for another win as they look to kickstart their Japan 2019 campaign after finally picking up their first victory against Australia. While a defeat for France would not mean their exit, Minevskaja, despite being familiar with the team through her club commitments, is looking to make it four wins out of four for Germany as her side eyes the next phase of competition.
"Totally true," said the 27-year-old when she was asked if France would be fighting for their lives against them. "But we also know that we have to take the points into the main round, plus it's also important to keep developing our team spirit and our play.
"Of course I know the players well, but everyone knows everyone at this level," she added. "We are enemies in the match, but only for 60 minutes, when the game is over, we are friends again. But it is typical for handball: when we step on the court, we are enemies."
So with potential further history to be made later today for Germany, does Minevskaja want to create an even bigger history on the courts of Kumamoto?
"I hope so," she said laughing. "Somewhere in my head is something, but it is really too fast to say something. We have a goal – the primary goal is to take the Olympic Qualification Tournament spot."
But if you win the championship you go straight to the Tokyo 2020 Olympic Games?
"That would be a bonus," she said, smiling.