30 May. 2023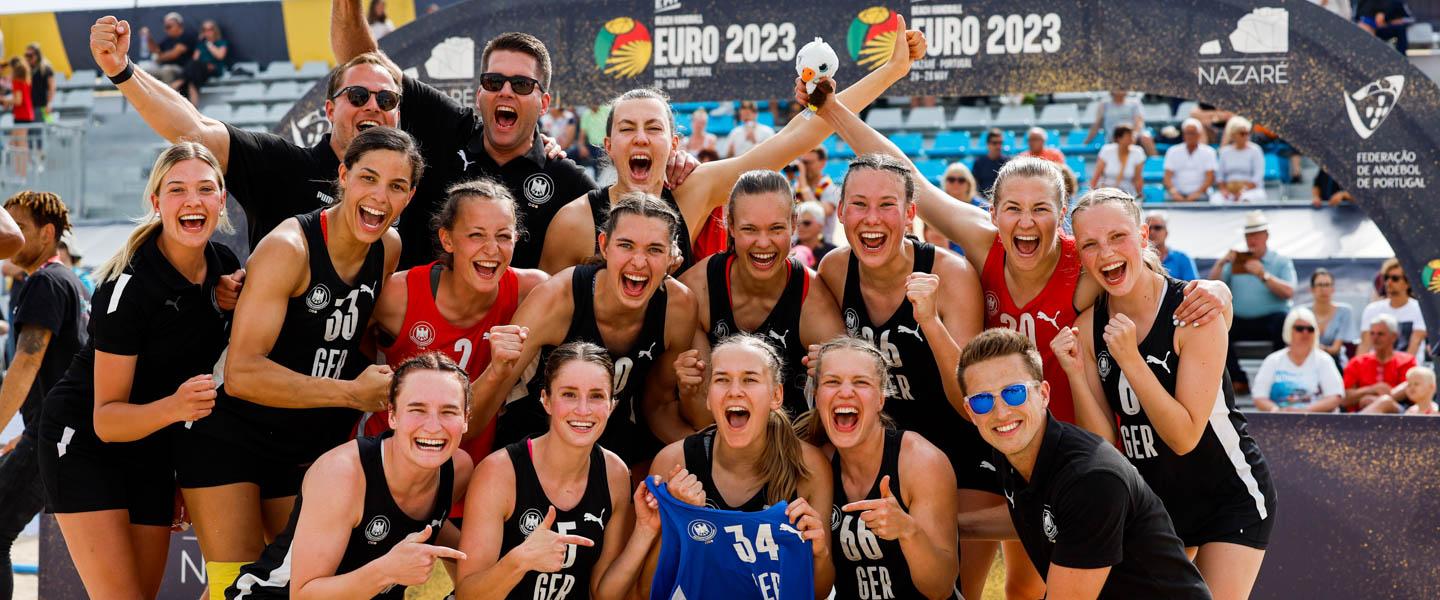 The Estádio do Viveiro on the Praia da Nazaré in Portugal witnessed an EHF Women's European Beach Handball Championships to remember with Germany's women taking home the title.
The 13th edition was scheduled earlier than normal due to the 2023 European Games in June and it meant many players could not compete due to their commitments to the indoor game, but this did not detract from the quality on show throughout the 68 matches across five days (24 to 28 May) of action.
After winning the 2021 European title without losing a game or even dropping a set, Germany's women then won the 2022 IHF Women's Beach Handball World Championships and 2022 The World Games titles without losing again – an incredible run of 25 games.
With all the pressure as strong favourites and every team they faced wanting to be the ones to break that streak, the German side – co-captained by Lucie-Marie Kretzschmar and Kirsten Walter – stepped up on the Atlantic Ocean coast and delivered as worthy champions.
Alexander Novakovic's side faced 2022 IHF World Championship bronze medallists Netherlands in the final, winning a tense shoot-out 7:4 to take the game 2-1 (18:20, 20:14). The Dutch had led the second set 10:6, but an eight-goal run from the Germans (14:10) turned it around and took it to shots.
It was the Netherlands who opened the shoot-out, with Isabel Barnard putting her side up 2-0. Germany's Isabel Kattner was then fouled by Amber Van Der Meij in the Dutch goal, resulting in a penalty shot from Belen Gettwart who equalled it up (2:2).
Further errors from the Dutch then saw them miss their next two shots. Anna Buter and then 2023 IHF Women's Youth Beach Handball World Championship MVP Eva Heuten threw over the Germany goal after Kattner, as goalkeeper, had narrowed the angles. With Germany scoring in response to both misses, and despite the Netherlands making it 4:6, Kretzschmar sank home the solitary score with her side's fourth shot to secure yet another gold.
"We are an amazing team – I love my team," said Germany's Gettwart to eurohandball.com. "It was tough, (the Netherlands) were very good, but we are an amazing team and we did it again."
On their way to the continental title, Germany won nine times, defeating France 2-0 (31:14, 30:16), Italy 2-0 (24:16, 30:26), Denmark 2-0 (23:20, 19:16), Portugal 2-1 (24:17, 14:17, SO 7:6), Norway 2-0 (18:13, 25:24), Croatia 2-0 (26:16, 23:20), Greece 2-0 (23:22, 27:12), Spain 2-1 (26:22, 16:24, SO 7:6) and then the Netherlands in the final. The results mean the unbelievable record of the unbeaten Germans now stands at 34 games.
Spain were the third team on the women's podium, defeating the host nation and neighbours Portugal 7:2 in a shoot-out too for their own 2-1 (19:18, 12:18) win. A win for the Portuguese side would have been their first-ever European Championship beach handball medal, but it was not meant to be as the 2016 IHF Women's World Championship winners took yet another medal.
"I am so proud of my team," said Spain's championship MVP Asun Batista to eurohandball.com. "I don't know how (we won the shoot-out), it is like an explosion of emotions."
2019 ANOC World Beach Games title-holders Denmark defeated Croatia 2-0 (23:21, 24:17) in the 7/8 placement match to secure the last ranking place at the European Games.
All games are available to watch again and for free on EHFTV.com (subject to geo-restrictions).
ANOC World Beach Games and European Games qualifications confirmed
After Germany and the Netherlands and Spain have already qualified for the 2023 ANOC World Beach Games in Bali, Indonesia, which is set to take place in August at the World Championships, the ticket now goes to fourth-placed Portugal.
Germany have also qualified for the beach handball competitions at the 2023 European Games, which will be played in Tarnów, Poland, next month. Also joining them in Poland will be the Netherlands, Spain, Portugal, Norway, Greece and Denmark. 
As Germany are world championship title-holders and won in Portugal, teams in positions 2-7 qualified through to the 2024 IHF Beach Handball World Championships.
Final ranking
1. Germany * ** **
2. Netherlands* ** ***
3. Spain* ** ***
4. Portugal* ** ***, 5. Norway* ***, 6. Greece* ** ***, 7. Denmark* ** ***, 8. Croatia, 9. Hungary, 10. Ukraine, 11. Italy, 12. Poland, 13. France, 14. Slovakia, 15. Romania, 16. North Macedonia
*Qualified for the 2023 European Games
**Qualified for the 2023 ANOC World Beach Games
***Qualified for the 2024 IHF Beach Handball World Championships
Photo: European Handball Federation / Kolektiff Images