13 Aug. 2023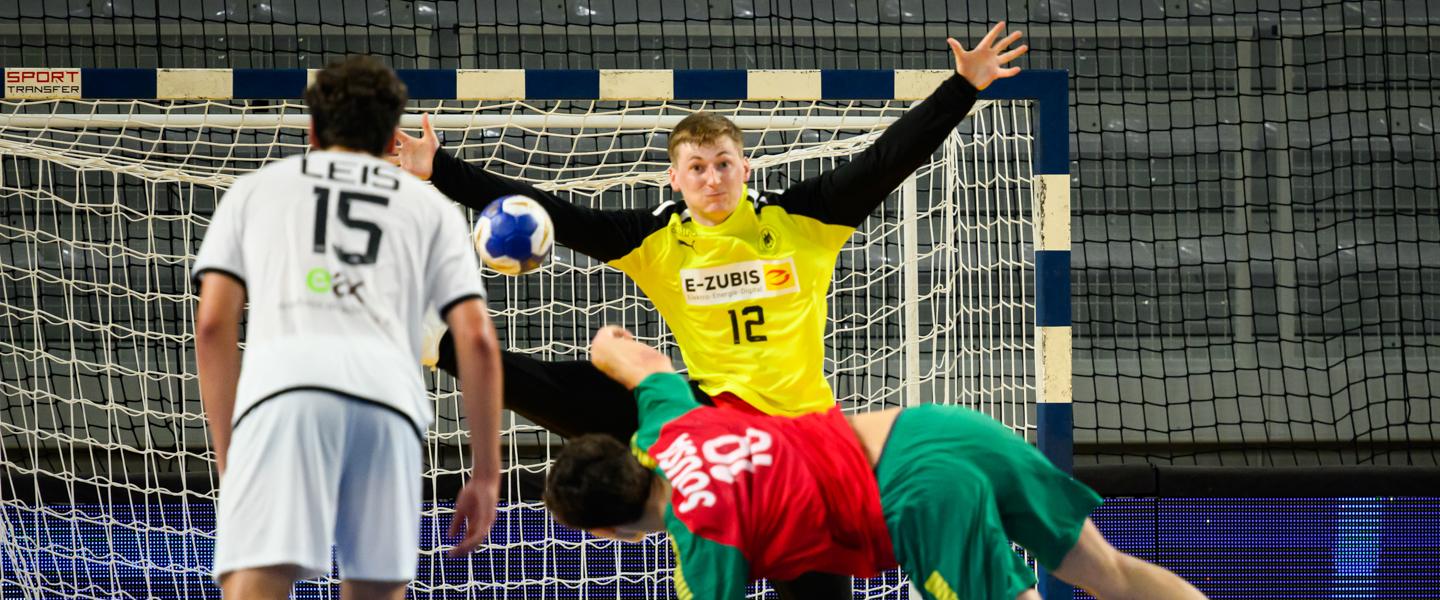 Two excellent, fast-paced games opened the final day at the 2023 IHF Men's Youth World Championship, as the final standings outside of the podium were eventually decided.
 
In the Placement Match 5/6, a strong finish in the first half saw Germany create an unassailable lead against Portugal, taking a 31:27 win and securing the fifth place.
 
Norway clinched the seventh place with a 38:35 win against the Faroe Islands, with the latter side's Oli Mittun virtually sealing the top goal scorer title, having scored 87 goals in the competition in eight matches.
 
Placement Match 5/6
Germany vs Portugal 31:27 (17:12) 
Germany missed the chance to secure a place in the semi-finals. Still, they ended Croatia 2023 on a high, with a fifth place in the final standings, after two consecutive wins against Norway and Portugal, a feature which is due to bolster the morale of this generation, which will need to fill big shoes in the immediate future, following the world champions at Germany/Greece 2023.
 
With Martin Heuberger, the winning coach at the 2023 IHF Men's Junior World Championship, in a support role to head coach Emir Kurtagic on the bench, Germany needed a well-taken time-out when the score was still tied (6:6) to finally break through.
 
A 3:0 run spurred by left wing Marvin Siemer, who scored six goals in the first half, and back Ben Connar Battermann, who had five goals in the first 30 minutes, was pivotal in the game, with Germany creating a 9:6 cushion.
 
Soon, Portugal's defence started to crumble, and Germany had more and more space to create some magic in open play, pushing the pedal to the metal at the end of the first half, with a 17:12 lead at the break, as Portugal were simply unable to compete and match the attacking output in front of them.
 
Germany's strong start in the second half prompted a quick team time-out from Portugal, as the gap was getting out of hand. But after Portugal lost one of their key starters, back Joao Lourenco, due to a red card caused by an attacking foul, it was game over.
 
Siemer and Battermann continued to push and combined for 18 goals at the end of the game, as there was no question in the end about the winners, with Germany totally dominating and never letting Portugal even think about mounting a comeback.
 
After their 31:27 win, Germany finished on the fifth place, the third time in history that they ended up in the top-5 of the IHF Men's Youth World Championship, while Portugal ended up on the sixth place, the third time in a row when they finished on one of the first even places in the competition.
hummel Player of the Match: Ben Connar Battermann (Germany)
Placement Match 7/8
Norway vs Faroe Islands 38:35 (22:19)
With two attacking powerhouses which had little to lose entering their last match at Croatia 2023, this was always going to be a high-scoring game. Norway and the Faroe Islands did not disappoint in that respect, combining for 73 goals throughout the 60 minutes.
 
Coming after two huge, heartbreaking losses, the Faroe Islands were aiming to regain their confidence against Norway, with the top goal scorer of the competition, Oli Mittun, needing 14 goals to hit the 90-goal mark at Croatia 2023 after having averaged over 10 goals per game in the first seven matches.
 
Indeed, Mittun was once again the shining light for Faroe, scoring seven goals in the first 22 minutes, with the two teams easily trading goals, thanks to a high-paced rhythm imposed by both teams. But as Norway created a four-goal lead, 13:9, after 16 minutes, that was quickly shelved by a Faroe comeback, as the gap was reduced to a single goal, 16:15.
 
But from that moment on, only Norway were ahead, thanks to an excellent effort from back Marius Olseth, who scored 11 goals, matching Mittun's output throughout the game.
 
Without a big depth, the Faroe Islands' attack started to dwindle, as the speed was reduced and line player Isak Vedelsbol became increasingly important, fed by Mittun's excellent passes.
 
While Mittun might have finished the game with 11 goals and 10 assists, an outstanding talent and a player with a huge upside, he was not able to cut the gap for the Faroe Islands, which ended up on the eighth place at the 2023 IHF Men's Youth World Championship, conceding their third consecutive loss (35:38).
 
With 87 goals scored in eight matches, Mittun is virtually the top goal scorer of the competition, another outstanding performance for a player who will likely be in demand in the following years.
 
Norway finished seventh, the fourth time they are in the top 10, but failed to make the semi-finals for the first time, yet achieved their best finish since 2015, another sign that they are heading the right way.
 
hummel Player of the Match: Marius Olseth (Norway)
Photo: Croatia 2023/Kolektiff images