09 Aug. 2019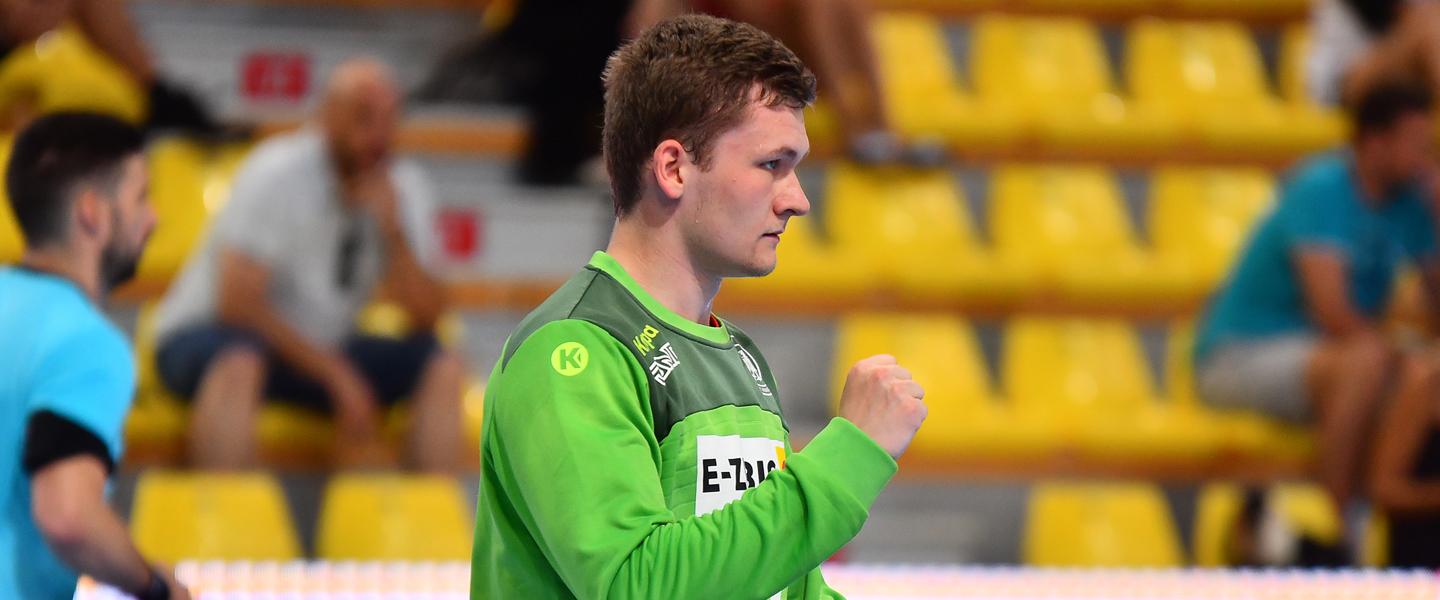 After losing to Portugal in their first match, Germany have now won their last two games to move up to second in preliminary group D by defeating Serbia clearly (30:22), and subsequently moving above them - and Iceland - into second spot.

GROUP D
Germany vs Serbia 30:22 (16:11)
Boris Trajkovski Arena, Skopje

Serbia had lost to Germany last year at the U18 EHF EURO in Croatia, 32:27 in the 5-8 Placement Round, and today that result did not look in doubt again, thanks to the secure net, guarded by Germany goalkeeper Lukas Diedrich.

At half-time, Serbia's normally strong defence saw an interesting statistic – one save in the goalkeeping column from 17 German attempts. But this was not the most intriguing number. It was the number three - as Serbia had tried their trio of goalkeepers in the opening 30 minutes without success and rhythm from any of them.
On the other hand, eventual best player of the match, Diedrich, had made six saves himself in the first half and would go on to finish with 11.

But inside the opening 10 minutes, Germany had already moved to a three-goal lead (6:3), then expanded to five at the half-time break thanks to a 4:0 run, despite Serbia's coach Aleksandar Radosavljevic using a time out to bring the scores within two (12:10, 20th minute) just before. As Serbia missed their attacking opportunities the Serbian bench let out exasperated gasps in disbelief with player Ognjen Radojicic putting his hands to his head in sheer frustration at one instance of a missed chance.

When Germany went 20:16 up through the diminutive Alexander Reimann in the 43rd minute, his side let out a big cheer, knowing the points were theirs.
Germany's Julius Meyer-Siebert did his best throughout the game to nullify the threat of the important Serbian right back Jovica Nikolic and eventually he was given his third two-minute and a red card with just under three minutes remaining but with his side six in front (27:21) and the match result safe it did not affect the flow of his side.
"We didn't start the world championship in the way we wanted to, but we have played two good games since," said Diedrich after the game. "Every player in our team is important and that is how we will behave to the end: as a team."
"Germany played a great match," said Serbia's Ivan Micic to wch2019championship.com.mk. "We made a lot of mistakes on our side, especially in defence. The goalkeepers have had two good days, but this match didn't go well. We were supposed to help them, but we didn't succeed. We played with no idea in attack and we will try to come back against Iceland."

Best Player of the Match: Lukas Diedrich (GER)

Photo: WCH 2019 / Filip Viranovski