27 Jan. 2023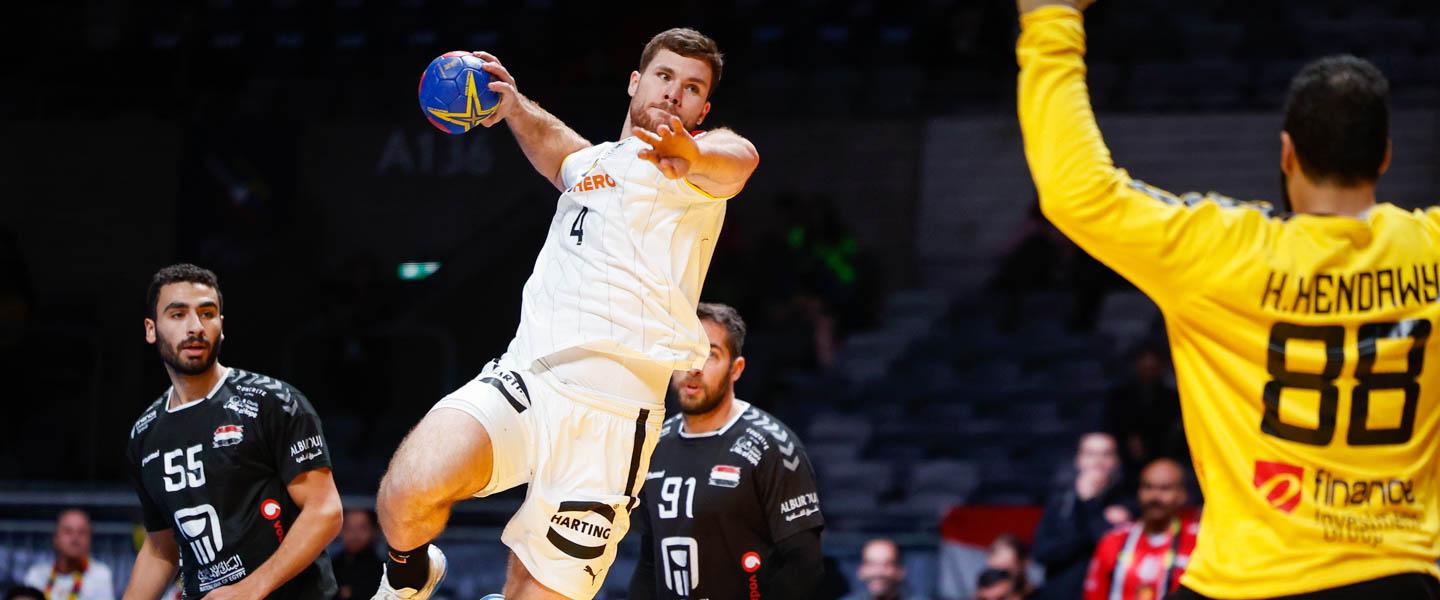 Germany secured the battle for fifth place at the 28th IHF Men's World Championship after an exciting finish to the match. After trailing two times by seven, Egypt kept coming back to life, managed to level and push the match into extra time. One name stood out in a very close match: Andreas Wolff and his 20 saves, helping his team get a narrow win after 70 minutes.
Placement Matches 5-8
Germany vs Egypt 35:34 after extra time (30:30, 17:14)
The teams needed to find an incentive at the start of the match, especially the Egyptian side. Germany opened well, eager to win and get a chance to play for fifth place on Sunday (29 January). Egypt had a problem in the attack, unable to score for the first five minutes as Andreas Wolff was in fine form between the posts.
Wolff had six saves out of 12 attempts in the first 15 minutes of the match, allowing his team to gain a four-goal lead. The Germans could have had an even wider gap if there had not been five turnovers, compared to the 'Pharaohs' one turnover.
Germany had a good play with line players as the Egyptian side could not stop Johannes Golla who was impeccable, netting four goals.
"We are making the same mistakes we did in the last two matches. Come on, guys", said Roberto Parrondo to his players at the first time-out after trailing by five.
Nothing seemed to be working as Egyptian shots were going right into Wolff like he was a magnet. Parrondo changed goalkeepers and Abdelrahman Homayed immediately had two straight saves and slowed down the Germans. As a result, Egypt scored their first goal after seven minutes (8:13). 
When Germany hit the seven-goal lead, it seemed to be decisive for the match, but the last five minutes of the first half changed everything. Egypt's defence was denser, forcing Germany into new series of turnovers. After trailing by seven, Egypt made a three-goal run by the end of the first half, coming back to life.
It took only ten minutes of the second half for Germany to restore their biggest lead in the match by seven goals. Wolff continued where he left off and young talented Juri Knorr set his tally to five. Mohab Abdelhak cut the lead to four in the opening minutes, but his direct red card disqualification erased all the good, leaving Parrondo with another problem and Egypt at a seven-goal deficit. Alfreð Gíslasons' team also received a red card as Lukas Stutzke got his third two-minute suspension.
The Egyptians were like a cat with nine lives, coming back into the match for the second time with a good defensive display and taking advantage of German technical faults and turnovers. From 28:21 at the 43rd minute to 28:26 five minutes later.
Akram Saad had an opportunity to narrow the gap to only one ten minutes before the final buzzer, but Wolff stopped the 18th shot of the day, once again giving his teammates a push for new momentum – a momentum they didn't take.
Only three minutes later, Karim Hendawy made his response and helped Yehia El-Deraa and Omar El-Wakil to level (30:30) three minutes before the end. Three turnovers and Ali Mohamed's strong shot at the post resulted in extra time.
Egypt grabbed their first lead in the match at the start of extra time with the goal of Ahmed Mohamed (33:32), but could not keep their hands on it as Germany, once again, regained the lead. With Wolff's 20th save of the day and Golla's steal, Germany finally claimed a 35:34 win against Egypt. You could see disappointment and fatigue on Ali Mohamed (Zein) and Yehia El-Deraa's faces.
hummel Player of the Match: Andreas Wolff (Germany)