08 Oct. 2021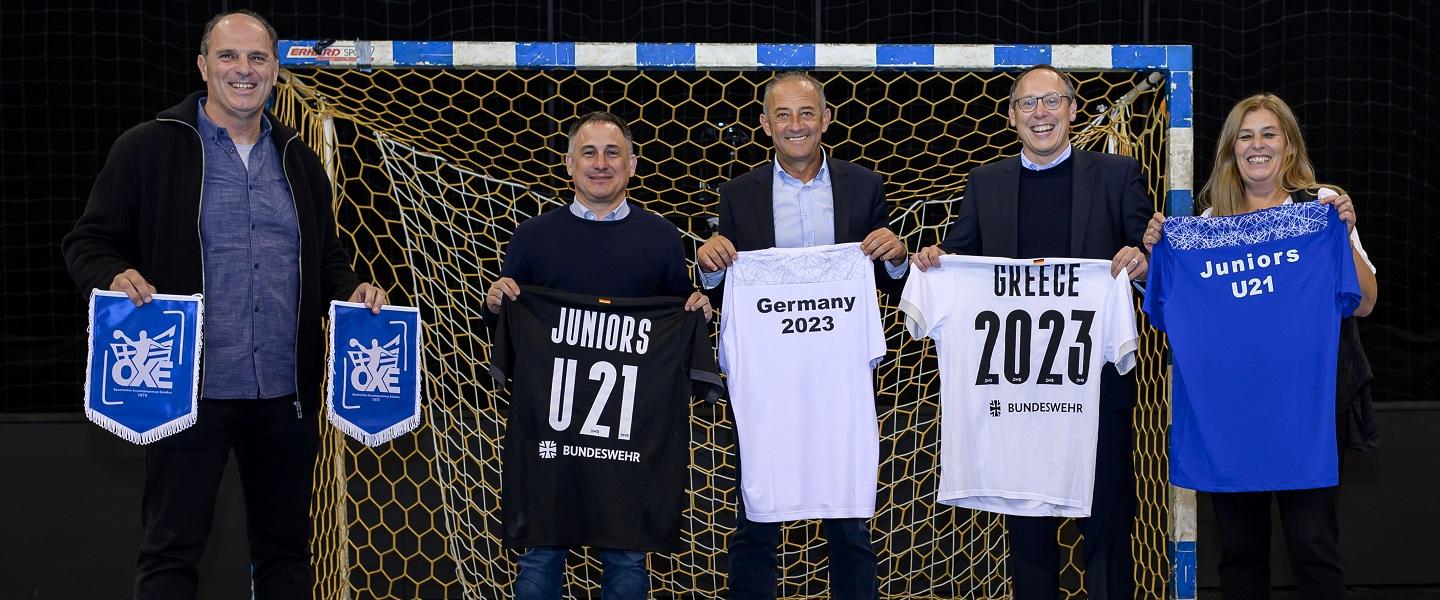 The German Handball Federation (DHB) and the Hellenic Handball Federation (HHF) have announced they will co-host the 2023 IHF Men's Junior World Championship.
Originally, Germany was billed to organise the tournament alone, but after a lengthy period of negotiations, the two federations agreed to co-host the tournament, scheduled between 20 June and 2 July 2023, as officially announced on Thursday, 7 October, in a press conference that took place in Trier, Germany.
This will be the first IHF Men's Junior World Championship to be hosted by two countries since 1979 and the first one since 2019, after this year's edition, due to be held in Hungary, was cancelled due to the COVID-19 pandemic.
For the first time, 32 teams instead of 24 will take part in the Junior World Championship, for a total of 116 games. 64 games, including the final round will take place in Germany, while 52 matches will be in Greece. The venues will be announced in the coming months.
As the two countries do not share a border, travel has been reduced to a minimum, with a schedule designed to prevent the lengthy trips. Only four quarter-finalists, who will play their first matches in Greece, are due to fly to Germany for their last games in the competition.
"We are grateful that the International Handball Federation approved our plan and we see this decade as an opportunity for the international handball family," said the CEO of the DHB, Mark Schober. 
Germany are also due to host the 2027 IHF Men's World Championship and co-host the 2025 IHF Women's World Championship with the Netherlands.
"We are looking to an excellent event, which can only strengthen the ties between National Federations," added Schober.
Greece are back as hosts for the IHF Men's Junior World Championship for the first time since 2011, when Germany won the title for the second time in a row.
"This is an important step for Greek handball. After twelve years, young Greek handball players will again have the opportunity to show their potential in a tournament at the highest level," added Konstantinos Gkantis, the President of the HHF.
Photo: Marco Wolf / DHB