04 Sep. 2019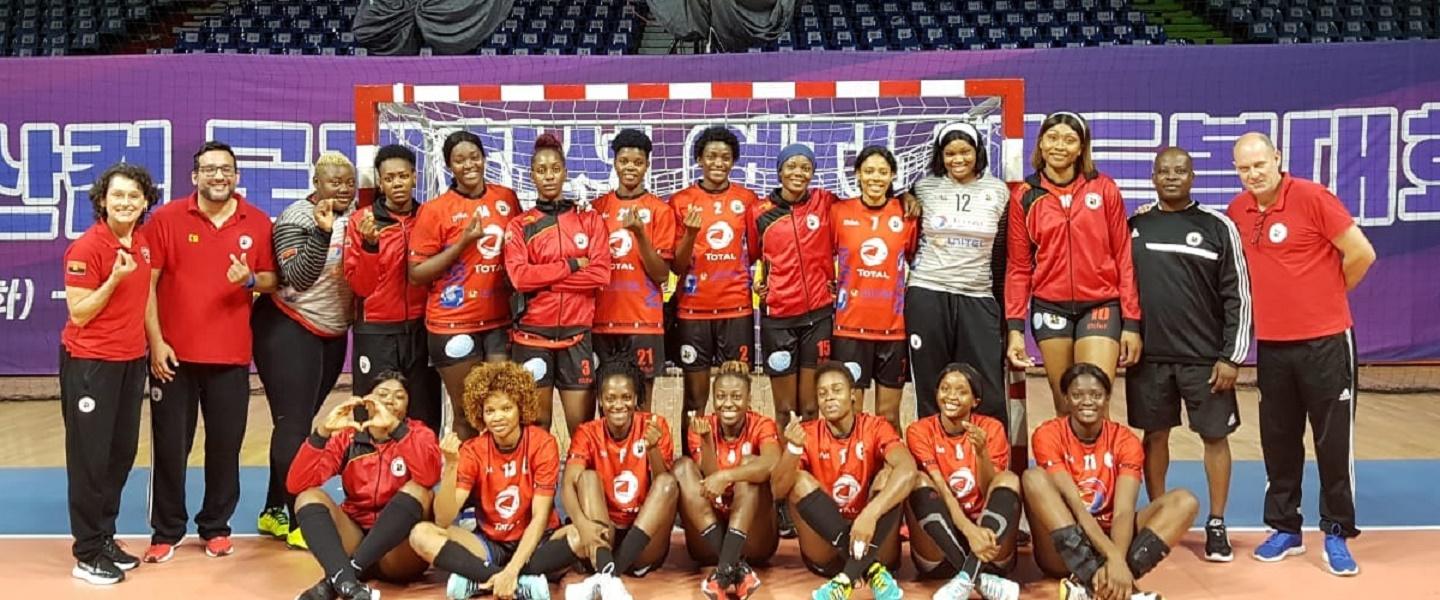 The Angolan national team won the round-robin tournament of the fourth edition of the Busan International Friendly Women's Handball Tournament last month.
In total, a mixture of club and national sides from across the world competed with HC Zvezda Zvenigorod (RUS), CS Gloria 2018 (ROU), Ringkobing Handbold (DEN), Angola National Team (ANG), Australia National Team (AUS) and local team Busan Bisco (KOR).
Angola, coached by Morten Soubak, won four games, against Romanian club side CS Gloria 2018 (28:20), HC Zvezda Zvenigorod from Russia (35:23), local club side Busan Bisco (36:29) and Australia (36:10). They drew with Danish club side Ringkobing Handbold 20:20, despite being four up at the break (12:8).
With their win over Australia in their final match, Angola moved up to nine points, three ahead of their rivals – CS Gloria 2018 and Busan Bisco – which meant they could not be caught. Both teams then played each other in the final game of the tournament, won by the local side, who finished in second place with the Romania team third.
The free event saw a festival of handball with fans able to see not only the 15 games, but the Korean women's senior team practice and the younger age teams as well.
Angola and Australia both used the tournament as part of their preparations ahead of the 2019 IHF Women's World Championship which will be held in Kumamoto, Japan, from November 30 to December 15.
For more information and to watch the matches again, visit the tournament Facebook page here. 
RESULTS
Tuesday 6 August

CS Gloria 2018 vs Angola 20:28 (8:15)
Busan Bisco vs Ringkobing Handbold 27:19 (12:10)
Wednesday 7 August

Ringkobing Handbold vs CS Gloria 2018 22:32 (8:14)
Angola vs HC Zvezda Zvenigorod 35:23 (17:11)
Busan Bisco vs Australia 27:21 (16:9)
Thursday 8 August

Australia vs HC Zvezda Zvenigorod 10:31 (4:17)
Friday 9 August

Ringkobing Handbold vs Australia 28:15 (15:8)
CS Gloria 2018 vs HC Zvezda Zvenigorod 26:23 (10:8)
Busan Bisco vs Angola 29:36 (16:19)
Saturday 10 August

Australia vs CS Gloria 2018 12:26 (7:13)
Busan Bisco vs HC Zvezda Zvenigorod 34:32 (13:14)
Ringkobing Handbold vs Angola 20:20 (8:12)
Sunday 11 August

Angola vs Australia 36:10 (17:5)
Ringkobing Handbold vs HC Zvezda Zvenigorod 27:31 (13:14)
Busan Bisco vs CS Gloria 2018 28:27 (17:16)
TOURNAMENT HISTORY
2017
Winners: ERD HC (Hungary) 
Participants: ERD HC (HUN), Busan Bisco (KOR), Aalborg (DEN), Australia National Team (AUS), United States of America National Team (USA), Chinese Taipei National Team (TPE)
2018
Winners: Busan Bisco (Korea) 
Participants: Busan Bisco (KOR), Australia National Team (AUS), Senegal National Team (SEN), Hong Kong National Team (HKG), United States of America National Team (USA), Mie Violet Iris (JPN)
2019
Winners: Angola National Team (ANG)
Participants: HC Zvezda Zvenigorod (RUS), CS Gloria 2018 (ROU), Ringkobing Handbold (DEN), Angola National Team (ANG), Australia National Team (AUS), Busan Bisco (KOR)
 
Photo: Federaçao Angolana de Andebol Facebook