18 Sep. 2023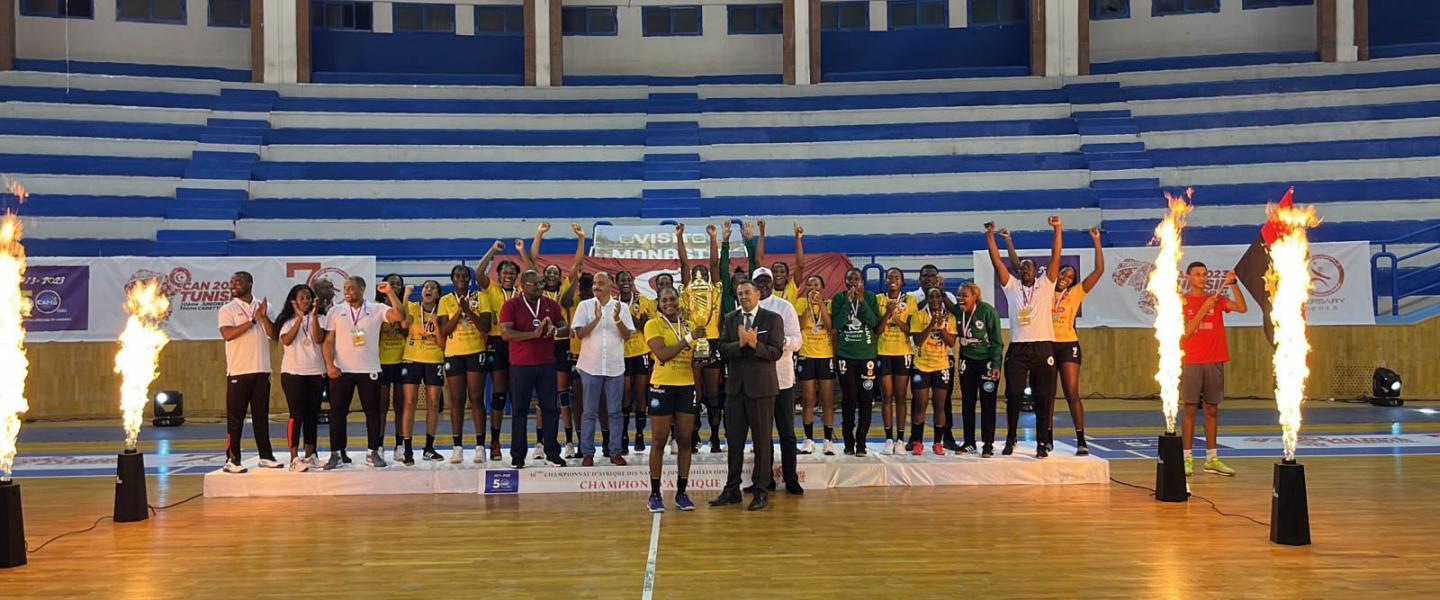 Angola secured their 11th title in history and their fifth title in the last six editions of the CAHB African Women's Junior Handball Championship, with a flawless performance in the competition played in Monastir, Tunisia, between 7 and 14 September.
10 teams were at the start of the competition, with the group phase featuring two groups of five teams each, in a round-robin format, with the top two sides in each group progressing to the semi-finals.
With no room for error, there were some exciting games, but two teams looked heads and shoulders above the others, with Angola, the reigning champions and one of the most consistent teams in the history of the competition – with 17 medals in 23 editions – and Egypt dominating their opponents.
Angola were drawn in Group A, where they had no issues against Kenya (54:9), DR Congo (42:9), Cote d'Ivoire (43:19) and Guinea (31:22), with the battle for the second place being clearly more balanced. Eventually, Guinea came out on top and progressed to the semi-finals, as their clear 49:25 win over Cote d'Ivoire was the one which balanced things out.
In Group B, Egypt were even more dominant, scoring 180 goals in four games, an average of 45 goals per game, as they outplayed their opponents. A win against Mali (64:15) set up the tone, with another win over Madagascar (54:10) providing another two points. However, Egypt had some issues against hosts Tunisia (30:27), yet eventually came out on top, winning the group. The hosts' win over Algeria, 32:19, was also crucial in setting them up for the second place.
However, that meant that they were due to meet Angola in the semi-finals and the reigning champions had no issues to take a 28:22 win, progressing to the final for the 15th time in their history. 
On the other side, Egypt dominated Guinea, 26:18, and qualified for the final – the third time in a row in their appearances – after having finished second in 2017 and 2022.
This time around, it was a well-balanced game and Angola had to sweat seriously, as Egypt's generation, which finished in seventh place at the 2022 IHF Women's Youth World Championship, provided a hefty challenge. Angola led 10:8 at the break, but Egypt eventually tied the game, sending it into extra-time.
Angola's superior depth and experience proved crucial in those moments, as the African powerhouse clinched their second title in a row, with a 30:26 win, as their defence was decisive in the pivotal moments of the match.
Guinea sealed a 36:31 win over Tunisia and secured their second bronze medal in history, while Algeria beat Cote d'Ivoire, 26:19, in the Placement Match 5/6.
The first five teams at the 2023 CAHB African Women's Junior Handball Championship – Angola, Egypt, Guinea, Tunisia and Algeria – all qualified for the 2024 IHF Women's Junior World Championship, which will take place in North Macedonia.