14 Mar. 2023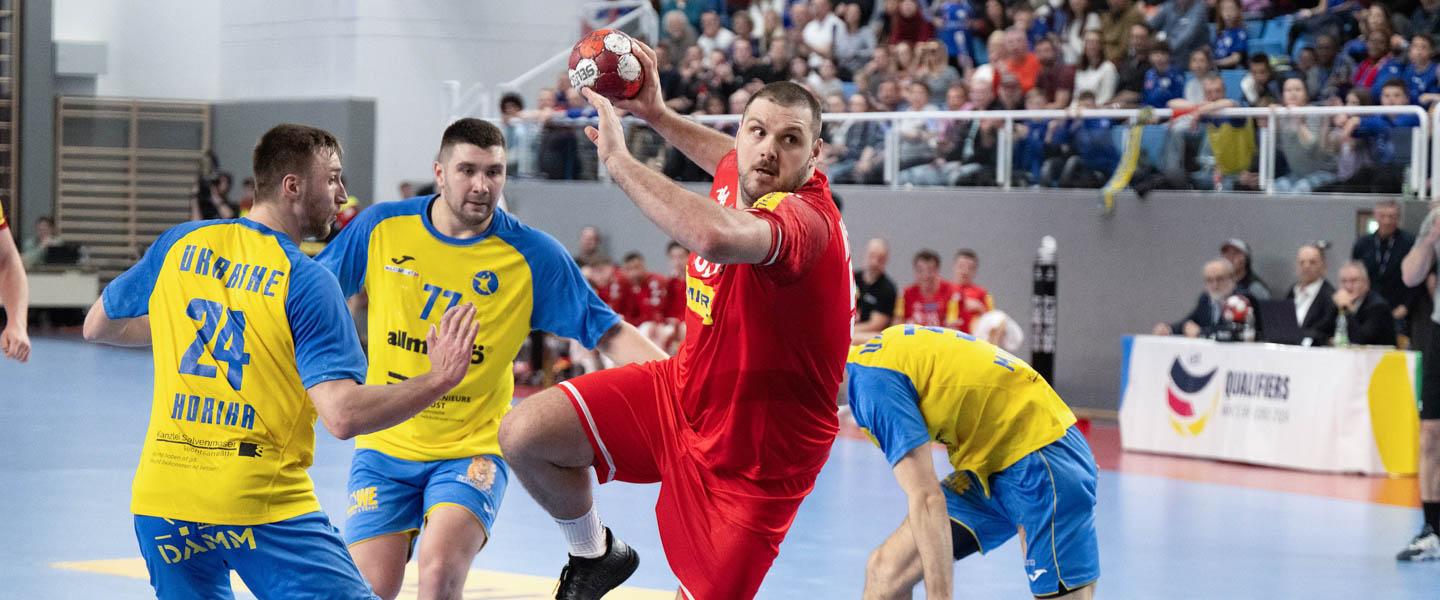 Nine teams are already qualified for the Men's EHF EURO 2024, which will take place next January in Germany, with reigning champions Sweden, Spain, Denmark and hosts Germany being joined by Austria, France, Hungary, Portugal and Slovenia after the conclusion of the first four rounds of the EHF EURO 2024 Qualifiers.
Two rounds were scheduled for last week, with the top two seeds in each group facing off in a doubleheader, as favourites took their lion's share while other powerhouses split the wins. Surprises were also in store, as Greece and the Faroe Islands both clinched important wins to be close to their first appearance at the European Championship.
Hungary displayed a flawless performance in the first four rounds, sailing to the EHF EURO 2024 with four wins while also putting up the best numbers in terms of attacking prowess – 150 goals scored – and the best goal difference (+44). Their last two wins against Switzerland in Group 6 (37:32 and 36:27) sealed the first place in the group for Chema Rodriguez's side, which will take part in the EHF EURO for the 11th time in a row.
Reigning Olympic champions France also confirmed their status as one of the top teams in Europe as they also sealed their ticket to Germany 2024 with two clear wins over Poland (38:28 and 30:27) in Group 8. Left wing Dylan Nahi was in superb form, scoring 15 goals over the two matches, which saw France win three matches in three months over Poland after their 26:24 win in the opener of the 2023 IHF Men's World Championship in Katowice.
Spoiling Vlado Sola's debut as Montenegro's national team coach, Slovenia sailed through to the final tournament. Uros Zorman's side had little trouble in Group 7, taking a 32:29 away win and a 37:30 home win against Montenegro. Bosnia Herzegovina, which won two times against Kosovo, tied Montenegro and the last round match scheduled for 30 April between the two sides looks crucial.
Austria also made it through after securing two wins (38:31 and 31:28) against Ukraine in Group 4. In comparison, Portugal qualified thanks to their two wins against North Macedonia (29:23 and 32:27). It is Portugal's third consecutive presence at the EHF EURO.
In Group 2, Serbia edged Norway on their home court thanks to a buzzer-beater by Uros Borzas, 25:24, but were totally outplayed in the second match against the Scandinavian side, with Sander Sagosen scoring 12 goals and dishing six assists to help Norway clinch a 35:25 win.
Iceland and the Czech Republic also traded wins and are close to progress from Group 3. At the same time, in Group 4, the biggest news was Faroe Islands' win against Romania (28:26). The Nordic team had previously won only once in 31 matches in the EHF EURO Qualifiers. It could make their debut at a major international tournament, provided they hold their ground in the last two matches against Austria and Ukraine.
Another huge shock was Greece's sweep of Belgium, as the team that made their debut at the 2023 IHF Men's World Championship is now one of the four sides to be eliminated from contention. Two 26:24 wins for Greece helped the side go into the first place in a group in which the Netherlands beat Croatia once and drew in the second match (25:25), with the two sides virtually through to the final tournament.
The first two teams in each group go through to the EHF EURO 2024, while the four best third-placed teams also earn a berth for the final tournament, with the results against the last-placed sides discounted in that standings.
Currently, the Netherlands are leading those standings with three points, followed by the Faroe Islands with two points, while the six other sides are on 0 points and are ranked by goal difference, with Italy (-18), Georgia (-18) and Slovakia (-18) tied, followed by Bosnia Herzegovina (-19), Estonia (-20) and Türkiye (-26).
In the top goal scorer standings, Ihor Turchenko, Ukraine's left back, who is also the top goal scorer of the EHF European League Men, had the best output with 33 goals, followed by Dutch right back Kay Smits with 31 goals and Georgia's right back Giorgi Tskhovrebadze, who scored 30 goals, 17 of which came in the last week's doubleheader against Lithuania.
Photo: Austrian Handball Federation/Reinhard Eisenbauer