13 Jan. 2023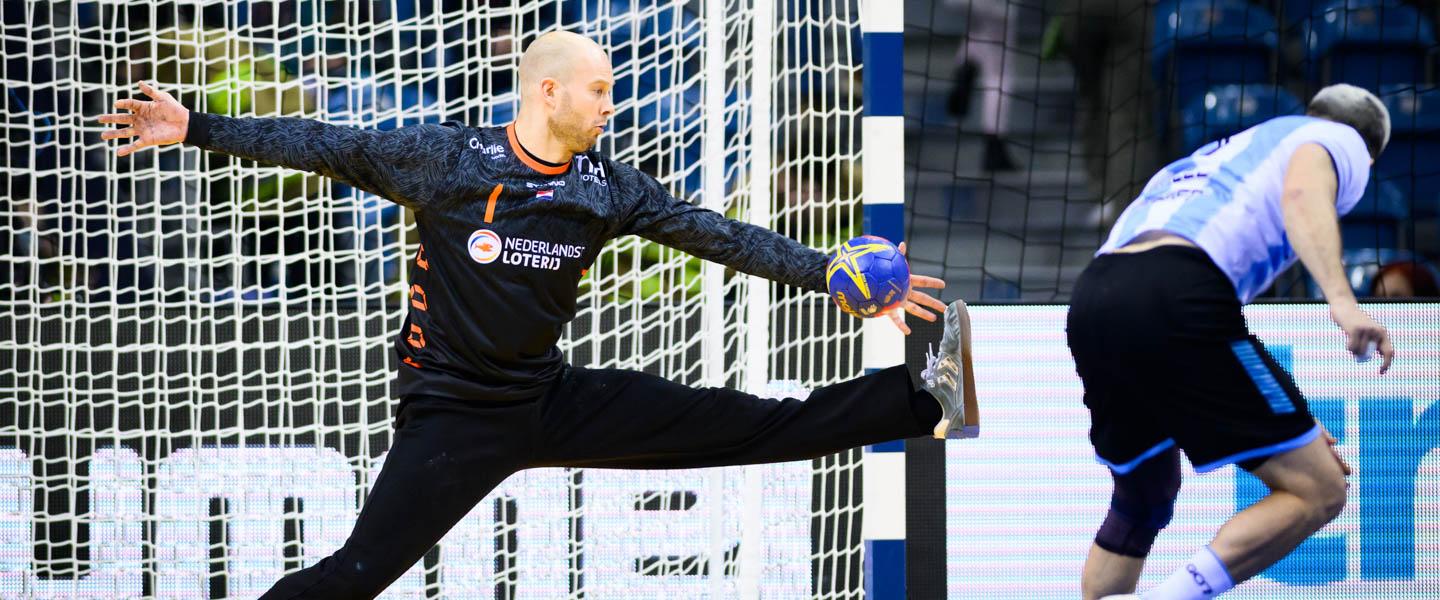 The Dutch made their first IHF Men's World Championship since 1961 at the TAURON Arena in Krakow on Friday (13 January) and celebrated it with a comprehensive win over an Argentina side who could match their opponents' performance.
This group F opening clash of Poland/Sweden 2023 saw the European side in total control as the South American side could only score eight goals in the second half.
Group F
Argentina vs Netherlands 19:29 (11:13)
As a player, Netherlands' coach Staffan Olsson won multiple IHF Men's World Championship medals with Sweden, but this victory against Argentina will surely remain in his world championship memories.
The performance and result from the Dutch today were impressive. 
They were in control from the very first minute, despite a fourth-minute strike from the Argentinean magician Diego Simonet putting his side 2:1 ahead.
"The difference today was that the best thing we do – the defence – we couldn't show today because their counterattack was so fast," said Simonet after the match.
His go-ahead goal would prove to be his side's only lead as a player of the match performance from Dutch goalkeeper Bart Ravensbergen ensured his side had something to build on.
After 12 minutes, he had already saved seven shots (58% save rate), and when Luc Steins broke through the Argentina defence moments later from a standing pose, his euphoric reaction to the many Dutch fans in the arena spoke volumes about how relaxed his side was.
Argentina's coach tried to adjust the downswing with his first time out (15th minute), but it could not stop the rot immediately.
However, a 4:0 run (22nd-29th minute) brought the Argentineans back within two (11:13), and further opportunities to get even closer were missed in the dying first-half moments.
First, Pedro Martínez Cami missed an open goal from inside his half, hitting the post as the Dutch reorganised their goalkeeper, and in the last 30 seconds, Francisco Andres Lombardi hit the post again, while Pablo Ariel Simonet shot wide on the buzzer.
Argentina used their second (37th minute) and third (48th minute) time-outs early on to disrupt the Dutch attack, but by the 55th minute, the deficit was 10 (17:27) and the game was over.
"We have to improve our shooting from 6 and 10 meters and we will do our best for the next matches," added Simonet. "We have the spirit of competition, and we will give everything we have in all the matches."
"I am of course very happy with how we performed today," said Olsson. "I was quite nervous before the match because I have great respect for Argentina team. I know they are playing very fast. I'm very pleased, especially with the defence and our goalkeeper was really good today.
"I'm happy today, but we need to stay on the ground as this was just the first match in the world championship."
The day was also very special for Netherlands captain Bobby Schagen. Not only did he score his nation's first senior men's world championship goal for 62 years, but he also did it on his birthday.
"I hope I can have some cake, because I am very hungry," joked Schagen after the match to ihf.info.
"But the most important thing was that we won. Argentina are one of the best in South America, so it was important in our group that we win this match. I'm really happy and at 33 years old now it feels good."
Next up for Argentina is a clash against Norway, while the Netherlands will play North Macedonia. Both matches will be played on Sunday (15 January).
hummel Player of the Match: Bart Ravensbergen (Netherlands)