28 Jul. 2013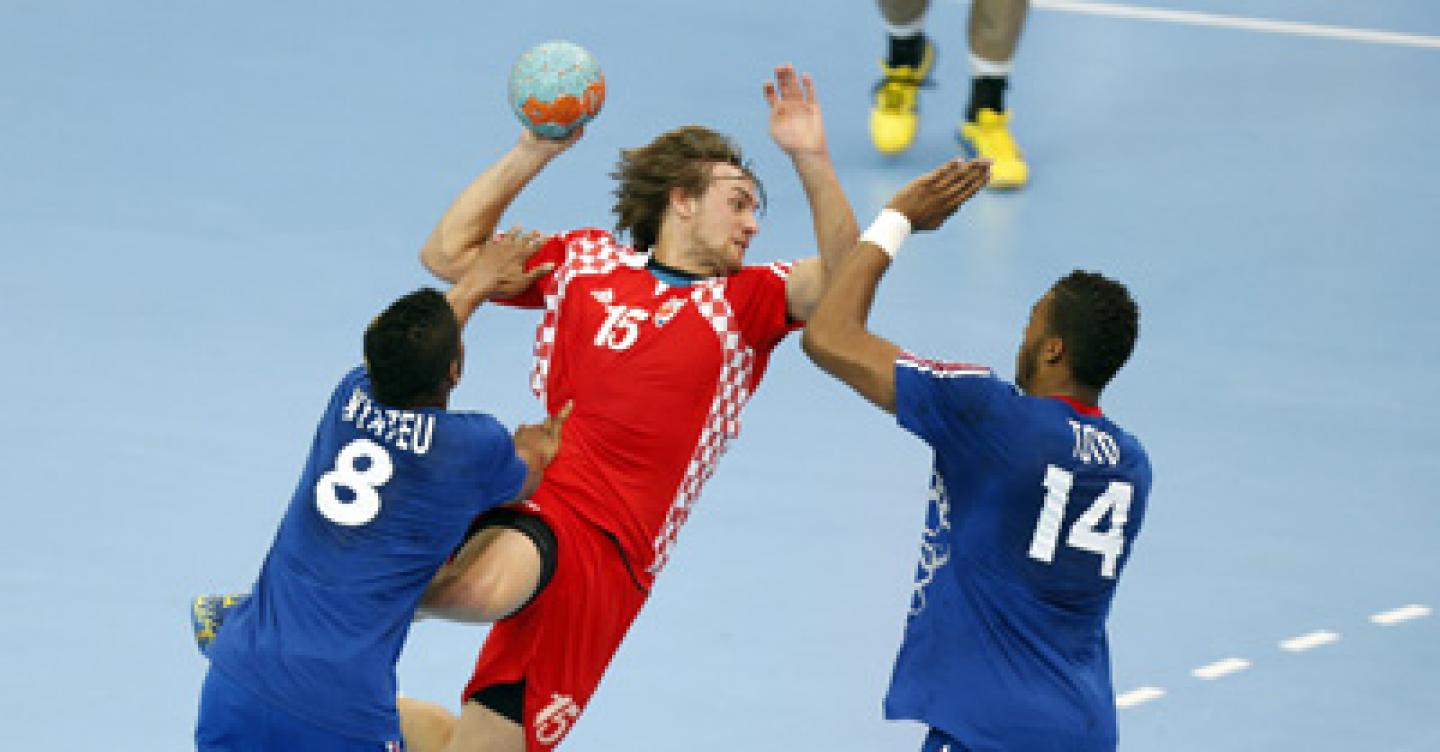 16 years after a French team (including later-on World Handball player of the Year Bertrande Gille) had won their first ever medal at a Men's Junior Championship, the new generation has achieved the same. After bronze in Turkey 1997 (after beating Poland in the bronze final), France took the second bronze medal in history on the final day of the Men's Junior World Championship in Bosnia-Herzegovina on Sunday (28 July). The team of top scorer Quentin Mihel (8 goals) beat Croatia in a highly close bronze medal by 32:27 (15:11). So the Croats have to wait two more years for their first ever medal at Men's Junior Championships. Their coach Slavko Goluza, who had won three bronze medals with the Croatian men's at the World and European Championships and Olympic Games in 2012 and 2013 left Bosnia-Herzegovina empty-handed like his team.
Bronze final:
France – Croatia 32:27 (15:11)
France started this highly intense and match full of power in express mode, showed a brilliant defence performance in the initial stage and forced the Croats to make mistakes in attack. By five straight goals they forged ahead from 2:3 to 7:3 – Croatian coach Slavko Goluza needed to take an early time-out. And his measure to change the goalkeeper from Filip Ivic to Matej Asanin worked well. Arsanin backed the Croatian defence, and even the still strong French defence could not prevent Croatia from scoring. In only eight minutes they had reduced the margin to only one goal at 9:10. But after the 11:12, they again missed too many chances, so France was away by four goals at the break (15:11) – and it could have even been more, if Asanin would not have saved that strong.
The Croats desperately tried hard to start successful into the second half, but a double strike of Benjamin Bataille to 18:12 caused an even bigger backlog. With the French defence still solid as a rock, it was very hard for the Croats to get closer, but in the middle of the second half they had found the right means to again reduce to only one goal at 20:21 in minute 45 despite a French time-out and change of goalkeeper before.
Supported by the big number of Croatian fans, the Goluza team was close to turn the match, but could not stop the French backs Jordan Camarero and Quentin Mihel, who scored crucial goals in the final stages. At 27:24 six minutes before the end, France had some more air to breath and the fresher alternatives on the bench. But like in their semi-final against Spain, the Croats never surrendered.
But finally when Hugo Descat scored the 30:26 by a penalty goal they had to accept the French victory – and have to wait two more years for their first ever medal in a Men's Junior World Championship.
Final ranking 3 – 24:
Bronze: France
4.Croatia
5. Netherlands
6.  Brazil
7. Switzerland
8. Egypt
9. Slovenia
10. Serbia
11. Germany
12. Hungary
13. Denmark
14. Bosnia-Herzegovina
15. Tunisia
16. Argentina
17. Russia
18. Korea
19. Qatar
20. Kuwait
21. Angola
22. Congo