26 Apr. 2021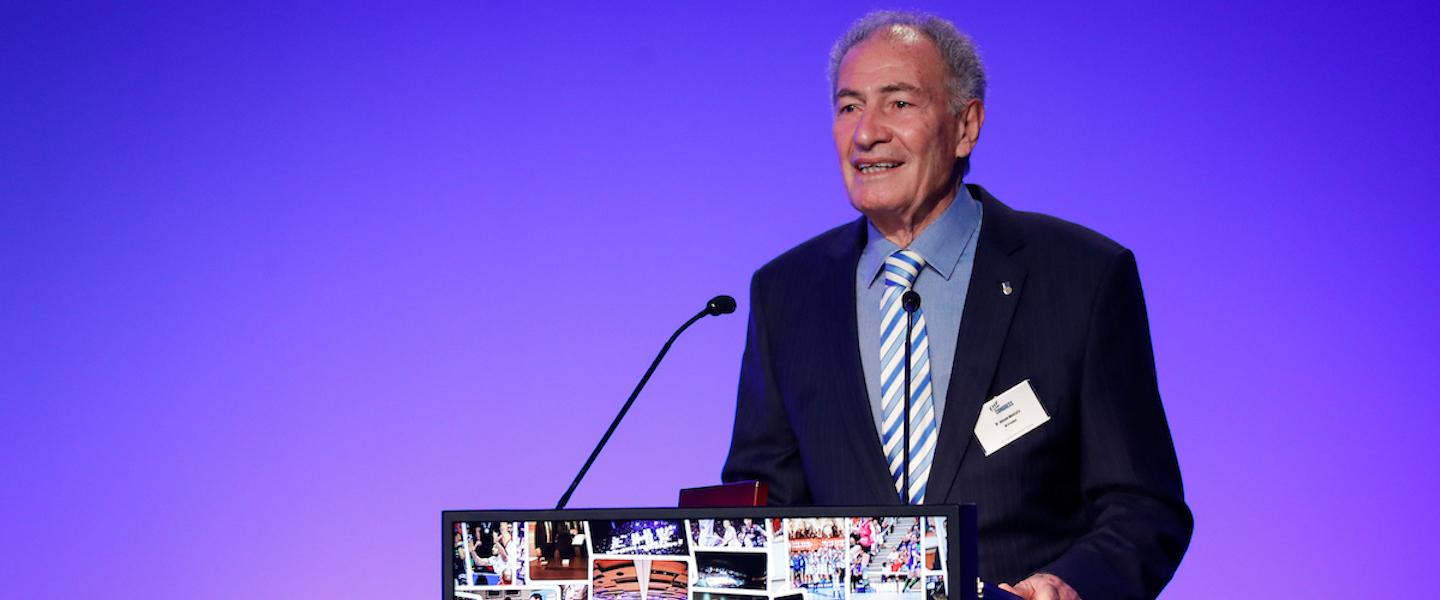 The 15th EHF Congress was held in Vienna last Friday and Saturday, yielding a new four-year term for incumbent President Michael Wiederer.
Running unopposed, the 65-year-old Austrian was re-elected as European Handball Federation (EHF) President by the EHF Congress 2021 on Friday. Wiederer was first elected in 2016, where he succeeded Jean Brihault. His second term will run until 2025.
"Everything is sometimes easy but here, now, in these complex times that we face, that's a bit different and that's how we are approaching this. Thank you for the support for the upcoming four years," said Wiederer in front of the members of the EHF Congress.
📸 #EHFCongress 2021 Day 1 ✅ pic.twitter.com/4f5G2eyANx

— EHF (@EHF_Activities) April 23, 2021
41 European federations were present in Vienna, with several others watching and voting from home due to ongoing COVID-19 health regulations.
Together with the EHF President, a new EHF Executive Committee was elected, with the two Vice Presidents having been re-elected. Montenegrin Predrag Boskovic was re-confirmed in his role as 1st Vice President after Dutch Tjark de Lange withdrew his candidature before the election, while Denmark's Henrik La Cour was re-elected as Vice President Finances.
The three additional members elected to the EHF Executive Committee are the President of the Royal Spanish Handball Federation, Francisco V. Blazquez Garcia, President of the Handball Federation of Slovenia, Franjo Bobinac, and former Swedish centre back Stefan Lövgren, who were voted by their counterparts from a pool of 12 candidates. Furthermore, Norway's Bente Aksnes was elected as additional representative, after a motion for gender representation had been approved by the Congress.
Bozidar Djurkovic from Serbia remains the Chairperson of the Competition Commission, Portugal's Pedro Sequeira replaced Poland's Jerzy Eliasz as the Chairperson of the Methods Commission, while Gabriella Horvath is the new Chairperson of the Beach Handball Commission, replacing Ole R. Jorstad.
Additional elections took place for the Comptrollers, the EHF Court of Handball, the EHF Court of Arbitration, the EHF Court of Arbitration Council and for the new Nation Committees for men and women.
The morning session has come to an end. At 14:00 the second part of the #ehfcongress resumes with the elections. pic.twitter.com/bEFWadpVXy

— EHF (@EHF_Activities) April 23, 2021
Dr Moustafa was in Vienna for the event, delivering an opening speech on Friday, 23 April along with International Olympic Committee President Dr Thomas Bach. Both remarks praised the EHF's organisation of tournaments during the pandemic including the successful Women's EHF EURO 2020.
For more on the EHF Congress, visit the EHF website.
Photo: kolektiff images/Uros Hocevar