13 Jan. 2021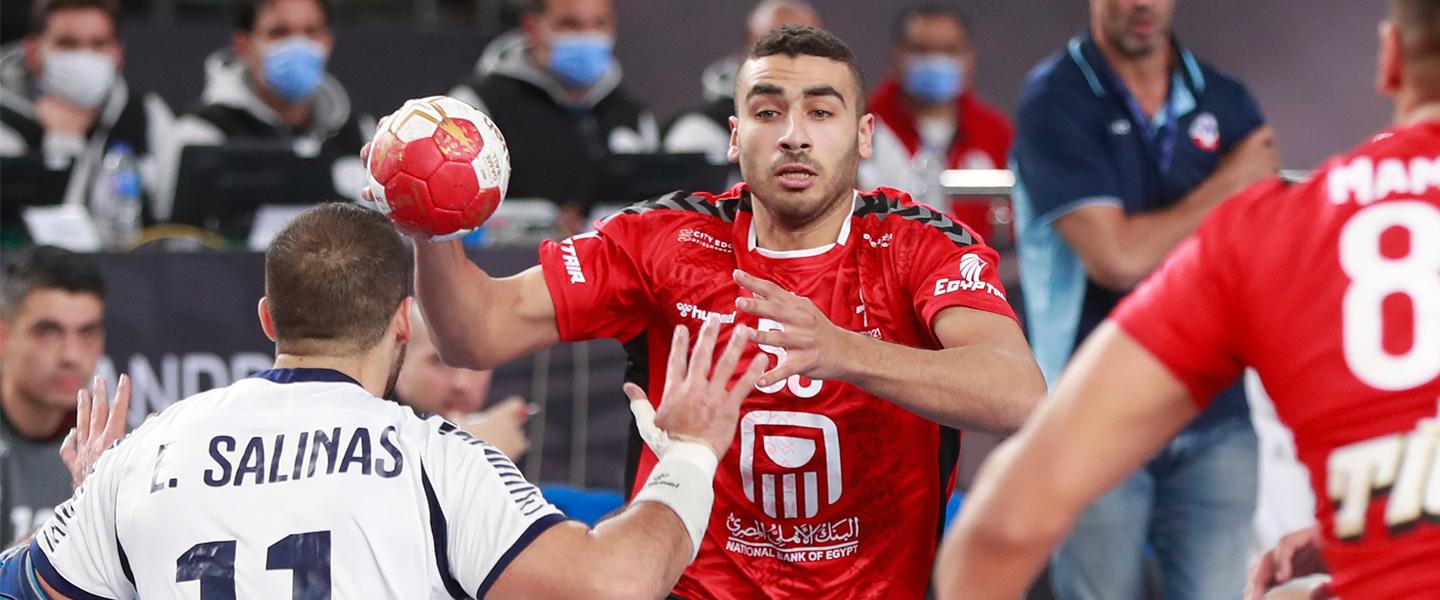 After a spectacular opening ceremony, Egypt had a perfect start at the 27th Men's Handball World Championship as the host nation claimed a victory against Chile, thus making a big step towards the main round. 
GROUP G
Egypt vs Chile 35:29 (18:11)
It was Egypt's left back Yahia Elderaa who scored the first goal of the tournament nearly two minutes into the game. Although Chile's Esteban Salinas equalised at 1:1 and later at 2:2, the two sides were never level after that, as the African team took the match under their firm control.
The Pharaohs were compact in defence and powerful in attack, which helped them to take an 8:3 lead by the 13th minute. All three Chilean goals by then had been scored by line player Salinas, who could shortly after add a fourth one but missed a penalty.
Midway through the first half, La Roja slashed the gap to 5:8 after their goalkeeper Felipe Barrientos spectacularly scored from his own half. However, Chile got too many two-minute suspensions, which obviously did not help them to come closer. 
The physical Egyptians found enough space in their rivals' defence and steadily continued to increase their advantage. As Elderaa scored five goals out of five attempts in the first half, The Pharaohs led by seven goals at the break, 18:11.
While their defence looked solid, goalkeeper Karim Hendawy made only two saves in the first half and was replaced by Mohamed Eltayar, who did a better job after the break and helped his team with seven saves.
The red card shown to Chile's Javier Frelijj early in the second half following his third two-minute suspension was another blow for the South American team. When Egypt led 27:18 in the 45th minute, the match seemed to be settled. 
However, the Chileans looked fresher in the last quarter of the match, they improved their defence and put some pressure on their rivals. Brothers Erwin and Emil Feuchtmann fought hard and so did Esteban Salinas – and following a good 5:1 run Mateo Garralda's men reduced the deficit to 23:28 with ten minutes to go.
Yet, Egypt held their nerve and stabilised the game, which saw them ultimately cruising to a six-goal victory. 
hummel Player of the Match: Yahia Elderaa, Egypt
Statements after the match
Roberto Garcia Parrondo, Egypt coach: We played a very good first half, attack and defence were working well, and we could get a solid advantage. In the second half, we also made good performance for about ten minutes, but then we had big problems, as we played seven or eight very bad minutes. That's why I am a bit frustrated, because if we want to win more matches, the players must do their best for 60 minutes. 
Mateo Garralda, Chile coach: Congratulations to Egypt, they played a great game. In the first half, we had many problems in attack and defence. However, we did much better in the second half, we improved our defence and goalkeeping. We reduced the deficit to five goals and had a chance to reduce to four. However, after the break we also lost some important balls, which prevented us from putting more pressure on our rivals.