19 Jan. 2023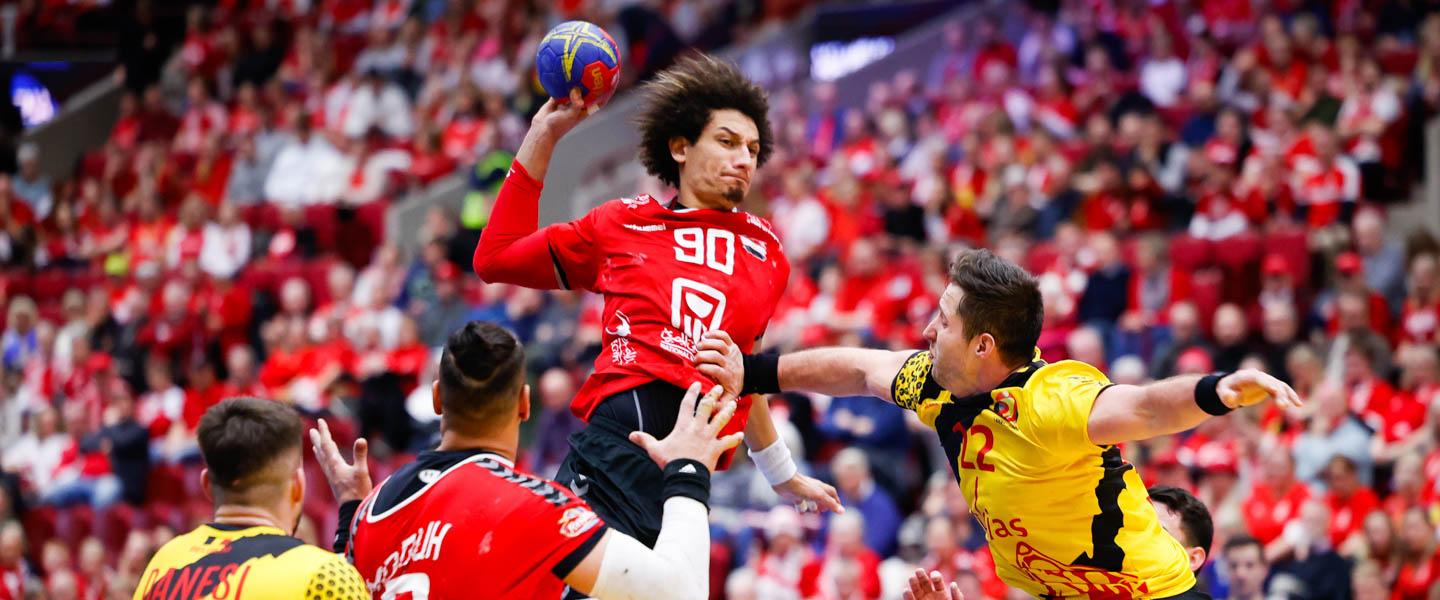 Seven goals from right back Mohsen Mahmoud helped Egypt to the brink of the quarter-finals of the 2023 IHF Men's World Championship as they saw off Belgium 33:28.
Ahead of the match, and on paper at least, the result was never in doubt: the World Championship debutants from Europe taking on Egypt, the host nation of the 2021 IHF Men's World Championship, who finished seventh.
But an impressive Belgian performance combined with an Egyptian side working in a lower gear meant a competitive outing ahead of more important matches for both teams.
Main Round Group IV
Egypt vs Belgium 33:28 (22:15)
It was a game of two halves, but in a slightly different way than normal. 
Scoring 22 (85% scoring rate) first-half goals and taking a seven-goal lead into the break, Egypt effectively killed off the match after 30 minutes.
But a lack of impetus and a Belgium side gaining valuable top-level experience made for an interesting second period which saw the Europeans outscore their rivals 13:11.
"We played a good first half, full of intensity, playing good in attack and good in defence, and that's why we were leading by seven goals," said Egypt coach Roberto Parrondo.
"But the second half was not so good for us. Our intensity was decreasing a lot and we couldn't make 60 minutes at the level that I would have liked."
Egypt's second half felt like they were wearing weights on their shoes – they did not reach double-scoring figures in that period until the 59th minute.
Belgian goalkeeper Arthur Vanhove made seven saves in the first half and was helped down the other end with five second-half goals from Sébastien Danesi.
While Belgium, who were missing winger Yannick Glorieux due to a positive COVID-19 test, may celebrate that second period, Parrondo will be slightly concerned about the motivation of his fully-rotated team following that blistering first half, although he dismissed that in the post-match media conference.
"I'm not worried because every time that you win you have to be happy for getting the two points," he said. "Belgium are playing well. They never gave up and they didn't make things easy for us. So I'm happy to get the victory, but I would have liked us to have done better in the second half today."
The result means that Egypt (six points) top the group and now have one foot in the last eight ahead the remaining group matches, while Belgium are now out of contention for progression.
"At half-time the captain and the leaders of the team talked to the young players and we played a good second half," said Belgium coach Yérime Sylla.
"We won the second half. We took double the goals in the first half than in the second. It's unbelievable to start a match in the first 30 minutes conceding 22 goals. It is not possible at this level to hope for something.
"I'm a bit frustrated for them," added the coach about his players. "Some of them had the occasion to show what they're capable of, but that's sport. Maybe we're tired? We're going to learn a lot from this match and I think frustration can sometimes push you when you think about it."
Next up for Belgium is Croatia, while Egypt face Bahrain. Both matches will take place on Saturday (21 January).
hummel Player of the Match: Seif El-Deraa (Egypt)