20 Jan. 2021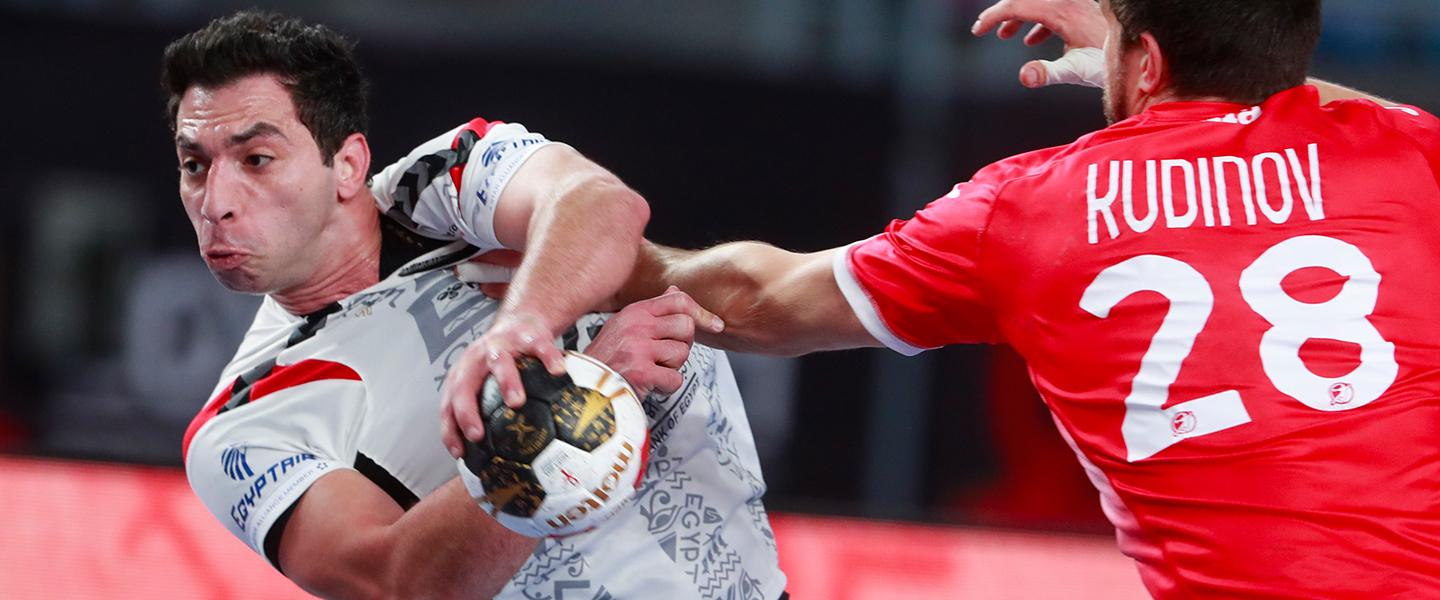 After a narrow defeat against Sweden in their last match in the preliminary round, Egypt are back on track, as the World Championship hosts defeated the Russian Handball Federation Team in their opening match of the main round.
After this deserved victory, the 'Pharaohs' are on four points, and passing the Russian Handball Federation Team, who suffered their first defeat in the competition and remain on three points.  
MAIN ROUND GROUP IV
Russian Handball Federation vs Egypt 23:28 (8:15)
It was a very tight battle in the first ten minutes, resulting in a 5:5 score. While several players contributed for Egypt, it was basically a one-man show for the Russian Handball Federation Team, as Sergei Mark Kosorotov scored their four opening goals.
Egypt took the game under their control, though, thanks to good defending and a number of goals by their pivot Mohamed Mamdouh. Midway through the first half, the Pharaohs already held a 9:6 advantage.
The African team had the upper hand, even though their goalkeeper Kerim Hendawy could not make any saves. After he was replaced by Mohamed El-Tayar, Egypt's dominance continued to grow. After the 20th minute, they did not concede any goals in the first half, which lifted them to a commanding 15:8 lead at the break.
"We are very happy with the win, we played a very good match against a tough opponent. We knew that the Russian team have some good players, but we prepared well," said Egypt's coach Roberto Garcia Parrondo. 
Two goals by Kosorotov and Dmitri Zhitnikov helped the Russian Handball Federation Team to slightly cut the deficit before Egypt restored their dominance and were up 18:11 10 minutes into the second half.
Egyptian handball legend and captain Ahmad El-Ahmar, who has more than 1,400 goals for the national team on his tally, missed the first matches of the tournament, but now the 36-year-old confirmed his importance for the Pharaohs, netting six times before getting injured with ten minutes to go. 
By that time, Egypt led 23:17, and although the Russian Handball Federation Team continued fighting and slightly reduced the gap in the remaining time, nothing could stop the African team from winning anymore. 
hummel Player of the Match: Ahmad El-Ahmar, Egypt