06 Jun. 2023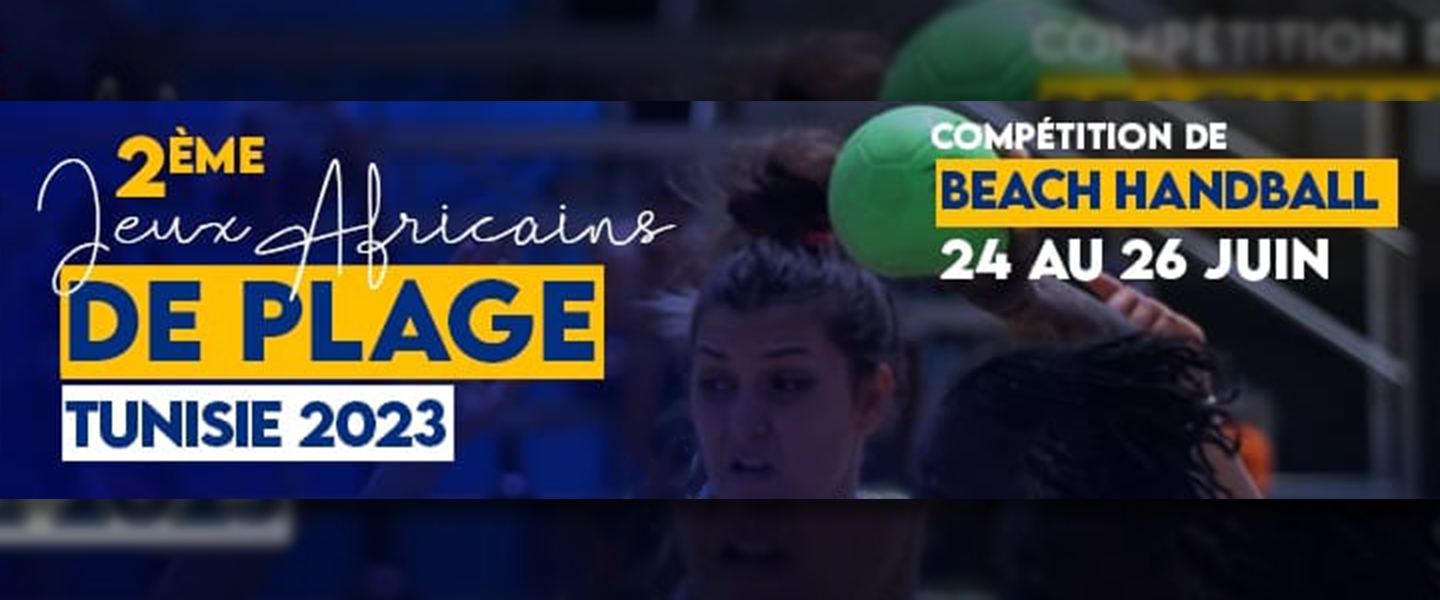 The headquarters of the African Handball Confederation (CAHB) in Abidjan, Cote d'Ivoire, hosted the draw event for the men's and women's beach handball competitions at the second edition of the African Beach Games on Monday (5 June).
The 2023 African Beach Games will take place in Hammamet, Tunisia, from 23 to 30 June with the beach handball competitions played from 24 to 26 June at the same venue as the recently-announced stage 2 of the 2023 IHF Beach Handball Global Tour.  
According to their latest results, nine teams were drawn into three groups in the men's competition. As hosts, Tunisia had the right to choose which group they would appear in. Five women's teams will compete in one round-robin group.
"The preparation for the Games is going very well," said Kamel Borgi, President of the Tunisian Beach Handball League, Member of the African Beach Games Organisation Committee and President of the African Handball Confederation (CAHB) Beach Handball Working Group, to ihf.info.
"The organising committee has accelerated the pace of preparations, with all the commissions working hard to succeed in their missions. By the end of this week, we will start setting up the site after it has been cleaned."
Men's Competition
Draw result:
Group A: Morocco, Kenya, Zambia
Group B: Togo, Nigeria, Libya
Group C: Tunisia, Algeria, Mali
A total of 11 games will be played in the men's event. Day one (Saturday 24 June) sees Morocco take on Kenya, Togo face Nigeria and hosts – and title-holders – Tunisia play Algeria in the morning and early afternoon, while the late afternoon and evening session will pit Kenya against Zambia, Nigeria against Libya and Algeria against Mali. 
The second day (Sunday 25 June) will open with Zambia going up against Morocco, followed by Libya against Togo and ending with Mali on the sand against Tunisia in the morning and early afternoon session, concluding the preliminary group action. 
The top three teams in the groups plus the best runner-up will then move through to the semi-finals on the same day in the late afternoon session, before the final day of action (Monday 26 June) will feature the 7/8 and 5/6 placement matches in the early session and medal matches in the late afternoon, concluding with the final at 17:30 (local time).
"Kenya and Zambia are two countries that have a certain tradition in handball, but their specific experience in beach handball may vary, because beach handball in Africa is still fresh from birth," said Khalid El Moufakir, the national teams beach handball coach for the Royal Moroccan Handball Federation, to ihf.info about their group A draw.
"Our expectations may vary depending on various factors such as players' physical condition, experience in beach handball and specific preparation for this event, however, competitive and exciting matches can be expected."
At the first edition of the African Beach Games, held in 2019 in Cape Verde, Morocco's men finished with bronze and El Moufakir is looking to surpass that four years later, in 2023.
"Our first objective is to improve the ranking and to progress while aiming for gold or silver," he said. "But that does not prevent us from working on the development of skills because it could be useful to review previous matches to identify areas of improvement on the individual technical level of my players. In addition, on the collective level, tactics and systems of play and the last performance can inspire other athletes and help promote beach handball in Morocco."
Women's Competition
Round-Robin Group: Tunisia, Uganda, Mali, Kenya, Algeria
The women's competition will see a total of 10 games being played in a round-robin format, with the team sitting top of the table after all games played winning the title. Four games will be played on the first day (24 June), four on day two (25 June) and two on the final morning (26 June). Title-holders Tunisia open their campaign against Uganda before facing Mali, Algeria and Kenya.
"Our number one expectation remains final victory – we are not arriving in unknown territory with some of our adversaries," said Tunisia's women's captain Manel Mrad to ihf.info after the draw.
"Algeria are a well-known and tough adversary with technical quality, against Kenya the challenge will be physical and we will have to know how to respond to it. Mali is an opponent a little below and less known, but above all not to be underestimated, while there is very little information on this Ugandan team, which seems very young (starting in May 2023) and less experienced, but it is very pleasant to meet new teams on the international circuit – it will be challenging and interesting.
"Arriving as defending champion adds additional pressure to us and motivates our opponents to perform against us," she added. "However, it is up to us to confirm and transform this pressure into something positive and therefore into motivation."
The winners of the men's and women's titles will directly qualify for the 2023 ANOC World Beach Games in Bali, Indonesia, in August.
Tunisia won both the men's and women's beach handball competitions of the 1st ANOCA African Beach Games held back in 2019 in Cape Verde.
About the 2nd ANOCA African Beach Games
The ANOCA (Association of National Olympic Councils of Africa) African Beach Games are a multi-sport sand-based event open to the 54 National Olympic Committees of Africa.
The 2023 edition of the ANOCA African Beach Games will take place from 23 to 30 June 2023 in Hammamet, Tunisia.
53 countries will compete in 30 events – which include men's and women's beach handball – across 16 disciplines, including two demonstration events.  
The first edition of the ANOCA African Beach Games were held in Sal, Cape Verde in 2019 and featured 42 countries.
More than 1,100 athletes, 500 officials and 300 volunteers in addition to accompanying staff and technicians are expected at the 2023 edition.
The opening ceremony will coincide with Olympic Day, which African National Olympic Committees will be celebrating together on 23 June with ANOCA holding its annual General Assembly the day before.
More info: www.africaolympic.com/en/home/
Photo: African Handball Confederation