11 Dec. 2019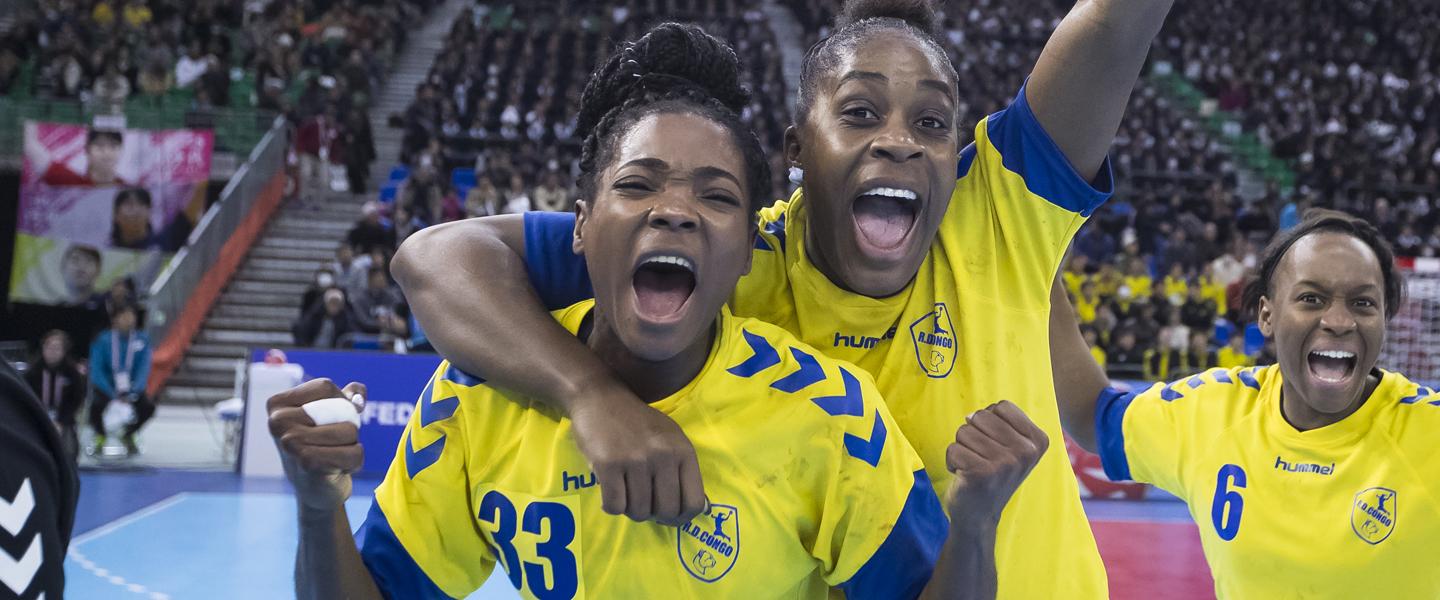 he 2019 IHF Women's World Championship in Japan was just the third time that the Democratic Republic of Congo have appeared in the global championship, after finishing 20th at Serbia 2013 and last (24th) at Denmark 2015.
After losing against Sweden (26:16), Japan (28:16) and Russia (34:13) in the preliminary round, they finally got off the mark, beating China 25:24 on 5 December, to win just their second-ever world championship match, following a 23:22 victory over Dominican Republic in Belgrade at Serbia 2013 on 13 December.
That win would prove to be their only one at Japan 2019 as a further group loss came against Argentina (25:16), before a 17-20 placement round defeat against continental rivals Senegal (28:23) and then a 19/20 placement match loss against Slovenia (29:27) in a game where they led by four goals (12:8) in the 23rd minute and were all-square (24:24) going into the last 10 minutes.
Their 22 year old left wing Estel Memana Daniele, who plays for Chambray Touraine in France spoke with IHF.info about the game in which she scored four times.
IHF.info: How frustrating was it that you could not hold on to your big lead?
Estel Memana Daniele: It was really disappointing because we lost just by two goals in the end which not so big, especially against a team like Slovenia. 
However, I feel the team were tired because the competition was really, really long and we have given a lot of ourselves in these matches and this last one was really, really hard to play.
We had to be really concentrated but it was really difficult, and we are sad because we can normally do that but were not able to in that match. 
IHF.info: Was it a combination of physical and mental tiredness?
Estel Memana Daniele: Sometimes Slovenia lost the ball and we won it back, but we couldn't keep it as we wanted to play faster and faster, but this was not the solution because we had to concentrate and be focussed but every time we just wanted to score a goal and not just keep the ball. We needed to play slowly and take time, but, overall, it was a combination of physical and mental tiredness.
IHF.info: Many European teams and fans outside of Africa are watching you for the first time. Slovenia were nervous about facing you before and knew how strong you were. You know how strong you were too. The Slovenia coach Uros Bregar even said: "the match was tougher than we expected. We fought for all 60 minutes and maybe at the end we had the luck and experience to win." How important is it to show what DR Congo can do on the world stage? What do you feel when you look back at your seven games in Japan?
Estel Memana Daniele: It is really important for us. In Africa handball is developing, so every time we play in these kinds of competitions we try and show how Africa can do a lot of things in handball; how every player has really, really good skills.
It's stressful, but we are here to play, to learn from big nations, like Slovenia and Russia – every kind of big handball country, I think we have a good team, but we will go away, work hard, and come back better, I hope.
IHF.info: We spoke to Senegal head coach Fred Bougeant who said, jokingly, he wants to "kill Angola" on the handball court, because in Africa they win everything. 
In Japan, Senegal finished 18th. Are you happy to see them doing so well as many players always say they need good teams around them to make themselves better?
Estel Memana Daniele: Yes. I agree, because every time it's always Angola because they have a good, good team. But I think, in the next competition coming, we have to work a lot to beat Angola and Senegal to show ourselves what we can do and maybe to reverse the history. I hope it's going to be OK, but we will have to work a lot because they are really, really strong.
IHF.info: You are talking about the 2020 CAHB Women's African Championship in December in Cameroon? Are you already thinking about it now, or will you look at Japan 2019 first?
Estel Memana Daniele I think we can start thinking about the African championships now. We have to start now because we have many things to work on. Of course, we take a little break, but slowly we will start working.
I hope we are going to be better and show the things we did well against Slovenia and throughout Japan 2019. I hope it's going to be OK and we can do better things. I really hope this.
IHF.info: Now Japan 2019 is over, what memories and experiences will you take from it?
Estel Memana Daniele: For me, this was my first big, big competition so everything was just 'wow'; the people, everything. 
Our best moment as a team though was our win against China. It was really, really nice because going into the game the team was really tense. We were tired of always losing and it would have been really hard to go back home and say we lost again. So, when we beat China we were really, really happy together and were really motivated for the games after.
This was my best memory, and with the team it was really, really nice and we danced.
I am really grateful to play for DR Congo and that I can show a lot of things to the federation. I hope they are proud of me and proud of what African teams can do.