09 Dec. 2019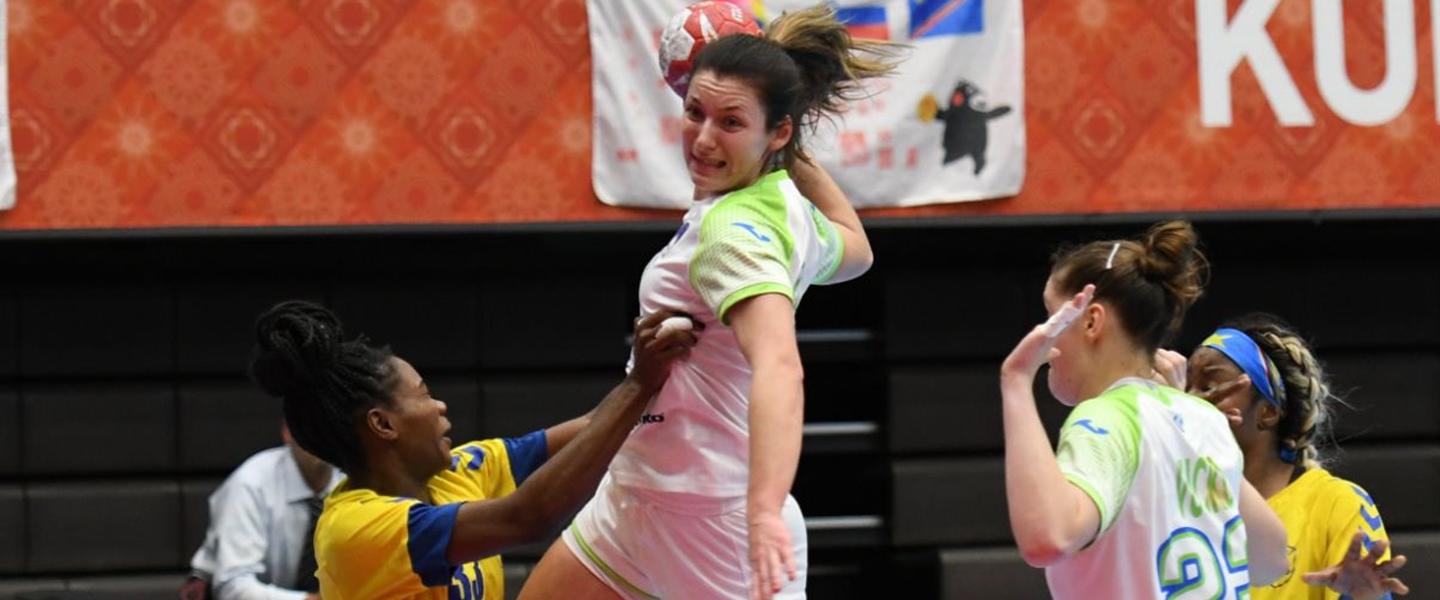 Slovenia recorded their worst-ever ranking in their brief history as an independent nation, beating Democratic Republic of the Congo 29:27 in the penultimate game at the Kumamoto Prefectural Gymnasium of the 2019 IHF Women's World Championship to finish 19th.
Despite finishing lower than their previous worst (18th in 1997) Slovenia have only appeared in five championships to date and with a squad containing some promising youngsters they can look to the future with optimism.
For DR Congo, they are only in their third-ever world championship and 20th place confirmed their joint best-ever ranking at this level. 
PRESIDENT'S CUP/PLACEMENT MATCH 19/20
Slovenia vs DR Congo 29:27 (14:13)
The disappointment and pain on the face of the Democratic Republic of the Congo players was clear towards the closing moments of this match – a game in which they led for large parts but fell short just before the end of each half.
It is always best to end a championship with a victory, not least to take on the long journey home, but to finish with a good memory for future battles.
And one of the key components of the Slovenia future is Tjasa Stanko – her 13 goals were evidence of this, although evidence also of her carrying the burden of goalscoring with just three other Slovenian goalscorers getting more than one strike.
After DR Congo took the lead with the opening strike from Hillary Ikondo, they were not behind for the remainder of the first half – going up 6:3 (ninth minute), 12:8 (23rd) and 13:10 (27th) letting their opponents draw level just once (6:6 – 16th minute).
Slovenia were missing captain Ana Gros, Polana Baric and Nina Zabjek with injuries and line player Aneja Beganovic, back in the team hotel with sickness, and the remaining 12 players seemed to be affected on court too, up until that point playing with what appeared to be mental and physical lethargy. But, together, they finally found their rhythm, going on a 4:0 run to go into the break ahead for the first time.

Four players were also not involved for DR Congo too, with Clemence Matutu, Lydia Musonda Kasangala, Cynthia Liandha Ngoy and Roseline Ngo Leyi all not playing.
The second half saw Slovenia stretch out to two goals early on (17:15 – 35th minute), but DR Congo came back again and an Uros Bregar time out for his Slovenian side in the 42nd minute aimed to remind his troops what was at stake.
DR Congo's leader and pure bundle of energy Christianne Mwasesa hit the court hard in the 46th minute and was down for quite a while as she was treated, but eventually she returned to court, ending with nine superb strikes.
The teams stayed deadlocked until the 50th minute after Vanessa Moesta struck home (24:24), but Slovenia went on a 2:0 run to open up the gap again (26:24) two minutes later. Slovenia were always one attack ahead of their rivals who could simply not catch them up – but were their own worst enemies.
Nganmogne Audrey Murielle made a superb save with just under two minutes remaining and her side 28:27 down, as Jasmina Pisek for Slovenia tried to strike under passive play, but from the restart of the DR Congo attack Moesta mishandled, allowing Slovenia back in, but then the European side failed in their own attack – a bad pass causing another turnover.
But another chance for Congo to equalise came and went as an attacking foul was called on Ikondo. Bregar then took his third and final time out with 57 seconds left on the clock, but the game paused again 11 seconds after play started again after a foul.
Slovenia then eventually found a way to goal with 21 seconds left but hit the crossbar, however the referees called the play back under advantage after the attacker was interfered with in the lead up.
Stanko gleefully converted the resultant seven metre penalty and her side were now two goals up (29:27) with just enough time for one last DR Congo attack which sailed over.
Both teams are set to leave Japan now, and both will be disappointed – Slovenia with their tournament as a whole and DR Congo with the turnaround against the Europeans, but both have exciting young talents which gives them cause to be optimistic for the future.
hummel Best Player of the Match: Tjasa Stanko, Slovenia