19 Jul. 2021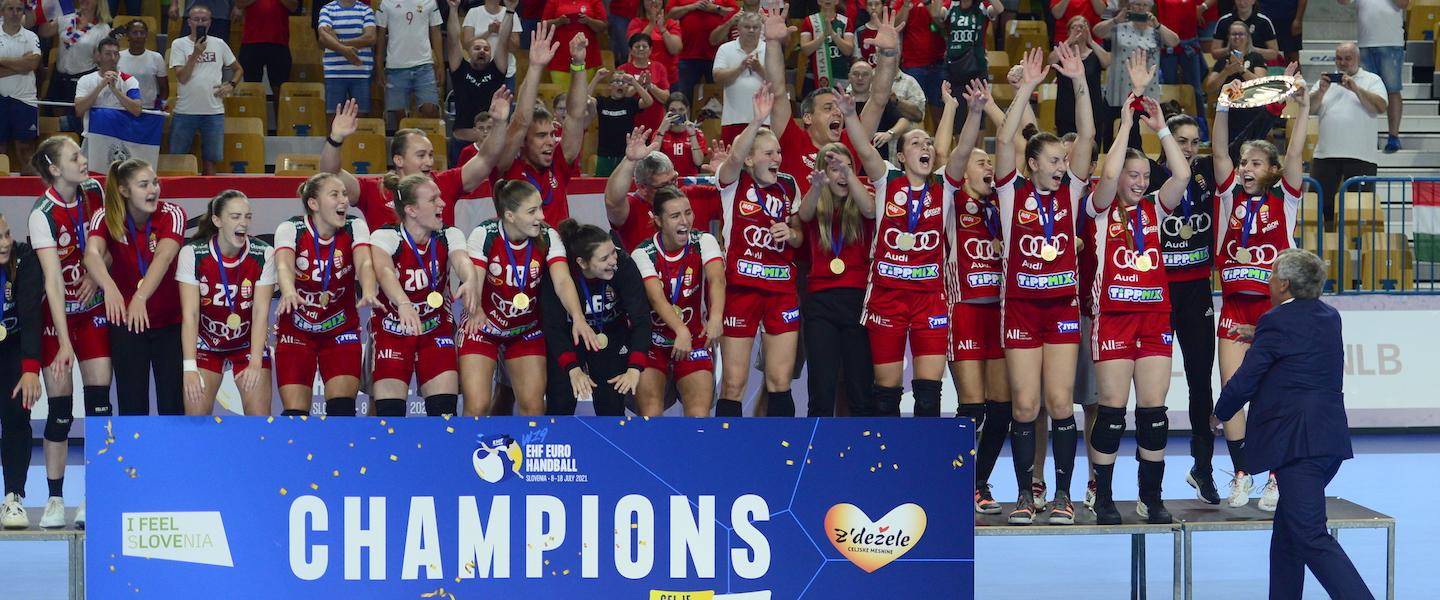 Two years after securing the W19 EHF EURO in a flawless manner, without dropping a game, Hungary confirmed their status as one of the European powerhouses in the category, by securing another gold medal.
In another perfect tournament, with seven wins in seven games, Hungary won the gold medal for the second time in a row, after a commanding nine-goal win in the final against Russia on Sunday 18 July, in Celje, Slovenia.
With two players in the All-star Team, goalkeeper Anna Bukovszy and left wing Maja Merai, while also boasting the MVP, Blanka Kajdon, Hungary never missed a step, taking convincing wins against Romania, Norway and the Czech Republic in the group phase, France and Croatia in the main round, and running riot against Sweden in the semi-final (33:26) and Russia in the final (31:22).
A 5:2 run to start the game morphed into a 14:7 advantage after 23 minutes, as Hungary worked wonders in the attack, with Russia being unable to stop their opponents. Backs Johanna Farkas and Blanka Kajdon combined for 16 of Hungary's 31 goals, as Russia could never mount a comeback.
The golden generation of the Hungarian women's handball, who won the gold medal two years ago at the W17 EHF EURO, continued their dominance in Europe, as they truly looked unstoppable, despite not featuring any player in the top-10 goal scorer standings.
A true team effort saw Hungary secure gold, with their high-octane attack, which outscored rivals at an alarming pace and had an average of 30.7 goals per game throughout the tournament.
The reigning world champions in the women's Under-20 category – Hungary – will have a chance to defend their title in 2022, at the IHF Women's Junior (U20) World Championship, which is set to take place in Slovenia as well.
The Hungarian side jumped to the third place in the all-time rankings in the W19 EHF EURO, with two gold medals, three silver medals and one bronze medal, just behind Denmark and Russia.
Russia secured their third-ever silver medal in the W19 EHF EURO, after they dropped a game in the group phase, against Sweden, but bounced back admirably to qualify to the final, after defeating France 25:24 in the semi-final, in one of the most competitive matches of the tournament.
In the bronze-medal game, France won against Sweden 30:29, with an outstanding game from the All-star centre back of the tournament, Lena Grandevau, who scored 11 goals.
One of the surprise teams of the tournament, Romania, finished fifth, after a 10-goal outburst from Alicia Gogirla lifted her side to a 28:21 win against Denmark, in the 5/6 placement match.
For more information about the tournament, visit the European Handball Federation website.
Photo: Slavko Kolar