19 Jan. 2021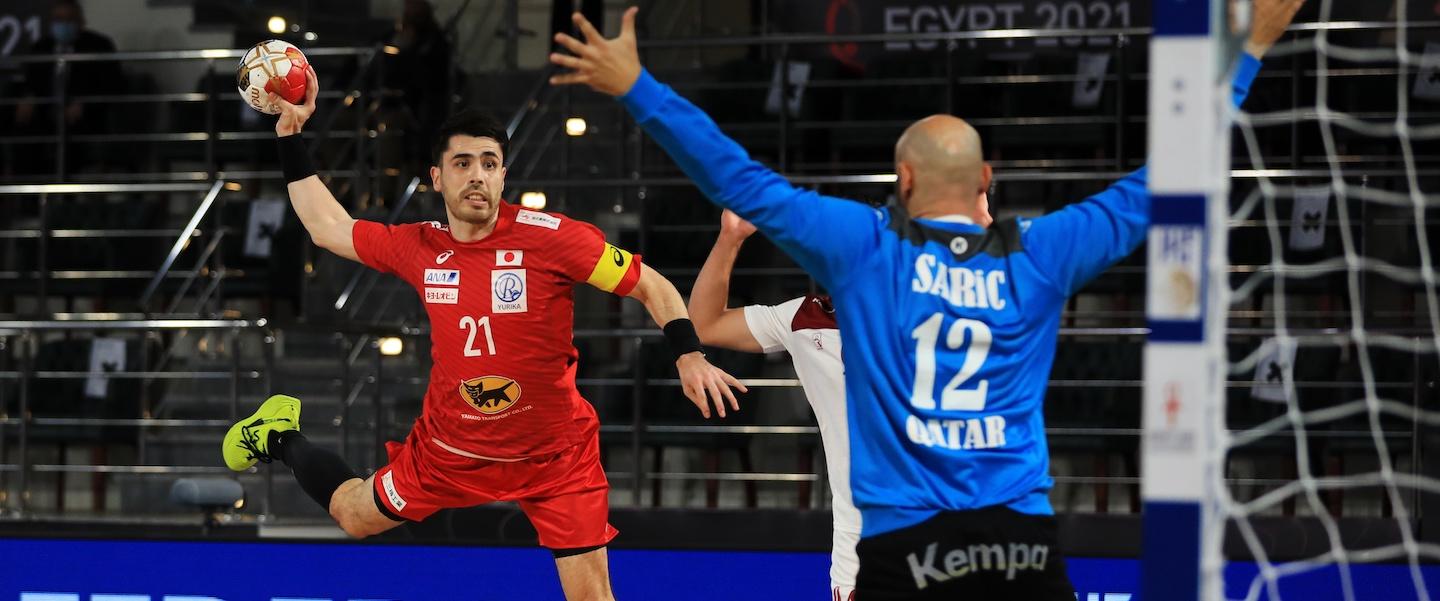 At the age of 22, a knee injury forced Japanese left wing Remi Doi to end his handball career.
Fortunately, after moving from Japan to France, his knee got better and like "a gift from god" he could play again. Now he is the Japan national team captain at his third World Championship, leading his team on the way to the Olympic Games on home soil this summer. 
Born in Paris, Remi Doi moved from France to Japan at the age of three. There, he discovered his passion for handball.
"I played football until I was nine, but my brother and sister were playing handball at our neighbour's club. One day I went to see them practicing and I wanted to train with them. When I did that, it changed everything for me and I just wanted to play handball."  
He continued playing in Japan for the next 13 years for different school and university clubs. Before his professional career could even begin, it looked like it was already over. 
"I suffered from cartilage damage in the knee and my doctor told me that I can play, but that he does not know for how long and that I might have to consider ending my career. Continuing with the amount of training for a long time didn't seem to be possible and that's why I decided to end my career."
Having only focused on handball, Doi had to face the biggest challenge of his life so far. 
"My life was handball and when I stopped, I had nothing. I wanted to find out what I can do with my life, I wanted to get some positivity back in it. I thought about improving some skills such as learning a language and to find a job. That's why I decided to move to France. My father is French and I already knew a little French. After that I imagined going to Australia or England for a year. At that point, handball was finished for me."
Moving from Japan to France was difficult and it took a while until he settled. 
"There are a lot of cultural differences between France and Japan and in the beginning I did not really get the French culture, so I faced a lot of challenges. A big surprise for me was for example, that the shops are closed on Sundays. In Japan, they are basically open 24/7 but in France, it happened every now and then that I didn't have any food on a Sunday because I forgot about it."  
After a few months in France, his knee injury stopped bothering and he joined the second team of club Chambéry Savoie Mont Blanc Handball. 
"Honestly, I don't have an explanation for that, it just happened like a miracle. But having handball back in my life was just incredible. It was the fastest training I've ever experienced, I still can remember that day as if it has been yesterday." 
In 2013, he signed his first professional contract with the club, playing for them for four years until he signed a two-year contract with C'Chartres Métropole Handball. 
"Everybody believes that the main difference between Japanese and European handball is about physics and technique. But for me it's more about the strategy of the game, which European players already learn from an early age on. Another thing is the mentality. In Europe, they develop a fighting spirit. We don't really have professional leagues, so it is very difficult to get this fighting spirit in Japan."
"When I first played with the national team I noticed that a lot of players are lacking this fighting spirit. I really wanted to bring this spirit and mentality to the team. But I was limited because I stayed in France and couldn't participate in all the training camps. With the Olympic Games ahead of us, I want to achieve something and I wanted to put this fighting spirit into the team and participate in all training camps and the Japanese league to influence all the other players. That's why I decided to go back to Japan in 2019."
While Doi can influence his teammates on court, he also found a way to increase the Japanese handball fanbase, more or less accidently. 
"In summer 2018 I started to use TikTok because some friends of mine were sending me funny videos. One day, I got 3000-4000 followers for just one video and these followers did not know me as a handball player. I realized that people outside of handball are just interested in me and were trying to get to know me. I was thinking that when they find out that I am a handball player, maybe they will come visit a match and get in contact with handball."
Now, he is probably the most popular handball player on TikTok participating in Egypt, with 1.7 million followers enjoying his entertaining short videos. 
"My content is not really handball related. I try to attract my followers with funny content and I basically shocked them when I put out my first handball video. But they really liked it."
"After the match against Qatar here at the World Championship, a lot of fans were reaching out to me, telling me that they were watching the game and asking me how I was feeling. I am really grateful for that and I enjoy doing it, I don't mind spending three or four hours on my phone for that, it's actually a lot of fun." 
"Although I am the funny guy on TikTok, I can also be serious. As my role as team captain I show both sides, as they are both part of my personality."
Doi joined the Japan national team in 2015 and played in his first World Championship at France 2017. With six months left before the Olympic Games, the World Championship in Egypt is an important milestone for the Japanese national team.
"We have the possibility to compare ourselves to the rest of the world, and more importantly, we can gain experience and confidence. We have some new and young players in the team, who have never played a World Championship before and they can only contribute from this experience. The success of this tournament will affect the Olympic Games in summer. We need to be successful in Egypt to know what we can achieve at Tokyo 2021."
"Here, we are playing without spectators, but I really wish for spectators at the Olympic Games, if the conditions under the pandemic allow that. For me, the team on court, the staff and the fans are one big team and if the fans can't participate, an important part of the team is missing. The fans can push the team to their limits and I would love to play in front of them in summer. The Olympic Games are a chance to attract more people to handball as people might cross paths our sports for the first time. It would be great to show them a good performance and to get more fans in Japan."
To ensure this success, the team began training camp three weeks before arriving in Egypt on 3 January, staying together in a centre and not leaving their bubble. If they stay until the final days of the tournament, the team will have been together for almost two months. 
But before that, they will face Angola, with a spot in the main round on the line. 
"The only thing I am thinking about right now is that I want to win. It is really just about the win today and going to the main round would change the handball world for us."