21 Mar. 2021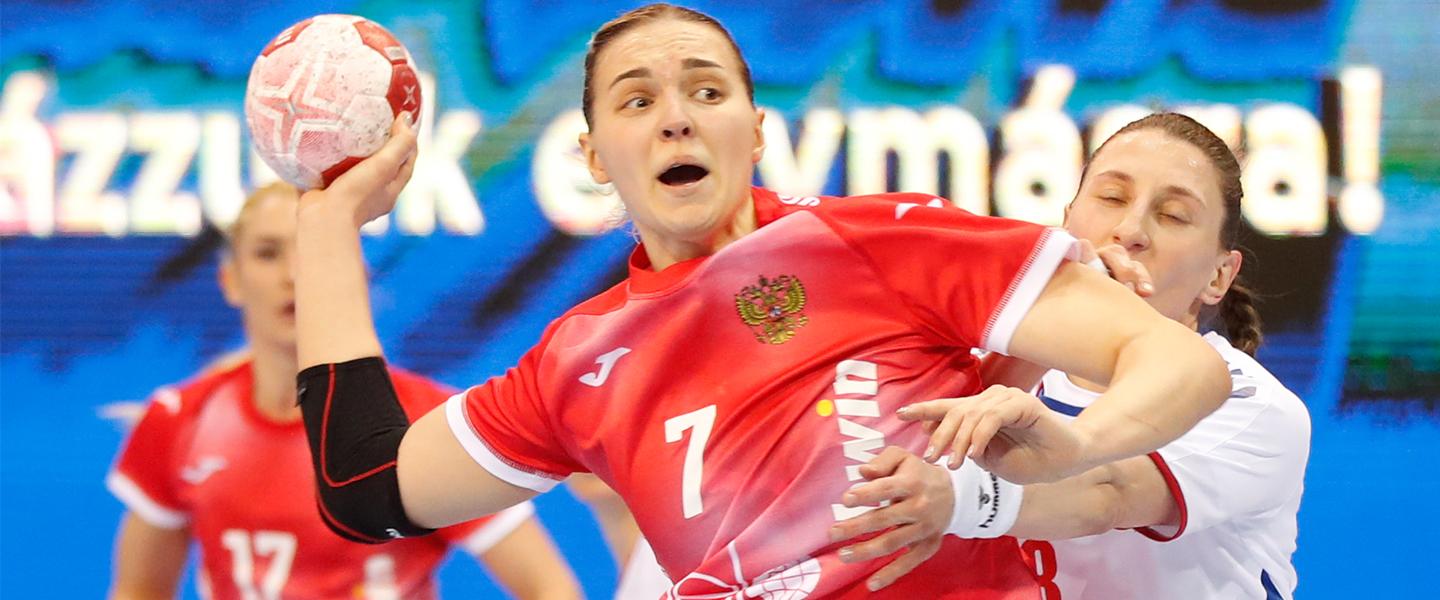 In the Tokyo Handball Qualification – Tournament 2 in Gyor, defending Olympic champions Russia have already booked their ticket to Japan, as they have the maximum of four points after the matches against Serbia and Kazakhstan.
However, the Russians had mixed feelings on Saturday evening, as their performance against Kazakhstan was below their standard. Alexey Alekseev's team led by just one goal at the break (17:16), before clinching a 33:26 victory.
"Of course we wanted to do better, it was not our coolest game. Something went wrong from the beginning. Luckily, we managed to improve after the break," team captain Daria Dmitrieva said. 
Many of Russia's key players were rested in the first half, including Dmitrieva. However, the centre back was brought in action early in the second half, and although she failed to score, Dmitrieva stayed on court for a while and helped the team to pull away.
"It's not just about me, our goalkeeper Viktoriia Kalinina also entered the game well and helped the defence. But overall, we shouldn't play like this. We missed too many chances, and maybe we were a bit nonchalant. Not that we underestimated Kazakhstan, but we knew that our level is higher, and it relaxed our approach," said the 25-year-old.
Yet, Russia qualified for the Olympics, and Dmitrieva feels happy about this.
"Of course it's great, we have reached our main goal. However, we still have a game on Sunday, and we are motivated to take the first place in the tournament and to beat Hungary on their court," she stated.
The Russian captain has just recently recovered from an injury and is not yet in her best condition.
"I still need to get in shape, I feel that I'm a bit slow on the court. But never mind, I will improve after a while," she said.
Just like a few other players in the national team, Dmitrieva represents CSKA, where she is also the captain, and the Moscow-based club is getting through a turbulent time.
Earlier this week, their Danish head coach Jan Leslie was fired, and Olga Akopyan – who is also one of Alekseev's assistants in the national team – took over for now. 
"Of course it was a shocking news, we learned it when we were heading to Hungary. But we haven't digested it yet, as we were not there. If we stayed at the club, we would be more concerned about the situation. But now we are in the national team, which has other goals," Dmitrieva said.
As a 21-year-old player, she won the Olympics in Rio de Janeiro in 2016, which was of course special for the young talent.
"I don't often think of that tournament, but when someone reminds me, I'm like: oh yeah, I'm the Olympic champion!" Dmitrieva said with a smile. 
"In 2016, the semi-final against Norway was something special, it felt like a final, while the actual final against France was easier."
Because of a severe injury, Dmitrieva had to miss the 2019 World Championship in Japan, where Russia finished third, but now she will have a chance to play in Tokyo, where her team will try to defend their Olympic title.
"Of course we are determined to repeat our triumph. But it's hard to say what our chances are. We should have some more games and get back our chemistry," said the captain. 
And what will happen after the Olympic Games? Dmitrieva has repeatedly stated that she plans to become a mother after Tokyo, and now she did not deny it.
"Of course I have such thoughts in my mind. But so far, I'm going step by step."
Photo: HHF/Anikó Kovács