15 Aug. 2019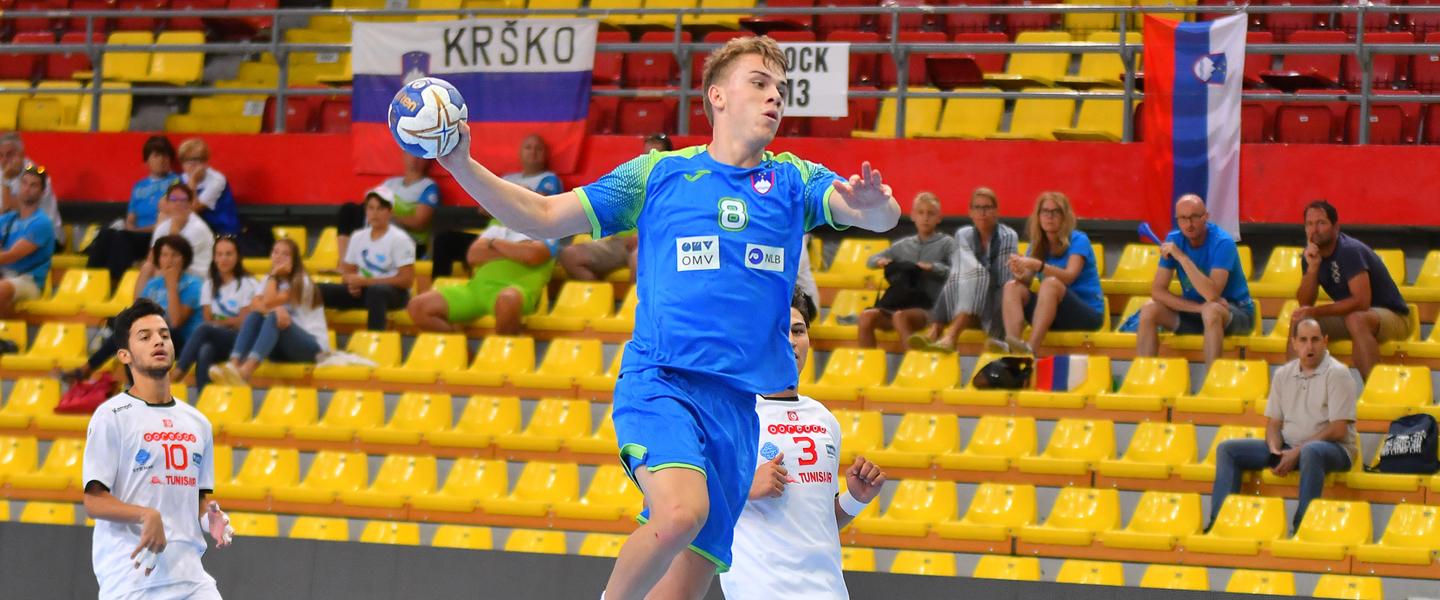 Slovenia beat Tunisia in the 15/16 placement match to end with their lowest-ever rank in the youth world championship after four previous appearances which saw them have a previous worst ranking of 13th place back in 2017
15/16 PLACEMENT MATCH
Slovenia vs Tunisia 34:23
Boris Trajkovski Arena, Skopje
After losing their respective eighth-finals yesterday, Slovenia (30:23 vs Egypt) and Tunisia (30:25 vs Denmark) had to pick themselves up to play one last time in Skopje and finish as high as they could – for 15th place.
Slovenia could only name 15 players going into the match with centre back Enej Jovicic Slatinek injured and his arm in a sling, but it was his brother Stas, who helped his side get to a 3:1 lead with five minutes gone, having scored all three goals.
Another two later pushed his side to a 7:3 lead after 10 minutes, as Tunisia struggled to stop the Slovenian shooting with their first-choice goalkeeper Asil Namli not playing the whole 60 minutes after appearing to injure his right hand against Denmark yesterday and, noticeably, in the warm-up for this match he winced in pain every time he caught the ball as he was practising his passing.
His side were never in front in this match though and they gradually let the game get away from them, taking a 13-goal deficit into the last 20 minutes after they had gone into the break nine (20:11) behind. The Slovenian shooting accuracy ended on 67%, with their goalkeeping pairing ending with a 41% save rate, highlighting their strength at both ends of the court.
"Our first two games were OK as we were concentrated," said Slovenia's right back Tadej Kljun to IHF.info after the match. "But the other three, four matches we weren't the right Slovenia like we were always; we were not very good, we couldn't score goals and our defence was not too strong.
"OK, we won now against Tunisia in our last game, but we go home disappointed as we wanted more, but that's handball," he added. "But what doesn't kill you makes you stronger and we will learn from this – I am 100% for this. We will return to our clubs and in a month the championship starts, so we will forget this championship and focus on the Slovenian league and Champions League
"I would just like to add that the fans here with us have been our heroes; they have been with us in the bad moments and good moments, without them we wouldn't be here, they are super."
Tunisia had further cause to be disappointed as both Anas Ben Slimen and Rami Fekih were shown red cards in the second half (43rd and 53rd minute respectively) after picking up three two-minute suspensions.
Best player of the match: Domen Tajnik (SLO)
Photo: WCH 2019 / Filip Viranovski