19 Jul. 2021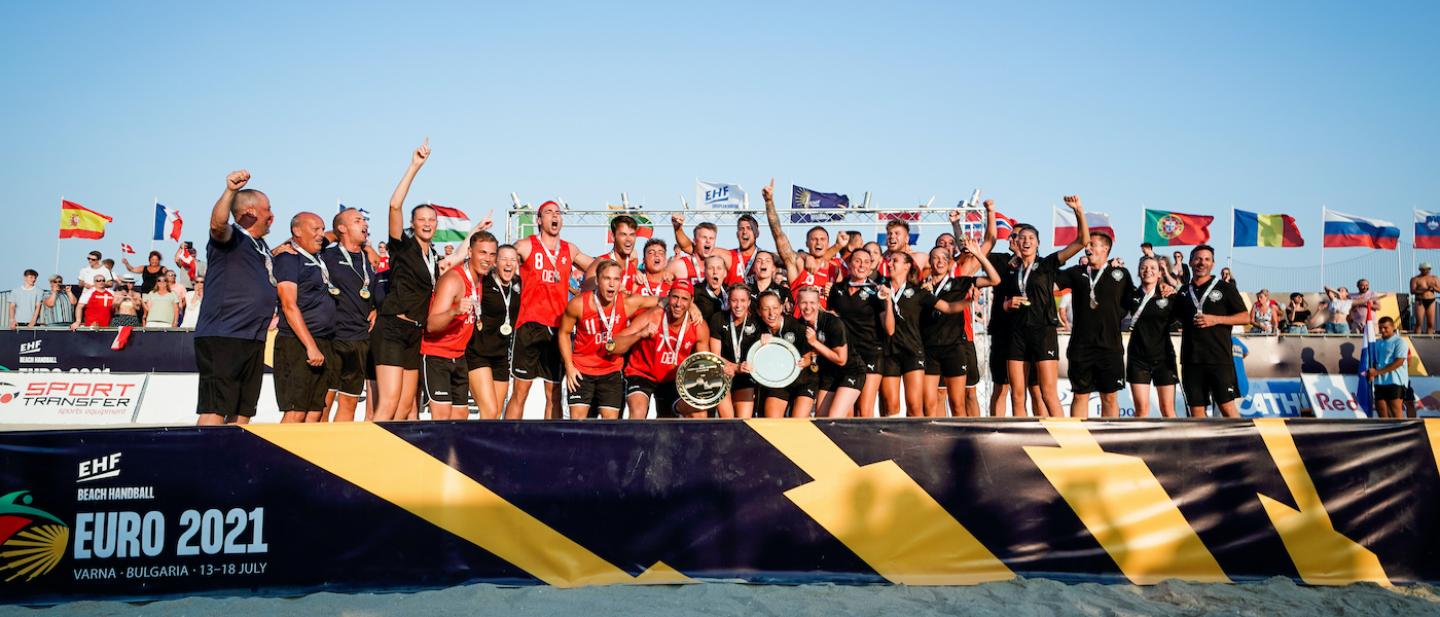 An action-packed 10 days of beach handball in Varna, Bulgaria concluded on Sunday 18 July, with Denmark and Germany taking the gold medal in the Men's and Women's EHF Beach Handball EUROs 2021, after Sweden's men and Hungary's women topped the podium in the U17 competition on 11 July already.
After winning their first medal in the competition, a bronze in 2009, Denmark had to wait 10 years before securing their first trophy, two years ago, in Stare Jablonski, Poland.
A long wait, more than two years, saw Denmark back at their best in Varna, securing their second gold medal in a row without dropping a game, securing 10 wins on their way to the trophy. 
Their flawless record started with five wins in the group phase, where they did not drop a set against Spain, Norway, Turkey and Romania, steamrolling their opponents. A 2-1 win against Hungary, followed by 2-0 wins against Ukraine and France duly followed in the main round, before a 2-0 win against Portugal in the quarter-finals.
Sunday was a huge day for Denmark, a day which did not start well, after they dropped the first set in the semi-final against Russia (16:18). The Scandinavian side tied the game, taking the second set (19:16), before progressing to the final after a nail-biting shoot-out, which they took, 8:6.
The final against Croatia was a straightforward procession. In straight sets, 25:20 and 28:22, Denmark secured the win against the four-time European champions to secure their second consecutive title.
"We were here, we believed in ourselves. To become European champions, undefeated, is nothing I ever dreamed of," said Denmark's star, Martin Vilstrup Andersen, after the win against Croatia.
Danish star Nikolaj Mogesen scored 24 points, 12 in each set, in the final against Croatia, who featured the MVP of the competition, Ivan Juric.
Russia won their first medal in the competition since 2017, after taking a 2-1 win against Spain in the bronze-medal game.
In the women's tournament, Germany ended a 14-year medal drought, by securing their second gold medal in history and tying Croatia in the all-time medal table, with two gold medals, two silver medals and one bronze medal each.
Germany took a page from Denmark's playbook and went undefeated in the competition, securing three straight sets wins against Romania, Portugal and the Netherlands to proceed to the main round.
The winners did not drop a set against France, Greece and Poland, before finally being put to the test in the quarter-final against Hungary.
After taking the first set (22:12), Germany dropped the second one (20:21), as Hungary forced a penalty shoot-out for a semi-finals berth. The German side needed another penalty shoot-out against Spain, after an identical scenario: a 22:18 win in the first set before dropping the second set, 11:27.
A 5:2 win in the shoot-out enabled Germany to play for the gold medal, where they faced reigning champions Denmark, a team that conceded only one loss prior to the last act.
But with Amelie Möllmann in flawless form, scoring 26 points, Germany secured a 2-0 win (24:20, 25:21) that brought them the European title for the first time in 15 years, when they struck gold on home soil, in Cuxhaven.
"I have no words for this team. We did not lose a game, it's unbelievable. Two years ago, we were in the 10th place, and now we are European champions," said Germany's coach, Alexander Novakovic.
Spain won the bronze medal, after a clear win against Norway, 2:0 (21:18, 23:22). Norway's Marielle Martinsen was the top scorer of the tournament, with 143 points, while Denmark's Line Gyldenlove Kristiansen was named the MVP of the tournament.
For more information, visit the European Handball Federation website.
Photo: EHF / Kolektiff Images