27 Jan. 2021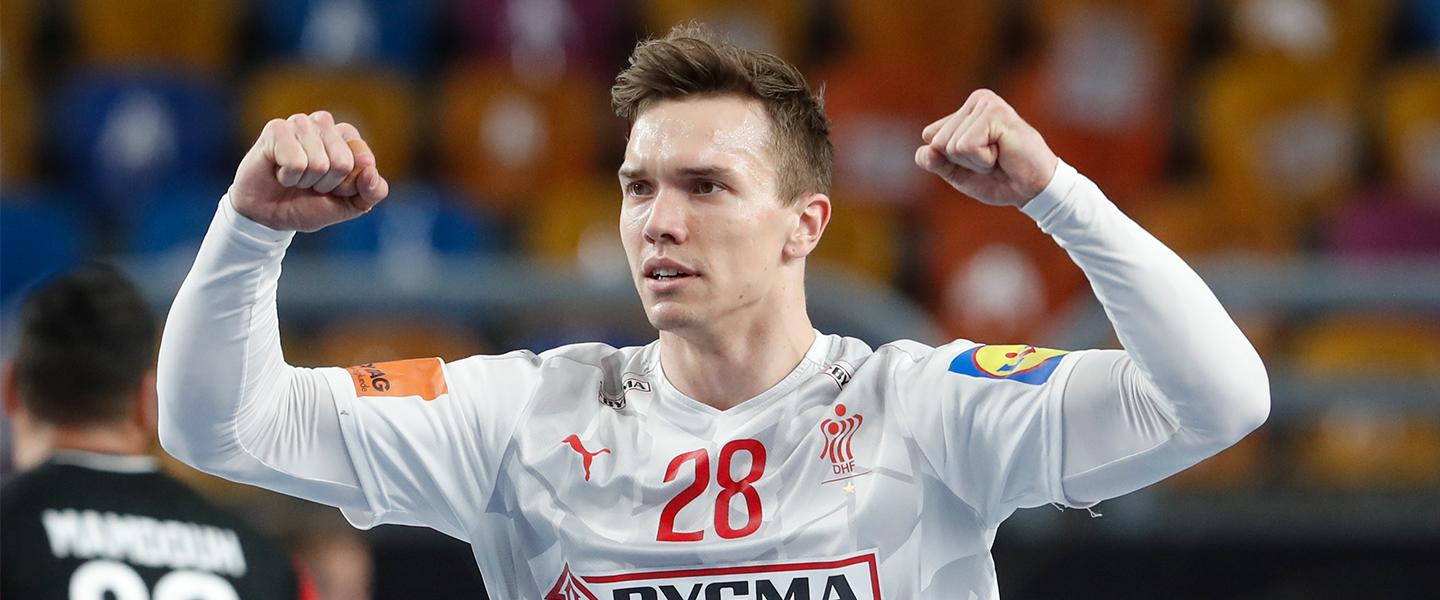 Defending world champions Denmark needed a double extra-time and a penalty shoot-out to beat host nation Egypt in a highly dramatic and entertaining match.
For the European team, it was the seventh victory in as many matches at the 27th World Championship, and by far the most difficult one. Yet, they ultimately won and will meet the winner of the tie Spain versus Norway in the semi-finals. 
Even though the 'Pharaohs' were the losing side, they fought extremely hard and are leaving the World Championship with their heads held high. 
QUARTER-FINALS
Denmark vs Egypt 39:38 (16:13, 28:28, 34:34, 35:35)
Egypt enjoyed a perfect start of the match, as goals by Ahmed Hesham, Ahmed El-Ahmar and Yehia El-Deraa put them into the lead (3:0).
Their goalkeeper Mohamed El-Tayar made three saves in the first four minutes, while Denmark had to wait for six and a half minutes until Mikkel Hansen scored their first goal.
Hansen helped the Danes to draw level at 4:4, but the African team had another good spell to open the lead to 8:6.
Denmark's goalkeeper Niklas Landin did not quite get into the game and was replaced by Kevin Moller, who boasted a 44 per cent save rate in the first half. And line player Magnus Saugstrup found the way through the Egyptian defence to give his team their first lead in the match, 9:8 in the 18 minute.
While the 'Pharaohs' continued to fight hard, Denmark gained momentum, and a couple of spectacular goals by right wing Lasse Svan helped them to get a three-goal advantage at half-time. 
Early in the second half, Egypt were back on track and benefitted from their opponents' mistakes, as a 5:1 run saw them edge in front again, 18:17.
The game was nip-and-tuck after that, with both sides trading goals, and they were still level in minute 49 (23:23).
With Landin back in goal, a good attacking effort by Lasse Svan and Mathias Gidsel put Denmark 25:23 in front, but then they could not score for almost five minutes, as Egypt's solid defence and Yahia Omar's skills in attack helped them to draw level at 25:25 with five minutes to go.
In the closing minutes of the second half, both sides played seven-against-six in attack to clinch a victory, yet at the end of normal time, they were still tied at 28:28. 
There was some drama in the dying seconds, as Denmark were given the ball possession after the 'Pharaohs' made a faulty substitution, but the European team did not use that chance.
The first five minutes of the extra time minutes saw Denmark dominate, as Niklas Landin made a couple of saves and Mathias Gidsel scored two goals to give them a 31:29 lead.
At 34:32, the Danes seemed to have one foot in the semi-finals, but Wisam Navar closed the gap before Mikkel Hansen got a red card for throwing away the ball after the whistle in the dying seconds of the half, and Mohamed Sanad drew level from the 7-metre line.
Therefore, a second overtime was needed in this dramatic match, and Karim Hendawy made three saves in the following minutes, helping his team to a 35:34 lead. Egypt were on the verge of winning, but in the last second, Ibrahim El-Masry got a red card and Magnus Landin scored from the 7-metre line to give Denmark a chance to win on penalties.
In the shoot-out, the shots by El-Ahmar and Ali Zein were saved by Landin, and although Nikolaj Oris also missed his shot, Lasse Svan's successful attempt resulted in Denmark's win in this thrilling encounter. 
hummel Player of the Match: Ali Zein, Egypt