30 Nov. 2019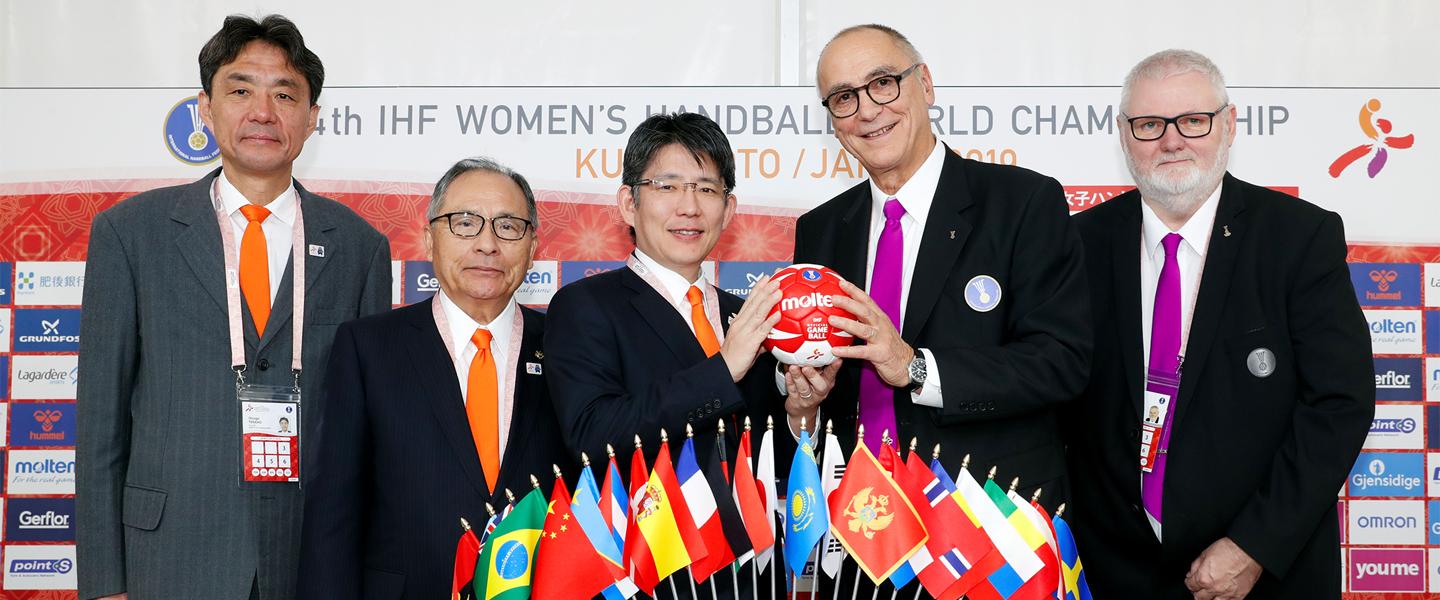 Ahead of the first match at Park Dome Kumamoto between Japan and Argentina, an opening media conference was held for the global media and IHF.info brings you all the statements from those involved.
Also in attendance at the media conference were Toshiro Shimada, President – Kumamoto Handball Association and Shingo Terano, Secretary General – Kumamoto International Sports Events Promotion Bureau Secretary General.
Joel Delplanque, IHF 1st Vice-President
It is a great pleasure for us to organise this event in Kumamoto. Everybody inside the International Handball Federation remembers the last world championship in Kumamoto – the 1997 IHF Men's World Championship. Back then it was already a great event and we are sure that this 24th IHF Women's World Championship will be the best one so far.
The Japanese Handball Association and local organising committee have worked very hard to prepare this event and during this past week the IHF have checked everything and we are sure we are ready to have a big and great event.
We have the 24 best teams from across the world here in Kumamoto over these weeks of competition and it's important for the public here in Japan and for those watching on television to see how high the level of women's handball is now.
We also have 85 Japanese coaches following this championship and I hope during the championship they will hard to improve their competence.
For handball, this is a worldwide event so it's important it is here in Asia, in Kumamoto.
Per Bertelsen, IHF Chairman of the Commission of Organising and Competition
I would like to offer a warm welcome to this competition for everyone here in Kumamoto. I have been here now several times for inspections over the past two years. 
At the very beginning, like all of our competitions across the world, the commission and the local organising committee had to find a way of working together and, as usual, we quickly found this way.
We have had a fantastic way of working together with the local organising committee before, but as we have come closer to the competition, we have really found an even more fantastic way of working with not only the Japanese Handball Association, but the local organising committee.
The event delegates and myself have been here in Kumamoto for over a week now and as chairman of the commission I must say in the last week I have had a better and better feeling and I am sure today and for the tournament we will see a fantastic show and matches.
I really hope that the people across Kumamoto – and Japan too – will come to the halls here in Kumamoto and see what a great and fantastic sport handball is.
Thank-you very much to the organising committee.
Kanji Wakunaga, President - Japan Handball Association
Thank-you to everyone who is here for the 2019 IHF Women's World Championship. I started working for the Japan Handball Association back in 2017 and this world championship is the biggest job for me, and I appreciate all the help from President Shimada, local organising staff and the IHF.
We have prepared to try and make this the biggest women's world championship. Thanks to the people of Kumamoto and all the Japanese fans, tickets for the opening match are all sold out. 
Through this world championship we would like to show how attractive this sport of handball is.