31 Jul. 2022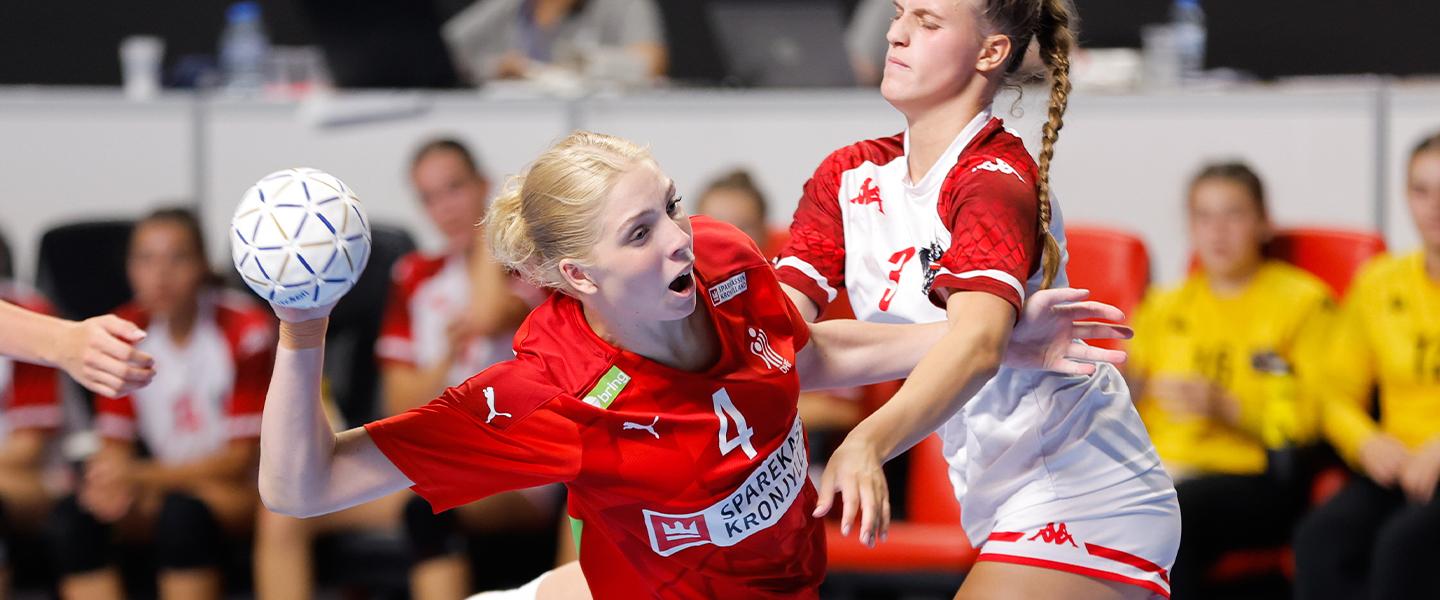 Six main round spots can already be clinched on the second day of the 2022 IHF Women's Youth World Championship, as 16 teams collide in the first four groups of the preliminary round.
After a clear win against Senegal, hosts North Macedonia can seal their best-ever finish in the competition with another win against Uzbekistan, while hot favourites Denmark can also progress to the next round provided they win against the Faroe Islands and Portugal do not lose against Austria.
Group A
Sweden vs Algeria (14:00 CEST, Boris Trajkovski Sports Center, Skopje)
Iceland vs Montenegro (18:20 CEST, Jane Sandanski Sports Center, Skopje)
Debutants Iceland, who beat Sweden in their first ever match at this level, hope to develop their success in the next game against Montenegro, who opened their campaign with a confident win against Algeria. The winner of their evening clash will make a big step towards the main round.
In turn, Sweden hope to bounce back in the match against Algeria, the only non-European side in the group, who also badly need points to stay in contention for a main round spot. 
Group B
Senegal vs Islamic Republic of Iran (16:10 CEST, Boris Trajkovski Sports Center, Skopje)
North Macedonia vs Uzbekistan (20:30 CEST, Boris Trajkovski Sports Center, Skopje)
After the matches on Saturday, home side North Macedonia and the World Championship debutants Islamic Republic of Iran top the group with two points. It means that if both win again on Sunday, they will book early main round tickets.
North Macedonia comfortably defeated Senegal 31:14 and now are seen as strong favourites against Uzbekistan. In turn, Iran became the only team to hit the 40-goal mark on Saturday, beating the Uzbeks 47:31, and it should give the Asian team a moral boost before they face Senegal in a duel of debutants. 
Group C
Faroe Islands vs Denmark (18:20 CEST, Boris Trajkovski Sports Center, Skopje)
Portugal vs Austria (20:30 CEST, Jane Sandanski Sports Center, Skopje)
Wins for Denmark and Portugal would see them through to the main round at North Macedonia 2022, after they have already sealed two points in their first games, on Saturday. One of the favourites for a medal, Denmark started strong and never looked back against Austria, taking a 32:21 win, thanks to their amazing defence, which seems to be the norm in every age category. 
The Danish side ranks eighth in terms of goals conceded after the first day of competition, but will likely improve in the standings, as the other sides will face stronger opponents. On the other hand, the Faroe Islands conceded a 29:24 loss against Portugal in their debut and will face a tougher opponent now, but Lukka Arge is one of the seven players to score at least 10 goals in the competition in the first match.
In the other match, Portugal will look to secure their main round berth with a win against Austria, eyeing to improve their best-ever result at the IHF Women's Youth World Championship, the 11th place sealed eight years ago, in North Macedonia. They have impressed in attack, scoring 29 goals against the Faroe Islands, but Austria also eye a win to make their comeback in the mix for a main round spot, as coach Simona Spiridon has been happy with her team's performance against Denmark in the second half.
Group D
India vs Croatia (14:00 CEST, Jane Sandanski Sports Center, Skopje)
Kazakhstan vs Egypt (16:10 CEST, Jane Sandanski Sports Center, Skopje)
After winning two friendly games against the Czech Republic and another two against Slovakia, Egypt looked to be a dark horse in this championship. The assumption was duly confirmed against Croatia in the opener on Saturday, when they took a 33:31 win, only their third ever against a European side at the IHF Women's Youth World Championship. Facing Kazakhstan on Sunday, they can progress to the next phase of the competition with a win. That would be an amazing result for a team whose best performance in the competition is the ninth place sealed in 2016.
Kazakhstan had an off day on Saturday, as their game against India was cancelled due to the latter side's travel problems, earning a 10:0 win. India will make their debut on Sunday against Croatia, as the European side need to win their next two matches to progress to the main round, after their loss against Egypt. Croatia will rely once again on Andjela Zagar and Iva Zrilic, the two backs who combined for 19 goals on Saturday.